General Hospital Recap for Friday, September 23, 2022
Gregory stops by the hospital to check on Finn. He finds him in his office looking at photos of his ex-wife. Gregory wants to know what is up with that.Elizabeth is standing in the hallway looking at the photo she sketched. Who is this woman she is staring at? Finn receives a call from that one of his patients who needs him. He informs his father that he needs to check on one of his patients as he places his phone on his desk.
Out in the hallway as Finn approaches, Liz shoves the drawing in her pocket.He invites Liz back to his office, as they enter his phone that is sitting on the desk starts to ring. Liz is closer to his desk, she reaches for the phone to hand it to Finn. A picture of a beautiful lady has popped up on the screen. Finn identifies her as his ex-wife Reiko when Liz asks who she is. He explained that when they were on the Mariana Islands, she passed away from a rare disease. She came to mind as he was working on a case that was similar to hers. Liz ask is that near Guam? She is rubbing her head, she is confused. She cannot put all the puzzle together. Liz informs Finn that she must go home. She really needs to lay down. Liz leaves Finn's office, she pulls out the sketch, it looks just like the lady on Finn's phone. What is going on? Why can she not connect the dots? She goes to a box of old photos as soon as she gets inside her house. She flips open a photo album. There she finds a picture of herself and her sister. When she turns it over, Marina Islands is written on the label.
Sonny is searching for Sasha and believes he knows where to find her. In Brando's pitch-black garage, Sasha is seated on the floor when she hears a noise and cries out for him. When she looks up, Sonny is caringly gazing down at her instead of Brando, and she tells him that she can't believe Brando is gone. She is curious about how he found her. Sonny is aware of how much Brando loved Sasha and the garage. Sasha tells Sonny that giving this place to Brando was the best thing that ever happened to him. Sonny replies no, she was the best thing that ever happened to him. She says but Brando is no longer here. Sonny shares with Sasha that when Morgan died unexpectedly, he was always waiting for the phone to ring or see him in a crowd. That never goes away, he still has those feelings. Sasha steps into Brando's office, this place makes her feel close to him.
Nina goes to the hospital for a visit with Ava. She casually ask her had she thought about where she planned to stay when she was released from the hospital? Nina Invites Ava to stay with her. She tells her that friends help each other. Ava tells her she really would like to go back to Windermere. Nina says you are still in love with Nikolas. Nina reminds her that Nik would be there, but of course it is your choice alone if you forgive Nik or not. Nina tells Ava, she is her friend and she only wants her to be happy, whatever she decides. Ava says we have both made our share of mistakes. Nina chimes in that it may have started as blackmail but It's a love match now. Nina's phone rings, it's Sonny, he needs her help.
Diane and Alexis are at the Metro Court bar.  Alexis shares the argument she had with Kristina, she feels Kristina can do much better for herself. Diane says that is true, but in the end it is Kristina's decision to make. Nikolas walks up to the bar and tells Alexis  he needs her help, Diane has other business to handle and leaves the two of them at the bar. Nik takes a bar stool.  
Nik tells Alexis that she understands the way Ava thinks. Is it time for me to give up on my marriage? Nikolas values her opinion. Alexis tells him that talk Is cheap. He asks if that is all she got. She asks Nikolas if it will cost Ava her pride to forgive him. His answer is yes. She then urges Nikolas that he must take a risk on something for Ava, which reassures her that he is sincere. Nikolas thanks her and leaves.
Alexis, still at the Metro Court, runs into Gregory. He invites her to sit for a sip of coffee, she would be delighted. She tells him that the police Commissioner was very unhappy with The Invader article. She still believes that by informing the public of what was happening in their community, she did the right thing. She doesn't feel the swinging hook is done yet. Gregory tells her that he thought the piece was very well written. Alexis thanks Gregory as she tells him that she values his option which somewhat surprises him.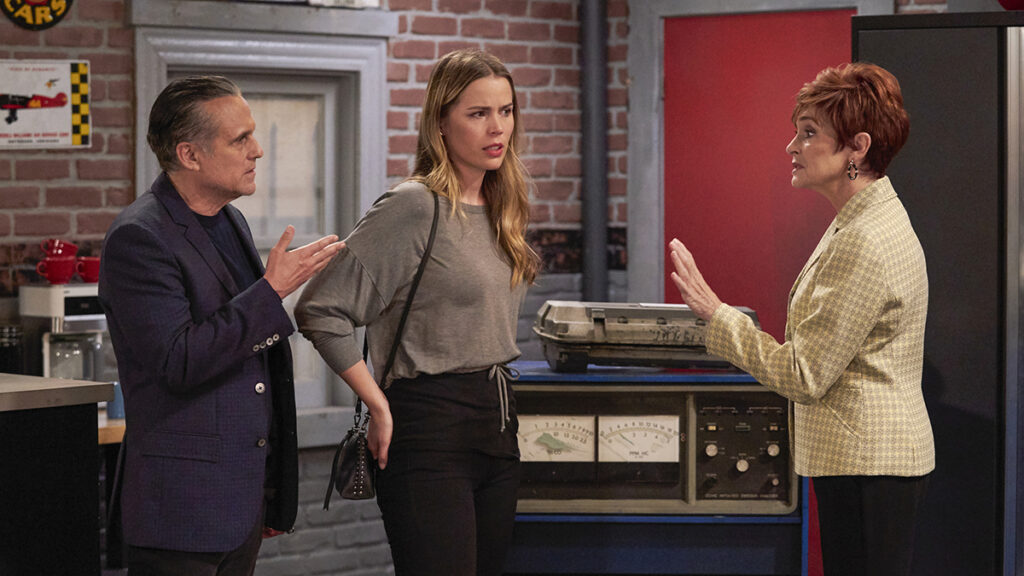 Diane arrives at the garage. She tells Sonny that she needs to speak to Sasha about legal Issues. Sonny asks, why should he trust her to represent Sasha? Dex is there with Sonny who tells him to leave them alone. Diane tells Sonny that Brando was a hero and was always trying to do right by him. Sonny brings up the interrogation she gave him during Nina's trial. You took Michael's side. You exposed my life for everybody to see. No nonsense Diane asks Sonny to have Sasha call her because she is not going to participate in this conversation. Sasha steps back inside the garage. Diane expresses her sympathy to Sasha. She learns from Diane that Martin Grey is out of town. He asks Diane to represent Sasha in his absence because he has reservations regarding her guardianship. Sasha asks, "am I going to prison"? When Diane inquires about where Brando might keep the court documents, Sasha gestures to his office. She then gives Diane permission to look for them in Brando's office. Sasha would like to go home, Sonny is going to take her home. He calls Nina to help him with Sasha. Nina says she is on her way. Sonny tells Dex to wait for Diane and then lock up.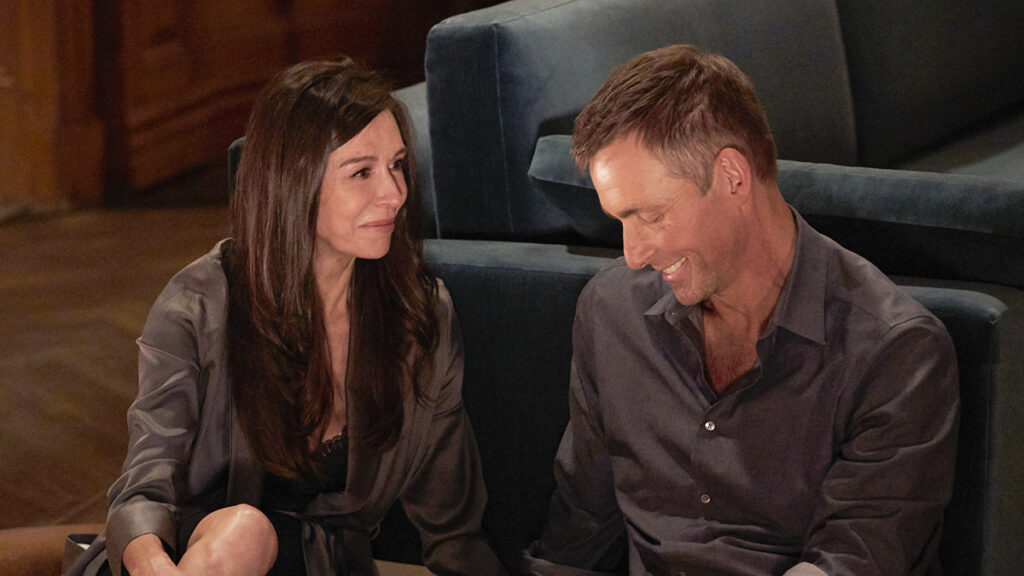 On The Haunted Star, Lucy and Victor are having a good time together. Lucy hears Victor say in a soft voice that she should be treated like royalty. Such conversations are Lucy's favorite. Although they are onboard, Anna and Valentin are hiding until they can reach Lucy. Anna and Valentin are on a mission, crawling around on hand and foot, which causes a distraction for Johan, which gives them time to push him overboard. Lucy is full of curiosity, she loves a man with a big plan. The vessel has come to a halt, someone has fallen overboard. Lucy spots Anna and Valentin, she ask Victor to check on everything and to see who went overboard. Victor exits, Anna & Valentin rush in. Lucy wants to know why they are there. Anna says to rescue you. Lucy blurts out that she does not want to be rescued. Lucy tells Anna that Victor is starting to open up to her . He's putty in my hands. I have not felt this alive in years, she tells them both. Anna warns Lucy that she is way, way over her head with Victor. He is a very dangerous man. Lucy thinks she can handle Victor. They hear someone coming. Anna tells her this is her last chance to leave. Anna and Valentine leave.
Victor enters with a very wet Johan. He would like to know what happened. Johan says he did not see anyone else on board. He was just enjoying a drink, he must have slipped. Victor can't help but sense that something is just not right. Anna and Valentin have safely returned to the docks. They still feel like Lucy is in danger and will need their help. Over in Lucy's world she cannot help but wonder what a life with Victor would look like.
Nik walks into Ava's room with an envelope in his hand. Nikolas hands the envelope to Ava, this proves how much I love you. She fixes her gaze on the envelope and Nikolas.
Diane is looking through papers in Brando's office. Someone is standing behind her, oh no they have a hook! Could Diane be the swing hooks' next victim?
We love comments / comment below