This post's goal is to implore everyone who stumbles upon it to kindly take either 9:03 or 17:45 minutes out of your day to watch either of the videos I have shared below. The Kelly Clarkson Show produced the videos, and she also conducted the excellent reporting. One of the many little things that are aiding Uvalde's recovery are the artist, their tributes, and beautiful murals. Please share the videos with your loved ones after watching them because these kids deserve that from all of us. Let them never be forgotten. Everyone has been affected by this catastrophe, and life will never be the same. Our sense of security and trust in our educational systems has failed us all and keeps failing.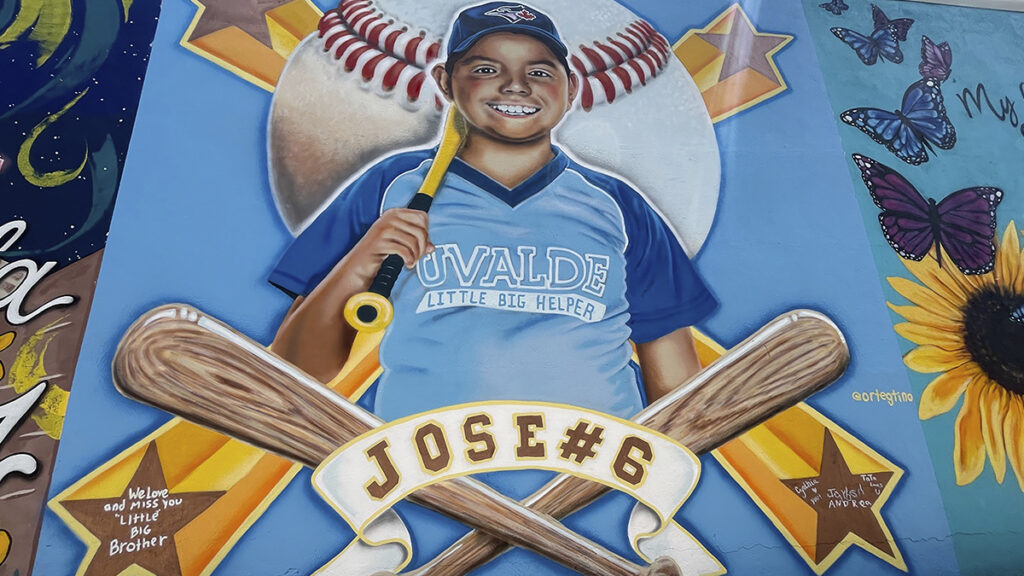 Mural of Jose Manuel Flores Jr., 10. Painted by Tino Ortega
Uvalde, Texas – Robb Elementary-According to the most detailed report of the shooting to date, 376 law enforcement officers swarmed upon the school in a chaotic, uncoordinated scene that lasted for more than an hour. We know that despite the large number of guns in the hallways and outside the building, that one 18-year-old with an AK-15 rifle massacred 19 students and two teachers May 24, 2022. Count them again, 376 armed officers and one 18 year old with an assault rifle and a propped open door, that should have been locked.
Kelly visited her home state of Texas over the summer to see for herself how the Uvalde neighborhood has banded together to cope with and recover from the devastating school massacre. Kelly meets professor Abel Ortiz, who orchestrated the painting of 21 murals in memory of the dead teachers and students in an effort to positively reshape their neighborhood. Juan Velasquez, a muralist, joins the program and discusses why he decided to take on the project and what he believes the neighborhood would gain from the murals. Julie Bedingfield, manager of H-E-B Public Affairs, and Joshua Brown, an architect working on designs for a new neighborhood school, are both interviewed by Kelly.
Mural depicting the educator Irma Garcia and her husband Joe, who passed away two days after she died from a heart attack. Mural by Houston based Caesar Martinez with help from Analisa Vela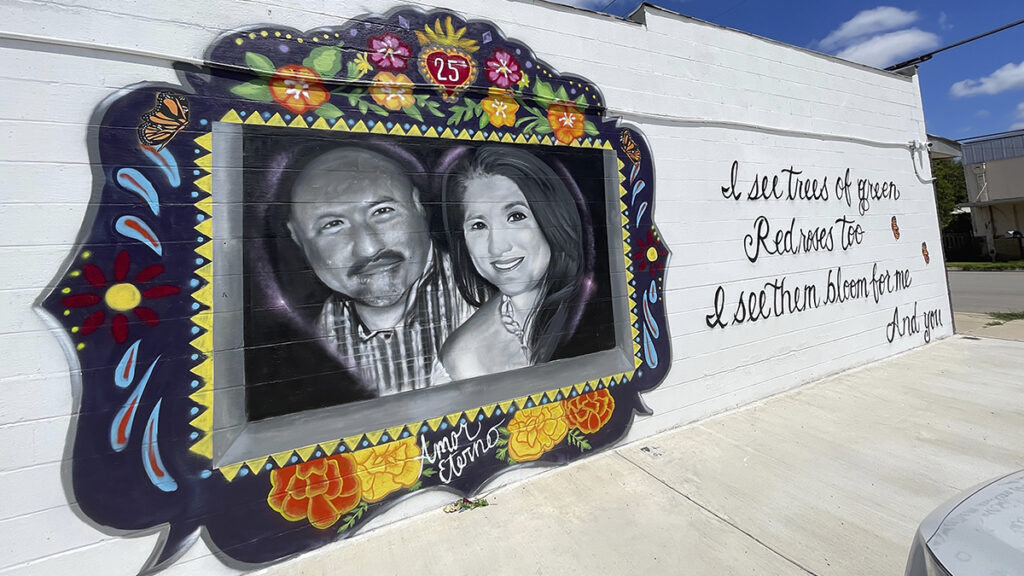 Not a dry eye will be in the house! It should be that way.
Several Texas artists participated in the "Healing Uvalde" mural project, which was organized by Abel Ortiz.

The artists focusing on the murals' portraits include: Abel Ortiz, Tino Ortega, Alvaro "Deko" Zermeno, Amado Castillo III, Ana Hernandez, Anat Ronen, Carmen Rangel, Cease Martinez, Cris Escobar, Cristina Noriega, Filiberto Mendieta, Gage Brown, Jeremy Flores, Joey C. Martinez, Juan Velázquez, Kimie Flores, Luis "Uloang" Angulo, Richard Samuel, Ruben Esquivel, Sandra Gonzalez, and Victor "Mask" Casas.
RIP God's Children, Lord, hear our prayer.
The children:
Nevaeh Alyssa Bravo, 10
Jacklyn Cazares, 9
Makenna Lee Elrod, 10
Jose Manuel Flores Jr., 10
Eliahna Garcia, 9
Uziyah Garcia, 10
Amerie Jo Garza, 10
Xavier Lopez, 10
Jayce Carmelo Luevanos, 10
Tess Mata, 10
Maranda Mathis, 11
Alithia Ramirez, 10
Rojelio Torres, 10
Eliahna Torres, 10
Jailah Nicole Silguero, 10
Layla Salazar, 11
Alexandria "Lexi" Rubio, 10
Maite Rodriguez, 10
Annabell Rodriguez, 10
Educators:
Eva Mireles, 44
Irma Garcia, 48
We love hearing from you, please be respectful and on subject/comment below