A new original Christmas Movie from the Vaults of Hallmark!
2022 – A Merry Christmas Wish A Hallmark Original
Release Date: In Post Production
Cast: Neil Whitely, Jill Wagner, Cameron Mathison, Morgan David Jones, Deanna Jarvis
Plot: It tells the story of Janie. She returned to her hometown of Woodland Falls when her great-uncle passed away. He surprises Janie with a special gift: the family homestead, her childhood home.
Check back later for more details as they are released. Part of the 2022 Original Hallmark Christmas Catalog!
Cameron Mathison is no stranger to Hallmark Christmas Movies. He starred in several starting back to 2013. As the date approaches for his new Original Christmas Hallmark titled 'A Merry Christmas Wish' let's look back at his previous ones.
If you have not seen one of these movie, check your local listing during the holiday season for a rerun or check the Hallmark streaming platform Hallmark Movies Now
2013 – The Christmas Ornament A Hallmark Original
Release Date: November 16, 2013.
Cast: Cameron Mathison, Kellie Martin, Jewel Staite, Brendan Meyer, Matthew Kevin Anderson.
Plot: Kathy, who recently lost her husband, intends to steer clear of any Christmas customs that may make her think of him, including trimming the tree. However, Kathy starts to open up to the delights of the season when Tim, the gorgeous owner of a Christmas tree business, gives her an ornament that stands for hope. She not only begins to feel a connection with Tim, but she also considers making a career out of her love of baking. Kathy needs to strike a balance between holding on to the past and moving on in order to heal from her loss.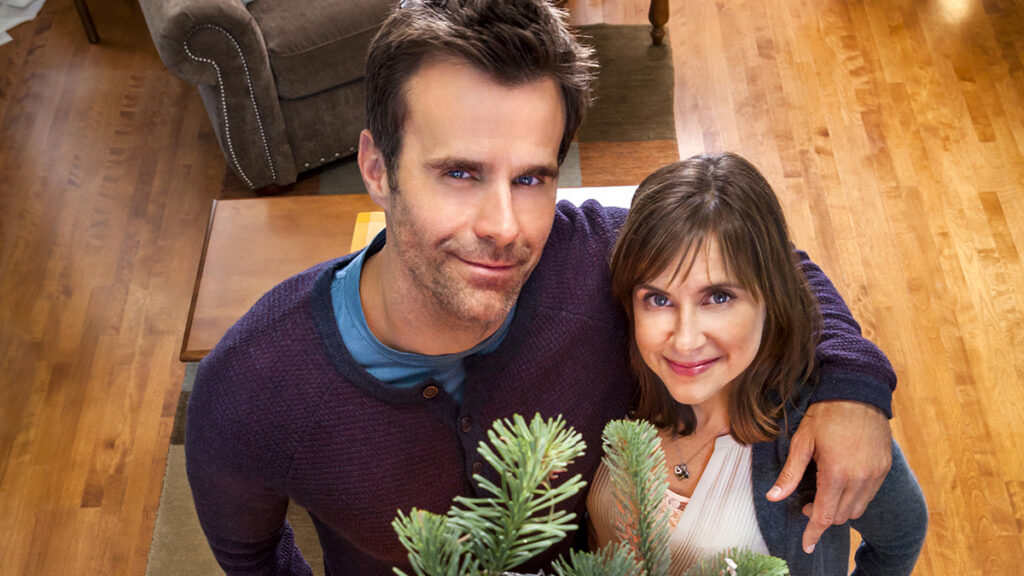 Goofs:
Even though it's Christmas, the trees in the streets still have most of their leaves.
Kathy's bike business is called "Dream Cycle" but when Kathy and Jenna are discussing Kathy's starting a cookie business, Jenna calls it "Dream Bikes."
The greenery in town looks like summer, not December in Vancouver.
When driving to make deliveries, Tim and Kathy drive past a place called "The News", 29 sec later they drive by the same place, but the scene is flipped horizontally, and the store and the license plates in the scene are a mirror image of what it should be.
Filming Location: Vancouver, British Columbia, Canada.
Film Date: June 2013 – July 2013
2013 – Window Wonderland A Hallmark Original
Release Date: November 23, 2013.
Cast: Chyler Leigh, Paul Campbell, Naomi Judd, Cameron Mathison, Terence Kelly, Matty Finochio
Plot: During the busiest time of the holiday shopping season, two very different New York City department store employees, each with their own secrets, compete for the same prestigious window dressing position. They might discover they have more in common than they thought as they compete for the desired position.
Goofs:
At :31 minutes into the movie, in the bathroom scene with the main actress and her mother, the mother brings in a pile of towels and sets them on a cart. As they leave that shot, you can see they are just falling over and there is a messy towel on top. Even though there is no one else in the bathroom, as they leave the bathroom a few moments later, the pile is all tidy again and not falling over.
They spend all this time showing its New York City. Beautiful scenery. As the main character talks to the window cleaner. A lady walks right by holding a Dollerama Bag!!! Canada only has Dollerama.
May be of interest: There are two songs in this movie that have generated much interest online, but their information isn't included in the end credits. The first is "Isn't Christmas Time a Wonderful Thing", by Joel Evans featuring Carla Helmbrecht. It is not available on cd, but is available for purchase as an mp3 purchase. The second song is heard in the last scene of the movie, "This is Christmas, by Suzie McNeil, and is available on cd.
Filming location: Vancouver, British Columbia, Canada
(McGuire's Department Store exterior) Holt Renfrew – 737 Dunsmuir St, Vancouver, British Columbia, Canada.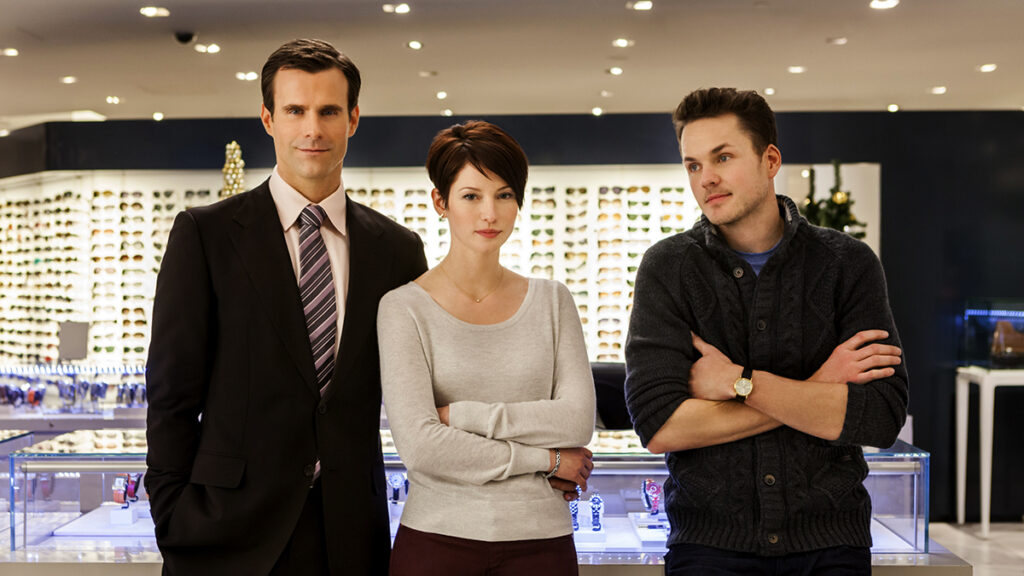 2016 – A Christmas To Remember A Hallmark Original
Release date: December 18, 2016
Cast: Mira Sorvino, Bailey Skodje, Cameron Mathison, Elle McKinnon, Jesse Filkow , David Weaver, Gidget, and more.

Plot: Jennifer Wade, an emerging celebrity chef in NYC, is having a meltdown on the set of her Christmas Homestyle show. Desperate for a break from the "stress of her success" she takes a spur of the moment vacation in a remote Colorado town. On the way to her chalet she crashes and suffers amnesia. A kindly widower with young children, still grieving for his dead wife, takes a dazed Jennifer to his home and they wind up having magical and healing holiday experiences that both transform and heal them all.
Filming Location: Whistler, British Columbia, Canada (Outdoor scenes, including gazebo scenes, filmed in Whistler Town Plaza) and Vancouver, British Columbia, Canada.
Filming Dates: 11 October 2016 – 28 October 2016
2019 – The Christmas Club A Hallmark OriginalCa
Release Date: November 26, 2019
Cast: Mira Sorvino, Cameron Mathison, Jesse Filkow, Bailey Skodje, Elle McKinnon, Elle McKinnon, Brenda Crichlow, Steve Bacic, Kevin McNulty, Wendy Abbott, John Innes, among others
Plot: When business consultant Edward (Mathison) and dance instructor Olivia (Mitchell) first come into contact, they are assisting an elderly woman whose Christmas Club money were lost. The first of many pay-it-forward gestures Olivia and Edward will experience is when a vendor offers them free pecans at the park after they replace her money with their own. They suddenly see some swings and engage in a competition to see who can jump higher. Their connection is so strong that they awkwardly pretend they have to return to work after the combat. However, Olivia's wonderful day takes a bad turn once she arrives at her dance studio. The studio's owner has made the decision to sell, and Edward's customer is purchasing it! As a result, Olivia will no longer have a job and the dance recital will not take place. Edward then takes Olivia to a vacant storefront where she can open a studio. Olivia goes to the bank when it appears that her loan will be delayed, ignoring Edward's offer to assist and insisting that she must do this on her own. Amazingly, news that the loan has been approved arrives soon after. When Olivia sees Edward hugging the loan officer, she believes Edward went against her wishes and becomes upset. Olivia adamantly walks away, saying they can't be together if he doesn't believe in her. Unless fate intervenes, it doesn't seem like even a little Christmas magic will be able to reunite these two.
Goofs:
When Edward is drinking his cocoa, the whipped cream is above the rim of the cup in the forward long shots. In the reverse shot when Maeryn tells him the next step is to sip the cocoa, there is no whipped cream left at the top of the cup, the whipped cream which reappears in the next forward long shot.
When Edward and Olivia meet at Evergreen Park and go for a walk when they approach Kringle's Kitchen there are people across the street in the background walking in shorts.
When pedestrian extras are walking by on the street, they trample and turn up the "snow" rugs in several places, and the rugs in other places have folds.
Filming Locations: Winnipeg, Manitoba, Canada
Many scenes were shot in Winnipeg, Manitoba, Canada as a stand in for Minneapolis, Minnesota. Balmoral Hall School for Girls features prominently, as well as various locations in Winnipeg's Exchange District.