The legendary country singer Loretta Lynn passed away on Tuesday at her home in Hurricane Mills, Tennessee. Her ground-breaking songs dealt openly with poverty, women's issues, and, in the iconic tune "Coal Miner's Daughter," her own life. She was 90 years old.
According to a statement from her family, Lynn passed away peacefully in her sleep this morning, October4, 2022 at her beloved ranch in Hurricane Mills, Tennessee.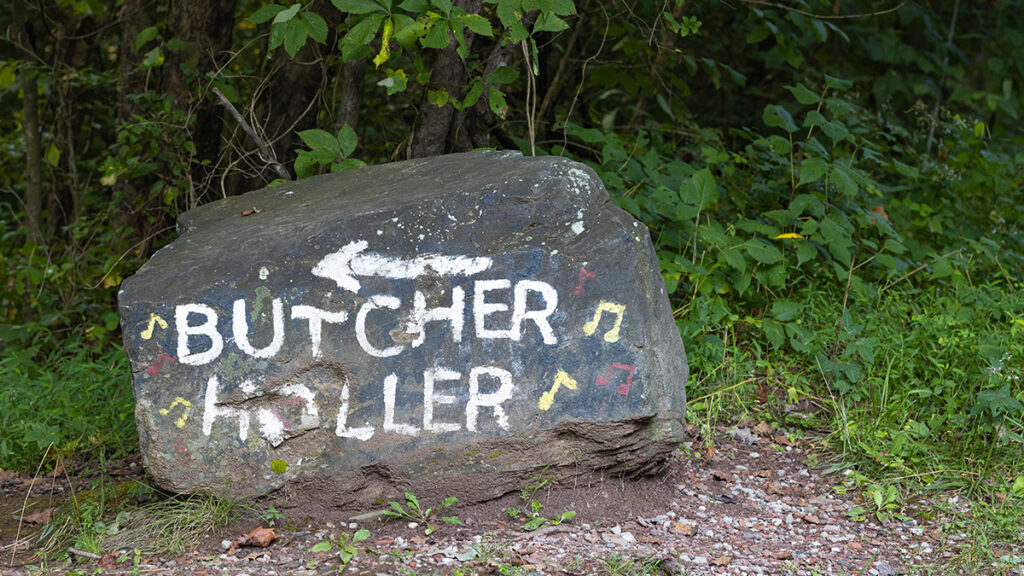 Over the course of a 60-year career, one of the greatest female singer-songwriters in country music history—if not the greatest, then unquestionably the most influential—Lynn chronicled her life and struggles in song and in the 1976 autobiography that was adapted into the 1980 hit film Coal Miner's Daughter, which won Sissy Spacek an Oscar for her portrayal of Lynn. Oliver Vanetta "Doolittle" Lynn, popularly known as Mooney, was portrayed by Tommy Lee Jones as the couple's 48-year-old husband.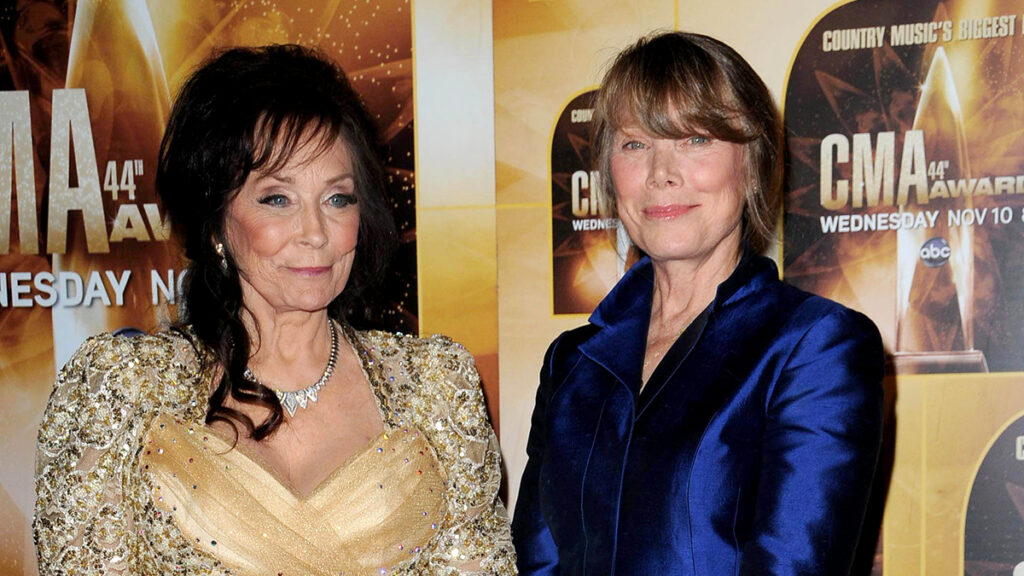 Loretta Webb was born on April 14, 1932, in a cabin in Butcher Hollow. To parents, Melvin Theodore Webb  and Clara Marie (Ramey) Webb. She was named after actress Loretta Young. Although Loretta  may be the most well known of the Webb family, the country music star wasn't the only singer in the Webb family or the only famous one. She was one of eight!
The other Webb children:
Melvin "Junior" Webb died at age 63 (December 4, 1929 – July 2, 1993)
Herman Webb died at age 86 (September 3, 1934 – July 28, 2018)
Curated the Butcher Hollow homestead, until his death.
Willie "Jay" Lee Webb died at age 59 (February 12, 1937 – July 31, 1996) Country Singer
Donald Ray Webb died at age 76(April 2, 1941 – October 13, 2017)
A songwriter in his own right, but lived a much quieter life than his siblings.
Peggy Sue Webb Wright (born March 25, 1943)
Country Singer, these days does background vocals for her sister Crystal
Betty Ruth Webb Hopkins (born January 5, 1946)
Not much is known about Betty who prefers to stay out of the spotlight
Crystal Gayle (born Brenda Gail Webb; January 9, 1951) Country Singer Crystal established quite a life and career for herself. Like her older sister, she was admitted into the Grand Ole Opry in 2017 and has a star on the Hollywood Walk of Fame. She has received numerous American Music Awards as well as a Grammy. She was ranked among the top 100 country music performers of all time by Rolling Stone.
After moving to Wabash, Indiana, with his wife and younger children a few years earlier, Loretta's father, Melvin Theodore Webb, passed away at the age of 52 from black lung disease. After his passing Lynn's mother later wed Tommy Butcher, Webb's first cousin. Clara Webb Butcher, died at  69, of complications of lung cancer in a Nashville, TN hospital in November 1981 
The Webb-Butcher Family Cemetery in Van Lear, Johnson County, Kentucky, is where her parents are interred. When Webb passed away, Ms. Lynn's husband Doo used a bulldozer to clear a path leading to the burial site, and he did the same for her mother Clara.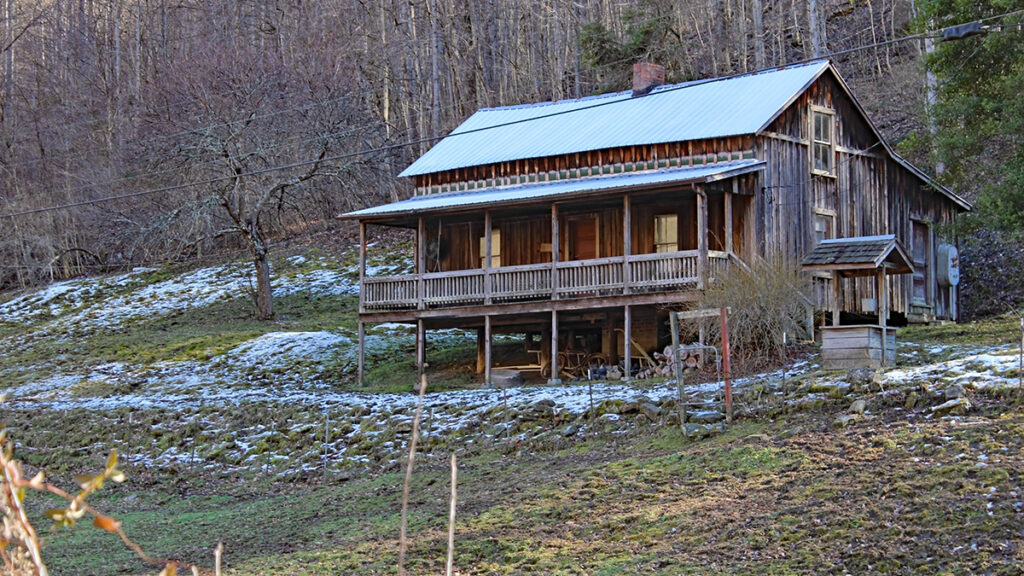 Oliver Vanetta "Doolittle" Lynn (August 27, 1926 – August 22, 1996), often known as "Doolittle," "Doo," or "Mooney," wed 15-year-old Loretta Webb on January 10, 1948. They had just recently met. When Loretta was seven months pregnant with the first of their six children, the Lynns left Kentucky and relocated to the logging town of Custer, Washington.
Doo gave her a Harmony guitar in 1953 that cost him for $17. Over the next three years, she strived to hone her guitar skills after teaching herself how to play. She created her own band, Loretta and the Trailblazers, with her brother Jay Lee on lead guitar thanks to Doo's support.
Together Loretta & Doo had six children. As they embraced their mother's popularity and superstardom as one of the biggest country music legends of her time, Loretta's children have undoubtedly had their fair share of the spotlight. They demonstrated as they matured that they were more than just their last name. While Jack became a prosperous rancher, Betty, Cissie, Ernest, and the twins Peggy and Patsy all built out lucrative careers as singers and songwriters.
Her first child was a daughter that she named Betty Sue. She was born on November 26, 1948, Loretta was 16 years old. Like her mother, Betty Sue had a talent for songwriting. Under the pen name Tracy Lee, she composed songs such as "Wine, Women and Song," "Before I'm Over You," and "The Home You're Tearin' Down." Sadly, she passed away on July 29, 2013, at the age of 64, as a result of emphysema complications.
On December 7, 1949, Jack Benny was born. He was her second child. Jack never tried to become a musician, in contrast to Loretta and Betty Sue. Instead, he spent his time working on the family ranch, developing into a skilled blacksmith, horse trainer, and rider. He tragically passed away on July 5, 1984, three miles from his house in Hurricane Mills, Tennessee, after hitting his head and drowning.
On April 7, 1952, she gave birth to a third daughter, Clara Marie, who she named but called "Cissie." Cissie adopted her mother and sister's love of music and pursued a career in it. She pursued entrepreneurship after completing two CDs of recording. Just across from the renowned Loretta Lynn's ranch, she created a country store and music barn in 2006. There, she sells handmade products from Tennessee as well as autographed photos and albums of the biggest names in country music.
Ernest Ray was Loretta and Doo's fourth child, born on May 27, 1954. He also enjoyed singing and performing like his mom & sisters.. He frequently performed with his mother, Loretta, and opened for her throughout the years. Ernest spent the majority of his life away from the spotlight, despite the fact that he made numerous music appearances.
She gave birth to twin girls on August 6, 1964. She gave them the names Peggy and Patsy in honor of her late friend and fellow performer Patsy Cline and her sister Peggy Sue, respectively. The twins grew up loving music the same way their mother and their other siblings did. The twins, sometimes referred to as The Lynns, are best known for their 1997 hit song "Woman to Woman."
Doo gave her a Harmony guitar in 1953 that cost him $17. Over the next three years, she strived to hone her guitar skills after teaching herself how to play. She created her own band, Loretta and the Trailblazers, with her brother Jay Lee on lead guitar thanks to Doo's support.
She debuted with the Westerneers and the Pen Brothers' band at Bob's Tavern in Blaine, Washington, and at the Delta Grange Hall in Custer, Washington. In February 1960, she recorded "I'm a Honky Tonk Girl," her debut song. In the 1960s, Lynn entered Nashville's country music scene.
Lynn started making demo recordings for the Wilburn Brothers Publishing Company. She signed a deal with Decca Records thanks to the Wilburns. In November 1960, the original Loretta Lynn Fan Club was founded. Lynn was ranked as the No. 4 Most Promising Country Female Artist by Billboard magazine at the end of the year.
As of 1960, Lynn's appearances on the Grand Ole Opry and her association with the Wilburn Brothers both contributed to her success as the top female recording artist in country music. The Wilburn Brothers received the publishing rights to her work as part of their agreement with her. After abandoning her financial partnership with the Wilburn Brothers, she fought them for 30 years in vain to reclaim the publishing rights to her songs. Due to the contracts, Lynn ceased writing music in the 1970s. The Grand Ole Opry welcomed Lynn on September 25, 1962.
Patsy Cline was Lynn's dearest friend and mentor during her formative years in music, according to Lynn.
Quotes
"To write a song, I write about me a lot, you know? And, 'Coal Miner's Daughter,' I sat down on the back porch of the old home place and just looked up the hill and started—'Well, I was born a coal miner's daughter'—and I wrote the song. It's like writing a poem and, you know, no big deal. When you're hungry, you can find that you can do a lot of things that you didn't know you could do."

"I ain't got much education, but I got some sense."
"When something is bothering me, I write a song that tells my feelings."
"I get along with all the women singers, but especially Dolly Parton. We talk the same hillbilly language."
"I don't go to church regularly. But I pray for answers to my problems."
"You can't be halfway in this business. If you don't meet the fans, you lose all you've got."
"When I first came to Nashville, people hardly gave country music any respect. We lived in old cars and dirty hotels, and we ate when we could."
"Nobody's perfect. The only one that ever was, was crucified."
— LORETTA LYNN
Loretta Lynn was honored at the 26th Kennedy Center Honors in 2003. The honorees shared the presidential box with President Bush, his wife, Laura, and his parents, former President George H.W. Bush and Barbara Bush. The video below is a tribute to Loretta sung by Reba McEntire at the Kennedy Center.
Received the highest civilian honor in the United States. The legendary country singer was awarded the Presidential Medal of Freedom in a ceremony at the White House on Wednesday November 20, 2013.. President Obama presented the medal in the East Room of the White House.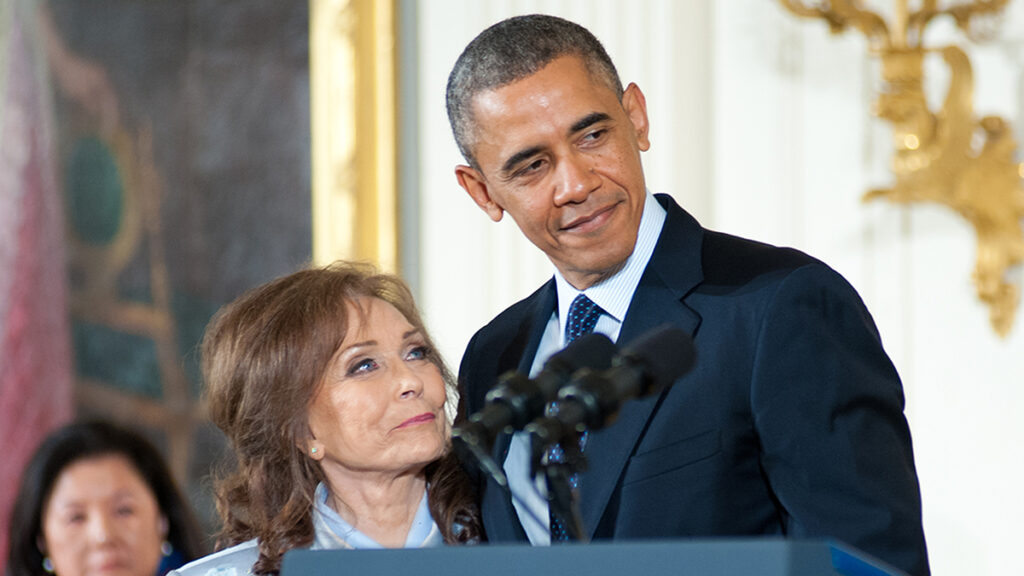 Received a star on the Hollywood Walk of Fame on January 11, 1974, which is located at 1515 Vine Street, Hollywood, CA. Fans laying flowers on Loretta's star in Hollywood
One of the most decorated musicians of all time, Lynn has sold more than 45 million records worldwide. The four-time Grammy winner is the only female recording artist in history to have been admitted into more music halls of fame than any other. She was also the first woman to receive the Country Music Association's Entertainer of the Year award.
For a complete list of awards and nominations received by Loretta click here
Comment Below