Cast who appeared in todays episode: Victor Cassadine (Charles Shaughnessy), Lucy Coe (Lynn Herring), Anna Devane (Finola Hughes), Robert Scorpio (Tristan Rogers), Carly Corinthos (Laura Wright), Bobby Spencer (Jaclyn Zeman), Maxie Jones (Kirsten Storms) ,Sam McCall (Kelly Monaco), Spinelli (Bradford Anderson), Dante Falconeri (Dominic Zamprogna), Britt Westbourne (Kelly Thiebald), Michael E, Knight (Martin Grey), Josh Kelly (Cody Bell), Linda Purl (Peyton Honeycutt), Max Decker (Johan).
Sets Used on today's episode: General Hospital Lobby, Metro Court Hotel Victors Suite, Kelly's Diner, Deception Offices, Devane Manor, Jacksonville Hotel Restaurant.
Kelly's Diner on the Pier
Dante meets up with Cody at Kelly's Diner.
Dante is curious as to what is going on with Cody and Mac.
Dante thinks Cody can do far better than Britt.
Dane is called back to work just as Cody is about to make his case.
Hospital Lobby
Maxie needs to speak with Britt about Cody.
She desperately needs her honest opinion on him.
Britt is delighted that she hasn't seen Cody in a while.
Maxie believes they are dating right now, so what's up?
Britt shares that he has been ghosting her lately.
Cody has had a lot to deal with these days per Maxie.
Maxie tells Britt chances are very likely that Mac is Cody's father.
Britt thinks life is so unfair, Cody gets Mac as a father while she gets Peter.
Maxie is confused why Cody will not take the DNA test to confirm one way or the other.
Britt understands his hesitation, after all looking at family and all the damage they did.
She confesses the fact she still has the box Peter left her.
Britt will know someday why his twisted mind felt the need to leave her anything.
Back to the subject at hand, Britt seems happy that Cody has not blown her off.
Maxie realizes Britt deep down likes Cody and wants to be with him.
She likes him, thinks something is shady about him, Britt concurs.
Hospital Lobby
Spinelli is upset that he brought Sam into his mess with Cody.
He apologies for making her an accessory.
Sam knows he was never trying to hurt anyone.
She intends to find out why Cody blackmailed Spinelli.
What is Cody really after?
Spinelli is warned to not tell anyone else about his part in Society Setups.
Sam departs, she is on a mission.
He joins Britt and Maxie, listening to their conversation about Cody.
Spinelli is not a fan of Cody's.
Maxie has a date with Austin.
Spinelli will babysit the kids.
Maxie wishes Spinelli could find love again.
She suggests he use Society Setups to find a partner.
She only wants his happiness.
Kelly's Diner on the Pier
Sam meets up with Cody.
She thanks him for coming.
He would like to know what he has done and how much trouble he is in.
Sams tells him blackmailing her friend Spinelli was not a cool move.
Cody thinks she has went a little over the edge.
He only asks Spinelli to set up and make sure he meets Britt.
He had and has no intentions of rating Spinelli out. Give me a break.
Sam wants to know his con?
She will hurt him if he threatens Spinelli again.
She will hurt him if he threatens Spinelli again.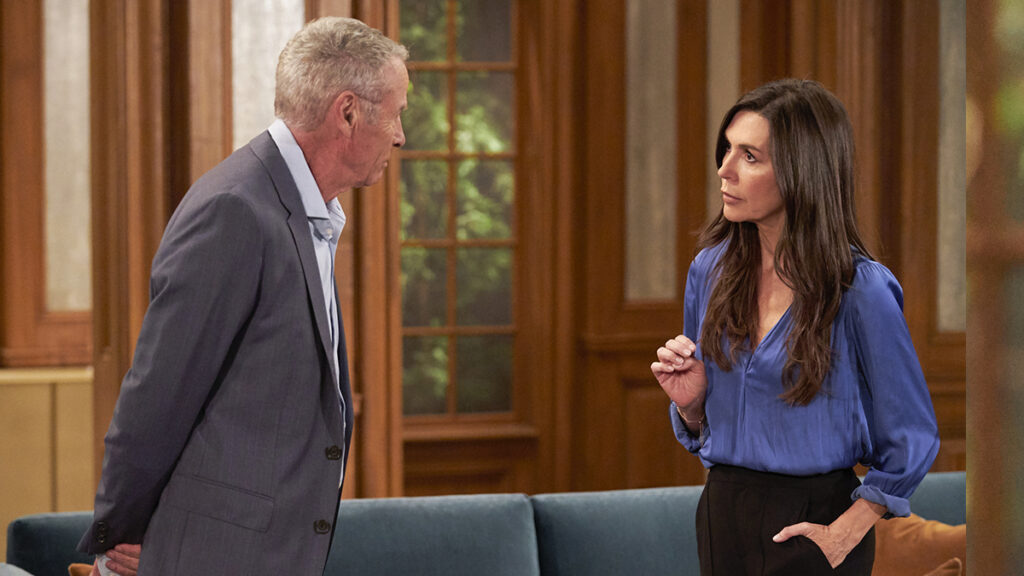 Hospital Lobby
Dante sees Britt, inquires if he has seen his friend Cody.
He brushes her off.
Britt asks what is his problem?
She feels Dante does not think she is good enough for Cody.
Cody is a grown ass man, he makes his own decision.
He also reminds Britt they have a sketchy history.
He still does not trust her, she best not jerk Cody around.
Deception Offices
Anna gives Lucy a call.
Lucy should know dealing with Victor can be deadly.
She is a grown woman very capable of taking care of herself.
Lucy hangs up on Anna.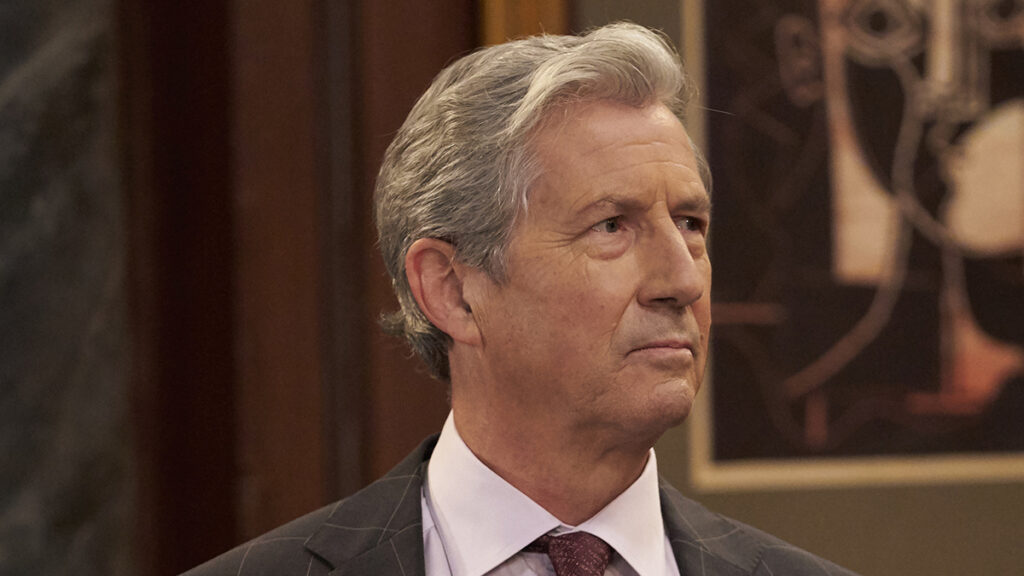 Metro Court Hotel-Victor's Suite
Johan wants to take care of Lucy.
Victor wants that pleasure.
Lucy will be taught a severe lesson.
Depending on facts, how severe is to be determined.
Deception Offices
Victor pays a surprise visit to see Lucy.
Diamonds are a girl's best friend, they definitely are Lucy's
Victor gifts Lucy with a beautiful diamond necklace.
As we learn in life, nothing is free.
This necklace is an example.
It is equipped with a camera and voice activator unbeknownst to Lucy.
Lucy cannot thank Victor enough.
The doors open, it is Martin Grey.
Marin is sure Victor has a few ideas.
Lucy is ecstatic to see him.
She assures him what he sees is not what it is.
Victor is just a friend.
He is only interested in being a partner in Deception.
Victor is only interested in her brain and good business sense.
Martin tells Victor to see himself out.
Lucy explains she is in cahoots with Anna.
She did this for him.
Anna forced her, or she would turn Marin over to the authorities.
That is funny, Anna didn't mention it in their conversation.
Lucy realizes what Anna did to stop her from working with Victor.
Lucy has something to take care of, she leaves.
Devane Manor
Anna warns Robert that deputy mayor Ashby is one of Victor's accomplices.
I need all the facts. Who is your source?
Anna admits Lucy was but her part of the job is over.
They need to focus on Victor.
Victor is a menace to the public.
Anna thinks it's time for Robert to be in a relationship, que Holly!
Anna details her plan, Scorpio thinks she is on to something.
Ashby just might be the leverage they need to bust Victor.
Robert does not care for Valentin, does not trust him.
Anna asks him to trust her, she wants Victor to pay for killing Luke.
Robert misses their old WSB days. So does Anna.
Metro Court Hotel-Victor's Suite
Victor returns to his suite to spy on Lucy.
He and Johan hope the camera works in her necklace.
Victor must know what Lucy is really up too.
Jacksonville Hotel Restaurant
Bobbie pays Carly a surprise visit.
How did the meeting go about moving the graves?
Carly has not heard.
Drew is good for her, he understands her.
He helped her realize that the Reese car accident was not her fault.
Bobby is proud of Carly, and can see she is her old self again.
Carly is paying the tab, Peyton interrupts.
Peyton has a joyful look on her face.
Carly did not get the votes to stop the Beautification Group.
She will need to find a new place to plant Virginia.
Devane Manor
Lucy is at Anna's door.
Victor is listening and recording.
Lucy is tired of Anna sticking her nose in her business.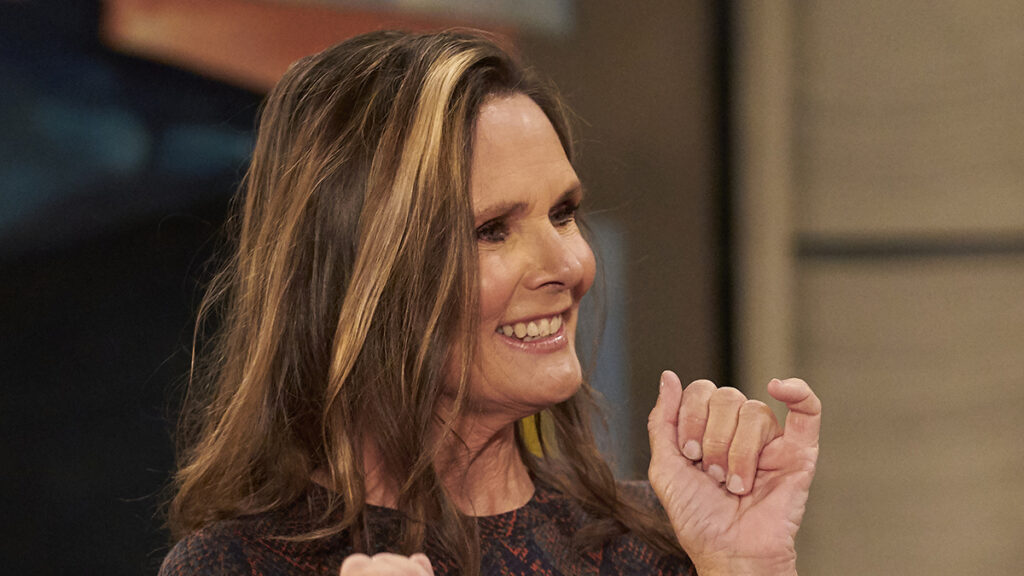 We love to hear from you, please be respectful, follow the rules, stay on subject. Start or join a conversation / comment below