Cast who appeared in todays episode: Carly Corinthos (Laura Wright), Drew Cane (Cameron Mathison), Robert Scopio (Tristan Rogers), Holly Sutton (Emma Samms), Olivia Quartermaine (Lisa LoCicero), Ned Quartermaine (Wally Kurth), Brook Lynn Quartermaine (Amanda Sutton), Harrison Chase (Josh Swickard), Sasha Gilmore (Sofia Mattsson), Maxie Jones (Kirsten Storms), Austin Gatlin-Holt (Roger Howarth), Mason Gatlin (Nathanyael Grey), Dante Falconeri (Dominic Zamprogna), Anna Devane (Finola Hughes), Martin Grey (Michael E. Knight), Jordan Ashford (Tanisha Harper), Victor Cassadine (Charles Shaughnessy), Roz Venta (Nawal Bengholam),Jennifer Arden (Jennifer Field).
Sets Used on today's episode: Beach in Jacksonville (this is an actual GH location shoot and the scenes were filmed on the beaches of Malibu, Ca.), Quartermaine boathouse, Quartermaine Kitchen, General Hospital Holly's Room, Nurse's Station, Corridor, PDPD Squad Room, PCPD Interrogation Room, PCPD Parking Garage.
Beach in Jacksonville
Carly and Drew are at the Beach in Jacksonville.
They have come to spread Virginia's ashes.
Drew tells Carly to take her time.
They walk up to Virginia's favorite bluff at the beach.
Carly has made peace.
She pulls the urn out of the bag.
Carly gives a speech with the urn in her arms.
She hopes Virginia is at peace, she loves her.
She wished her kids had been able to know her.
Carly pours the asses over beaches & ocean as the wind blows.
She needed closure.
Coming to Jacksonville has made her rethink her life.
Needed closure. Carly has gained Drew. Drew proclaimed that
Watching Carly has made Drew take a good look at his own life.
Here is to a new beginning for both.
They share a passionate kiss on the beach.
Quartermaine Boathouse
Robert is in shock.
He cannot believe Holly is sitting in front of him.
Holly is confused, why is everyone looking at her like they see a ghost.
Robert hugs Holly.
He explains everyone persummed she was dead.
Holly has been missing from the face of this earth for over two years.
Robert wants to know where she has been for those two years,
How did she get here?
Holly is clueless.
Robert wants Holly checked out at the hospital.
Dante has the ambulance enroute already.
Robert leaves with Holly for the hospital.
Olivia thinks Holly is a real gutsy lady.
Ned knows how bad Olivia wants to know all the details.
He tells her to go, Robert is her friend.
He is sure that Scorpio could use some support.
Olivia thanks Ned and gives him a big hug & kiss.
Quartermaine Kitchen
Brook Lynn and Chase are in the Q's kitchen..
Brookie fills Chase in on the latest boathouse drama.
They just found Robert's dead wife Holly.
She was just sitting there, in the Q's boathouse..
This peaks Chase's detective mind.
Where do you think Holly came from?
As she always does, Brookie moves on to her own interests.
Brookie wants him to focus on his music.
His social media accounts are blowing up.
Brook Lynn tells Chase his video has 100,000 views.
Brookie tells Chase he is going to be the next big Rock Star!
Ned returns and fills them in on Holly and the fact she does not know how she got there.
Brookie gets a ring-a-ding and rushes out on the patio to answer it.
Ned engages Chase in conversation.
He tells him that Brookie is having the time of her life managing his singing career.
With that being said Ned wants to know how Chase feels?
Singing is not his passion, he is doing it to make Brookie happy.
All Chase wants is to be reinstated, he is itching to help catch the hook killer
He is paying the price for losing his temper.
Brookie gets a letter from Dante on the reinstatement of Chase.
She deletes it. Sound familiar?
She gets a call from Linc.
Linc has taken the bait.
They are one step closer to bringing this slim bucket down.
They embrace, with a look of confusion on Chase's face.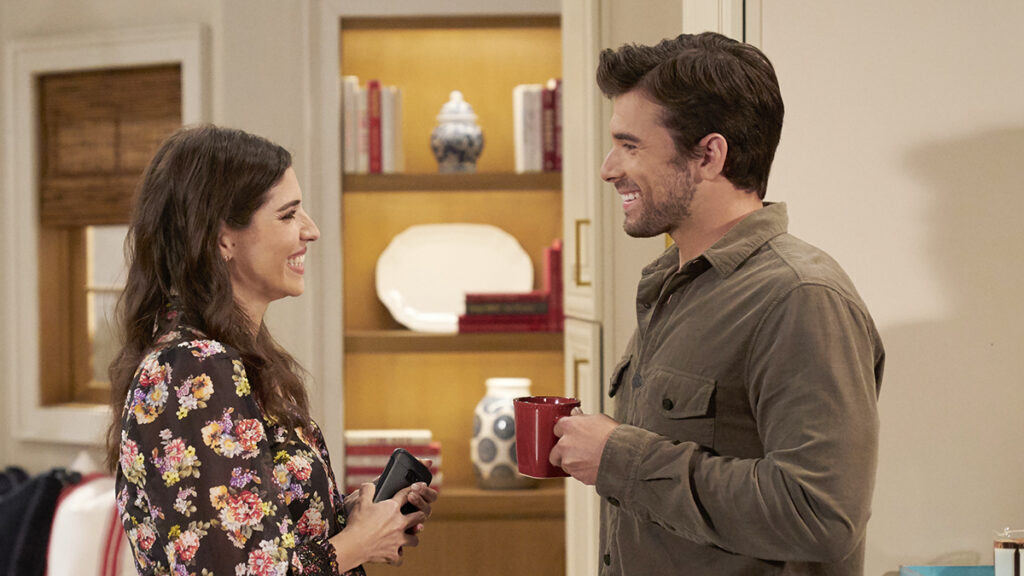 Hospital Corridor
Sasha and Maxie are talking in the corridor.
They are talking about Lucy.
Where is she and why are PCPD looking for her?
No one has been brought into the hospital fitting her description.
Austin assures them if Lucy had been brought in he would tell them.
Mason interrupts.
Maxie introduces Sasha to Austin's cousin Mason.
Austin advises the ladies to go home and he will keep them up to date.
Nope, Sasha does not want to go home/
Maxie suggests they go to hospital cafe and have a bit to eat.
Austin tells Mason he cannot be there.
Sorry bro, family is where it is at and theirs family is special.
Hospital Lobby, Nurse's Station and Holly's Room
Robert wheels an unhappy Holly into the hospital.
Holly does not want to be there.
Robert stops Austin to run a complete exam of Holly.
Explaining her memory loss etc.
Austin is on board, he has Holly wheeled into and examining room,
Olivia arrives to support Robert and check on Holly,
Austin appears, Holly seems fine to him.
He will still run an MRI to double check.
Memories are fading in and out for Holly.
She remembers she was working for the WSB.
She remembers Ethan.
Holly wishes she could speak to Ethan.
Robert hands her his cell phone and steps out of the room.
Holly is leery of calling.
Dante arrives, Austin can not tell him much because he is not family.
Duh, Austin but he is the police.
Holly returns from her MRI.
Olivia and Robert join her in the hospital room.
Olivia introduces herself.
Clues Holly in on her adventure to Monte Carlo with Robert and Ethan.
Austin spots Mason getting a little too close to Maxie.
Mason invites Maxie to join them in Pautauk for the holidays.
The family would love to meet her.
Austin reminds Mason he needs to be on his way.
Austin occompies Mason out of the hospital.
Maxie and her kids are off limits.
He cannot separate his life in Pautauk from his life in Port Charles.
Mason is sure Maxie would be much safer without Austin in her life.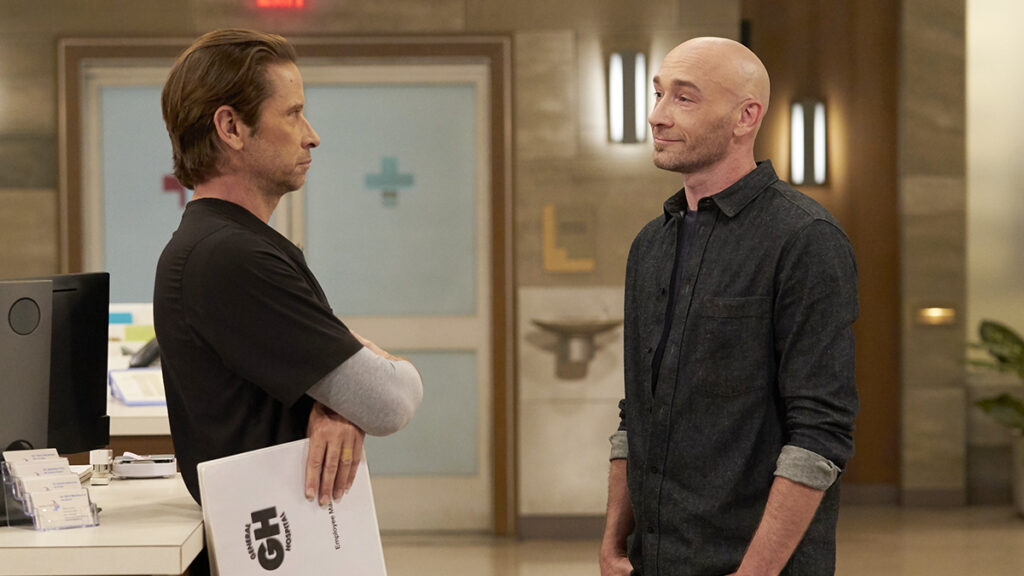 PCPD Squad Room, Interrogation Room
It is movie night in the squad room.
The drone footage shows a person looking like Anna Devane on the tape.
Anna Devane shoots an unarmed Lucy Coe look alike.
Remember innocent until proven guilty folks!
Martin is going crazy.
He calls Anna a murder!
Anna was not there, this is a Victor driven set up.
Anna and Jordan storm in on Victor.
Anna demands he tell her at once where he has Lucy.
He claims amnesia.
There is a fake video in the squad room of a woman shooting Lucy.
Victor begins to shed fake tears.
Anna wants to strangle him, she chases him around the table in the interrogation room.
Jordan has to get Anna in control.
She tells her she is off the case.
Anna storms out.
Jordan is back at it with Victor.
He wants to know what she is doing to identify Lucy's attacker>
Anna phones Robert from the squad room.
She has to leave a massage.
Victor is trying to frame her for Lucy's murder/
Martin returns with the ADA.
He demands Anna be arrested for murder.
Anna is a smarter WSB agent than to take someone out in plain sight.
No one in the squad room is happy with Jordan.
ADA thinks she must be taken off the case.
She's too close to the situation.
There will be no such action.
Jordan is sending the video over to her IT dept.
She thinks it has been altered.
Victor chimes in that Lucy was always nervous when Anna's name was spoken.
Martin agrees that Lucy was scared of Anna.
Jordan does not think that anything she has investigated links Anna to Lucy's murder right now.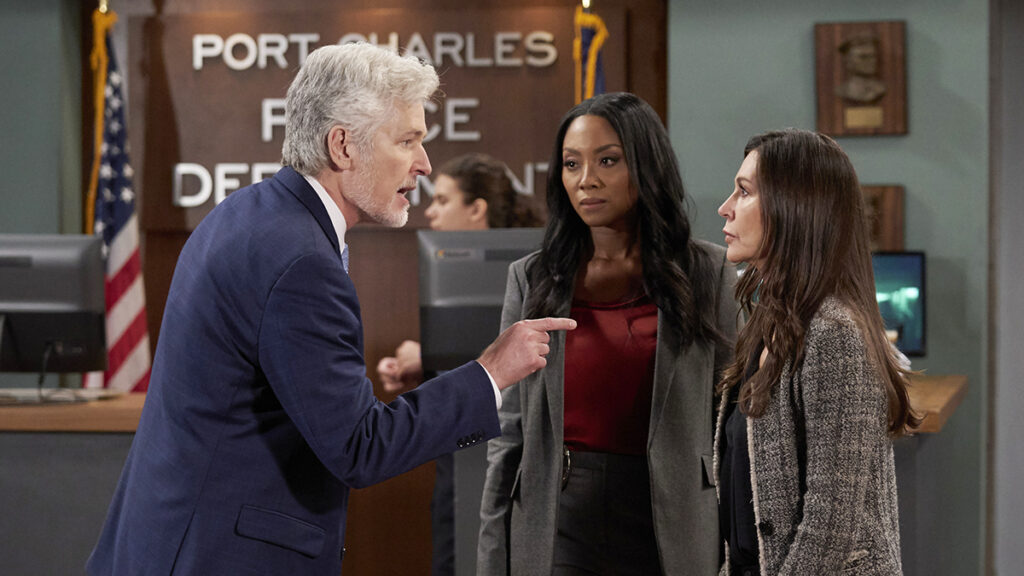 Hospital Corridor
Martin is a busy man.
He is now in the hospital corridor where he runs into Sasha.
He informs her that he has heard from the courts.
He has the update to her life in his briefcase.
Hospital Holly's Room
Holly informs Robert that she would like a first class suite at the Metro Court Hotel.
Her preference is a beautiful breakfast with english tea and a strong shot of Whiskey!
PCPD Garage
Anna knows she must get a step ahead of Victor.
She searches her own car in the parking garage.
She finds a gun hidden deep in her trunk.
She also discovers the clothing her so-called double was wearing in the video.
On the next General Hospital
We love to hear from you, please be respectful, follow the rules, stay on subject, Start or join a conversation / comment below