Cast who appeared in todays episode: Victor Cassadine (Charles Shaughnessy), Lucy Coe (Lynn Herring), Anna Devane (Finola Hughes), Valentin Cassadine (James Patrick Stuart), Linda Purl (Peyton Honeycutt), Carly Corinthos (Laura Wright), Bobby Spencer (Jaclyn Zeman), Drew Cane (Cameron Mathison), Britt Westbourne (Kelly Thiebaud), Josh Kelly (Cody Bell), Felicia Scorpio (Kristina Wagner), Mac Scorpio (John J York), Scotty Baldwin (Kin Shriner).
Sets Used on today's episode: Jacksonville Hotel Bar & Grill /Carly's hotel room, Metro Court Bar & Restaurant, Kelly's Diner on the Waterfront, Devane Manor, Metro Court Hotel / Victor's Suite.
Jacksonville Hotel Bar & Grill
Peyton and Carly are arguing as usual.
Peyton, you failed Caroline, I'm sorry.
Carly turns to walk away.
Peyton stops her, you and I are not through
Carly tells Peyton are you here to gloat
Carly see's Peyton for the small minded snob that she is.
Peyton is actually there to apologize.
Peyton was moved by Carly's passion.
Peyton feels she treated Carly so unfairly.
She should never have blamed Carly for the past.
Peyton can't help but wonder if her daughter would have felt the same way.
Carly was only a child and should have been protected and not condemned.
She did try to change the board's mind, she was too late.
She did not know that Virginia was in that cemetery until Carly arrived.
Peyton hopes that Carly can one day forgive her.
Carly knows they cannot change the past, but hopes they learn from it.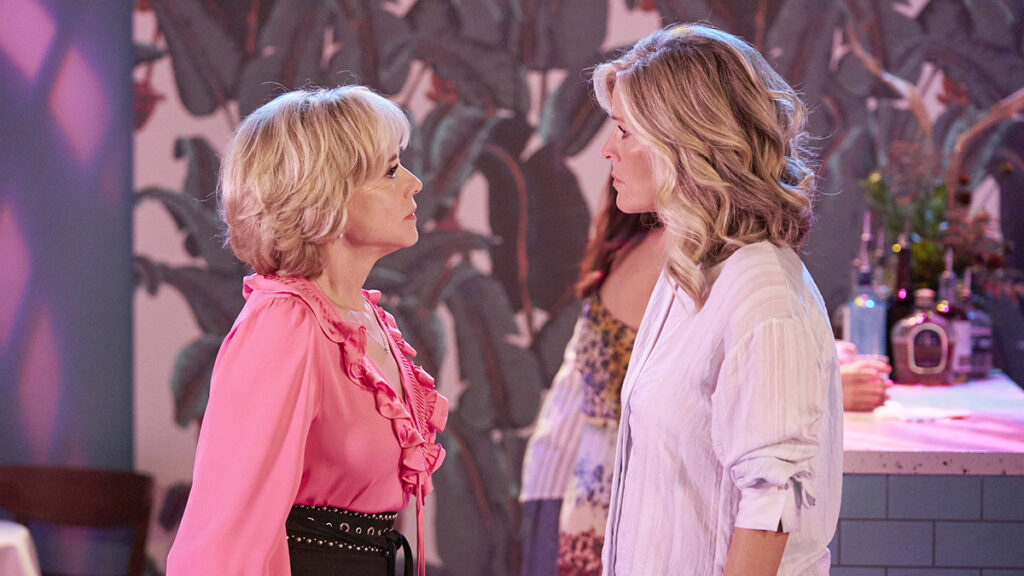 Jacksonville Hotel Carly's Room
Bobbie surprises Drew.
She had to come to Jacksonville to support Carly.
Bobbie thinks this has been a lot for Carly to handle
She would like to know why Drew is there. Guilt or concern.
Bobbie is glad that Drew is in Carly's life.
She leaves for her room.
Drew gets a call that the vote was not in Carly's favor.
Jacksonville Bar & Grill
Drew heads downstairs to see Carly.
He consoles her.
She learned of the results from Peyton.
Peyton apologized to her, Carly is overwhelmed.
Carly cries, she was not a good daughter to Virginia.
Drew wants to know what he can do to help.
Carly has an idea, maybe she has not lost yet.
Metro Court Bar & Restaurant
Mac, Felicia meet up withScott at the MC.
Mac feels Kin in on the current situation, Cody may be his son.
Felicia thinks that Dominique may have given birth at Shadybrook.
She hopes Scott remembers something about Dominic's time at SB.
Scott believes that Cody is bad news/
Felicia said you have to give Cody a chance, he deserves it.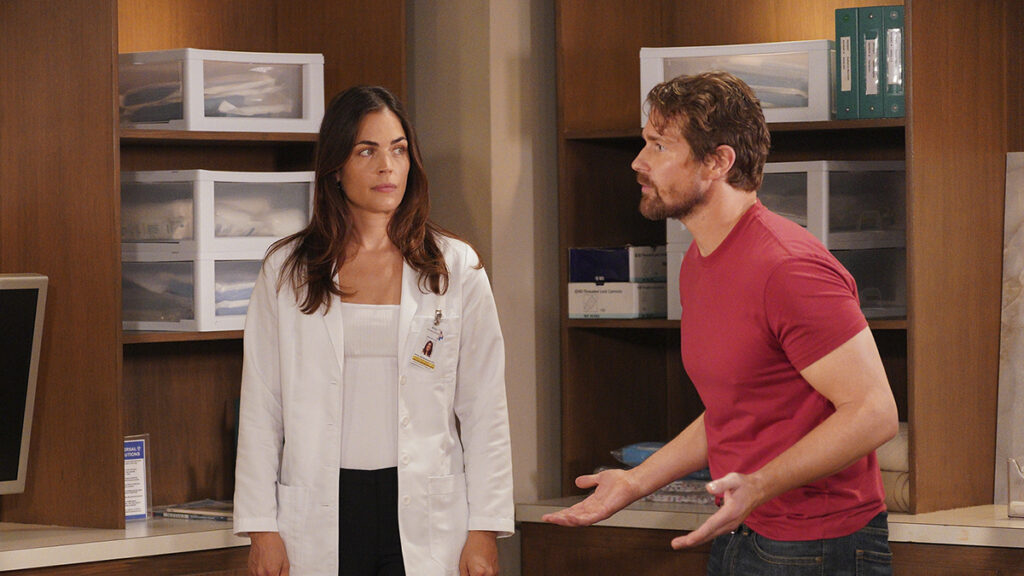 Kelly's Diner on the Waterfront
Britt is outside of Kelly's with Cody
She want to get things out in the open with him
He has huge news.
Britt knows Mac may be his father.
Britt is confused why he will not do a DNA test.
Cody is uncomfortable talking about his feelings.
Britt is intimidating to him.
Britt has a past too.
Britt thinks Cody is scared to know the truth.
Cody doesn't want to set himself up for rejection
Britt understands Cody's fears
Cody calls Mac and agrees to the DNA test.
Mac will put the plan in motion.
Britt is surprised that Cody took her advice.
She might need to take her own advice.
Cody wants Britt to share.
Britt's brother Peter left her a trinket back she has not gone thru.
She must do that so that he can rid herself of Peter.
Cody offers to help Britt go through Peters belongings. She accepts.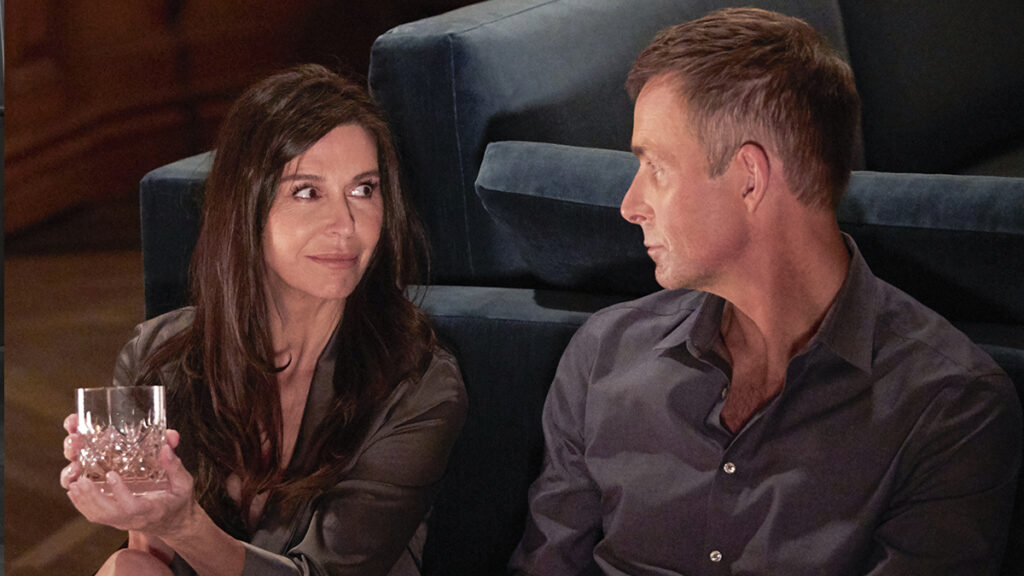 Devane Manor
Lucy goes to see Anna.
She wants Anna to trust her to see this through.
This is Anna's operation, she calls the shots.
Lucy has things under control.
Lucy is this close to finding out what Victor has got planned.
Anna brought back Martin so Lucy would bow out.
Lucy is stringing along Victor because Anna told her too.
Anna is going to have to take more drastic measures.
Lucy is not scared of Victor nor is she a quitter.
Victor is wrapped around her little finger.
Anna needs to stay out of Lucy's way.
Anna is having none of it, this has gone too far, she is not playing with Lucy..
You are out Lucy!!
Lucy feels she has made a lot of progress and Anna does not control her.
Victor is listening to the entire conversation.
Operation diamond necklace is still in good working condition……
Metro Court Hotel / Victor's Suite
Victor must put away his electronic toys, he wonders who is working with Anna & Robert.
Valentin is at Victor's hotel room door.
Valentin yells at Victor.
He hasn't seen his daughter in months.
What is Victor's problem, Valentin has kept his word.
Valentin has been loyal and has obeyed all of Victor's demands.
Victor has never been away from Charlotte this long and people are asking questions.
Victor will arrange for Valentin to visit Charlotte, only on his terms.
Valentin must leave on Victor's plane immediately, he must go alone. No tricks.
He is keeping Valentin on a short chain.
Valentin departs, Victor makes a phone call, he needs someone dead.
Devane Manor
Valentin shows up at Anna's.
Valentin we have a huge Lucy problem.
Metro Court Hotel / Victor's Suite
There is a knock at Victor at his door.
Oh my, it's Lucy.
Lucy wants to know if Victor is up for some company.
Well, if it is isn't the star of the show.