Cast who appeared in todays episode:
Nina Reeves (Cynthia Watros)
Ava Jerome (Maura West)
Hamilton Finn (Michael Easton)
Violet Finn (Jophielle Love)
Gregory Chase (Gregory Harrison)
Terry Randolph (Cassandra James)
Elizabeth Webber (Rebecca Herbst)
Cody Bell (Josh Kelly)
Britt Westbourne (Kelly Thiebaud)
Victor Cassadine (Charles Shaughnessy)
Nikolas Cassadine (Marcus Coloma
Dex Heller (Evan Hofer)
Josslyn Jacks (Eden McCoy)
Cameron Webber (William Lipton)


Sets Used on today's episode:
Reeves Penthouse
Hospital Nurses Station
Hospital Finn's Office
Kelly's Diner on the Waterfront
Metro Court Garden
Bank Vault
Hospital Lobby
Liz is going over the last details with Camron before her trip.
Liz and Terry are off to a medical Convention in Monterey.
Cameron is in charge of watching his siblings.
Liz does not want Joss staying over.
No chance of that, Joss & Cam have had a white elephant in the room since the video was released.
Cameron is worried about his mom running into her parents in Monterey.
Liz will be fine, Cameron leaves for work.
Nurse's Station
Terry and Finn are having a conversation.
Finn knows Terry is covering for Elizabeth.
Gregory and Violet arrive at the hospital.
Violet is excited about going out later to find her new halloween costume.
Finn instruces them to wait for him in his office.
Violet would like her daddy's phone so she can watch Uncle Chase at the Savoy.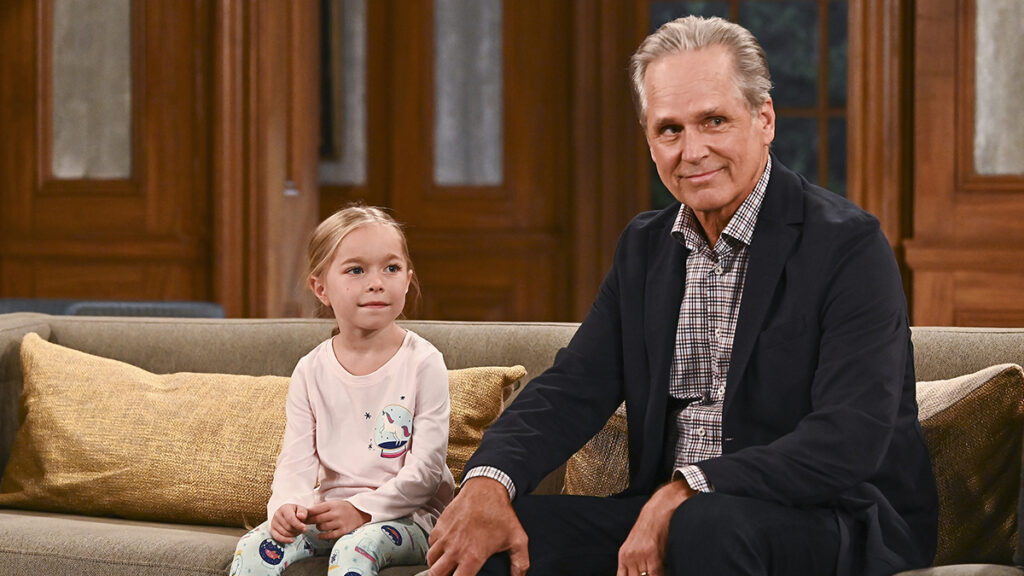 Dr Finn's Office
Violet sees a picture of Reiko with her dad on the phone
She would like to know who she is,
He explains it was his wife who was very sick and passed away.
She tells him she is sorry and gives him a big hug.
Liz drops by to say goodbye to Finn.
Violet tells her that she made her daddy sad.
Finn explains the picture and details to Liz.
He was not ready to talk to Violet about it.
It was a very painful time in his life.
Terry arrives and lets Liz know they need to hit the road.
Elizabeth asks if Finn will check on the boys
They hug, tell each other how much they will miss the other.
Liz is off on her new adventure with Terry.
Bank Vault
Britt and Cody make their way to the bank to retrieve Peter's deposit box.
A very nice man at the bank retrieves the box and leaves them to privacy.
Britt is hesitant, she just stares at the box.
Cody asks what if the box is empty?
Britt opens the package to a huge diamond necklace.
This piece of jewelry must be worth millions.
Where did Peter get them and what is the story?
Britt wonders if they are real.
Cody can check for her if she has a compac.
Cody checks out the jewels by scratching them on a glass mirror.
It will complicate my life. Cody said we have made peace.
Cody checks out the jewels by scratching them on a glass mirror.
Britt decides she will keep them at the bank for safe keeping.
This apparently is not what Cody wanted to hear, he pauses before walking out.
Kelly's Diner on the Waterfront
Joss is sending a message to Trina.
She hopes she is having fun on her trip with Rory.
Dex arrives at Kelly's and says hello to Joss.
He knows she is not a happy camper with him.
He is trying to make peace with her.
Dex again tells Josslyn how grateful he is to her for the rescue.
She does not want him to work for Sonny.
Sonny apologized and he needs the job.
He has disappointed Josslyn.
It is complicated, she will need to trust him.
Dex feels Sonny is an honorable man.
Josslyn laughs that one off.
Sonny has never been an honorable man.
Sonny screwed over Jason and her mom.
She does not want that to happen to him.
Cameron walks in the diner.
What is it about this guy that gets you so worked up?
Josslyn confesses she rescued Dex from Sonny who had him hanging in a meat locker.
Joss feels like the world is upside down.
He lets her know that he already knew she had rescued Dex.
Michael had already told him.
Why was that a big secret?
We haven't been on the same page for a while.
Cameron is correct, they have not been able to come up for air since the tape was released.
Josslyn and Camern admit they miss each other.
Promise to have a date night soon,
This leads to a big hug and kiss.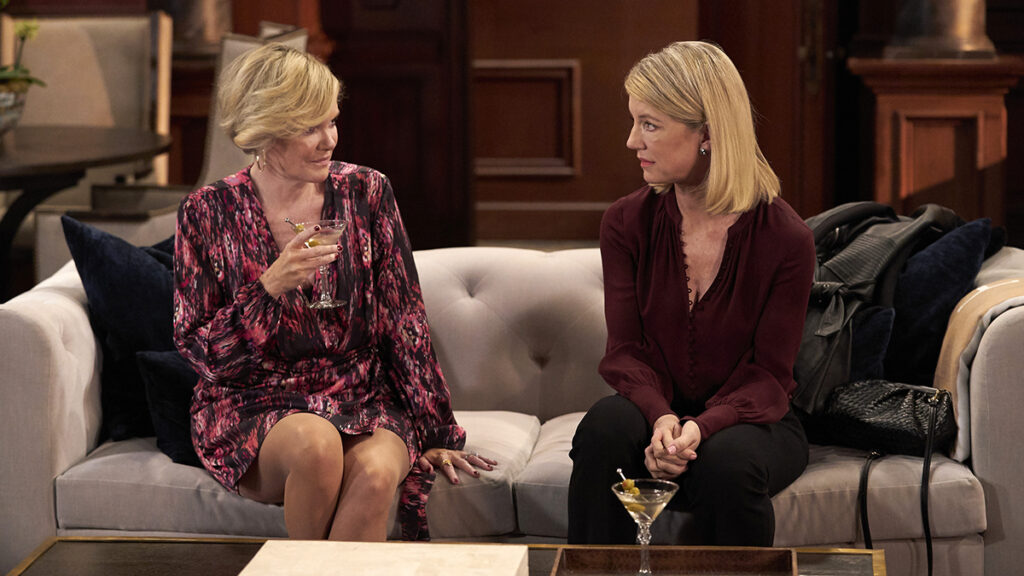 Reeses Penthouse
Ava at Nina's making herself a martini.
The Queen of Martini's offers to make Nina one.
She would love that,
Nina wants to know how long is this roommate situation going to last?
Ava asks if she is no longer welcome.
Of course not.
Nina feels Ava is avoiding problems with her husband.
Ava admits she is conflicted.
Are you planning Nik's demise?
Nik made a gesture to show me I could trust him.
He gave you the means to ruin him?
What did Nik do?
He did nothing wrong.
She did but he is willing to take the wrap.
Ava knows Nik would lay down his life for her.
Nina pulls out the confession letter Nikolas gave her.
As she opens it there is only a note that reads, "Missing Something?"
Metro Court Garden
Victor meets up with Nik, whom he is not pleased with.
He demands Nikolas quit stalling and get the divorce to Nina in the works.
It is not gonna happen uncle.
Things have changed and Victor is on a to know basis.
Victor ran into Ava.
You had no right behind my back
Victor thinks Nik has no control here.
Nick is very sorry that his martial woes are tough on you
Victor thinks Nikolas and Valetin are two of a kind.
Victor has the letter Nik wrote to Ava.
Victor tells Nik you will do as I say and divorce Ava.
If you do not, I will take you out.
We love to hear from you, please be respectful, follow the rules, stay on subject, Start or join a conversation / comment below