Cast who appeared in todays episode:
Britt Westbourne (Kelly Thiebaud)|
Maxie Jones (Kirsten Storms)
Austin Gatlin-Holt (Roger Howarth)
Georgie Spinelli (Lily Fisher)
Cody Bell (Josh Kelly)
Dante Falconeri (Dominic Zamprogna)
Sam McCall (Kelly Monaco)
Holly Sutto (Emma Samms)
Mac Scorpio (John J York)
Felicia Jones (Kristina Wagner)
Nina Reeves (Cynthia Watros)
Ava Jerome (Maura West)
Victor Cassadine (Charles Shaughnessy)
Nikolas Cassadine (Marcus Coloma
Anna Devane (Finola Hughes)
Robert Scorpio (Tristan Rogers)
Sets Used on today's episode:
Reeves Penthouse
Hospital Nurses Station
PCPD Jail Cell
Metro Court Bar & Restaurant
Volonino's Gym
Britt's Office at the hospital.
Marta & Chloe

Metro Court Bar & Restaurant
Nikolas and Victor are an unpleasant conversion.
He will not be threatened by Victor.
Nikolas wants Victor out of his business.
He does not need saving especially by him.
Victor feels Ava is a liability after the Esme feascal.
Esme will never be a problem.
Victor insists what is done is done.
Victor puts Nikolas on notice.
He will be moving into Wyndemere tonight!
Nikolas gives Victor all the many reasons he cannot.
#1 because Esme is locked up in the North Tower.
Victor leaves to go get his stuff in order for the move.
Reeves Penthouse
Ava and Nina are still at the penthouse.
Ava screams out "Son of A Bitch."
Nina comes running.
The confession letter is missing, she will not let Nikolas get away with this.
Well, the Prince giveth it and the Prince taketh it away.
Ava calms down and realized it was not Nik but Victor who took the letter.
Ava checks her phone and the video is still there.
Only Nik knew about the taped confession.
He would have taken both.
She texts Nikolas to inquire where to find Victor.
Nina is scared for Ava, Victor is a dangerous man.
She blocks the door so Ava cannot leave.
Nikolas responds that both are at the Metro Court.
Ava swears today is the day she will be an iceberg and sink him!
If I choose to end my marriage it will be when I say not Victor.
Nina wants to know wouldn't it be easier if you just walked away?
Ava needs to even the score, so she heads to the Metro Court Gardens.
Volonino's Gym
Cody and Dante meet up at the gym.
What has Cody been up to all day?
He admits that he has been hanging out with Britt.
He does not need any help from Dante about Britt.
He is also going for a DNA test later today.
The whole thing might be a mistake.
He does not know yet how he fills yet if Mac is his father.
Don't sell yourself short.
He wasn't happy when he first found out Sonny was his Dad.
But under all that armor Sonny is a good man.
Cody heads out.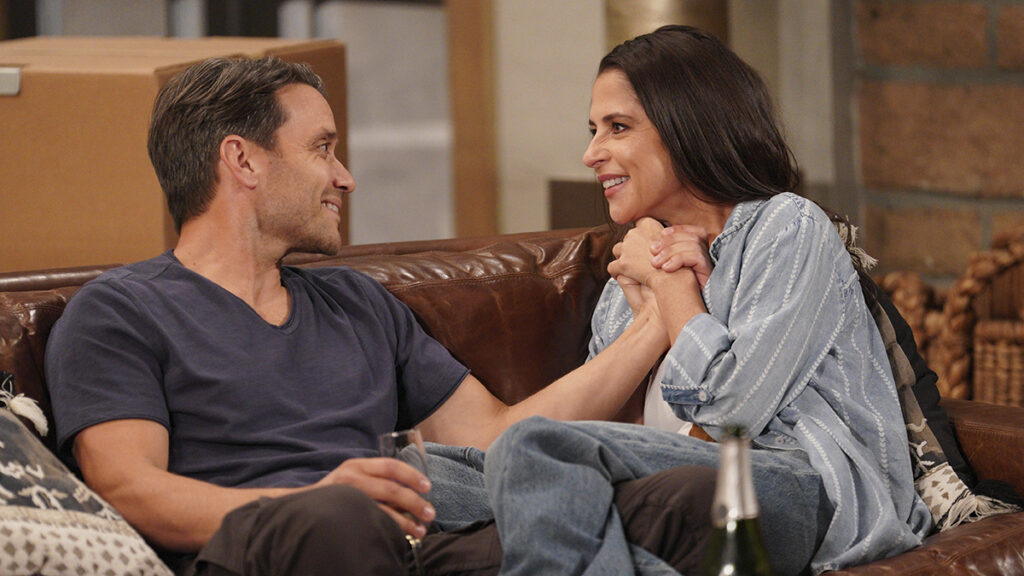 Metro Court Bar & Restaurant
Ava has arrived at the Metro to see Nikolas.
Ava wants to see his uncle,
She fills him in on the missing letter and feels Victor took it.
Nik knows he did and he is blackmailing him with it.
She can never let Victor know about the taped confession.
She is in grave danger messing with Victor.
We need him to think his plan is working.
He begs her to leave before Victor catches them talking.
Too late Nik!
Victor has returned.
He sees Nikolas talking with Ava.
Victor's plans have changed.
He has reconsidered his arrival tonight.
He does however gloat as he tells Ava of his plans to move in with Nikolas.
Nik will have his attorney get in touch with Ava abot the divorce.
Victor and Nikolas head out.
Victor is very pleased with Nikolas.
Victor is cautioned by Nikolas that Helena previously believed she could dominate him, and that didn't go well for her.
Hospital Lobby
Maxie and Georgie catch up with Austin at the hospital.
All are supposedly going on an ice cream run.
Georgie is being a brat and giving Austin the go away attitude.
Sam arrives, Georgie wants her to go with them for ice cream so she has someone to talk to.
Sam is very sorry but she is here for a meeting and cannot go.
Britt arrives and she and Sam leave for their meeting.
Georgie wants both Sam and Britt to go.
Both apologize and leave for their meeting.
Georgie wants Austin to stay back with Britt and Sam.
Maxie insists she apologize to Austin, never is her response.
Maxie apologizes for Georgie's behavior.
Georgie cannot have ice cream until she checks herself.
She wishes that Spinelli was dating someone.
She shares that he is the one behind Society Setups.
It is a secret and he cannot tell anyone.
Who does he have to tell?
She tells him that it's a secret.
Georgie would like to go home.
What does she need to do to make that happen?
She apologizes to Austin.
He thanks her and then makes a suggestion to her.
Perhaps she can think of something fun for the three of them.
Georgie agrees to think about it.
Cody arrives for his DNA test.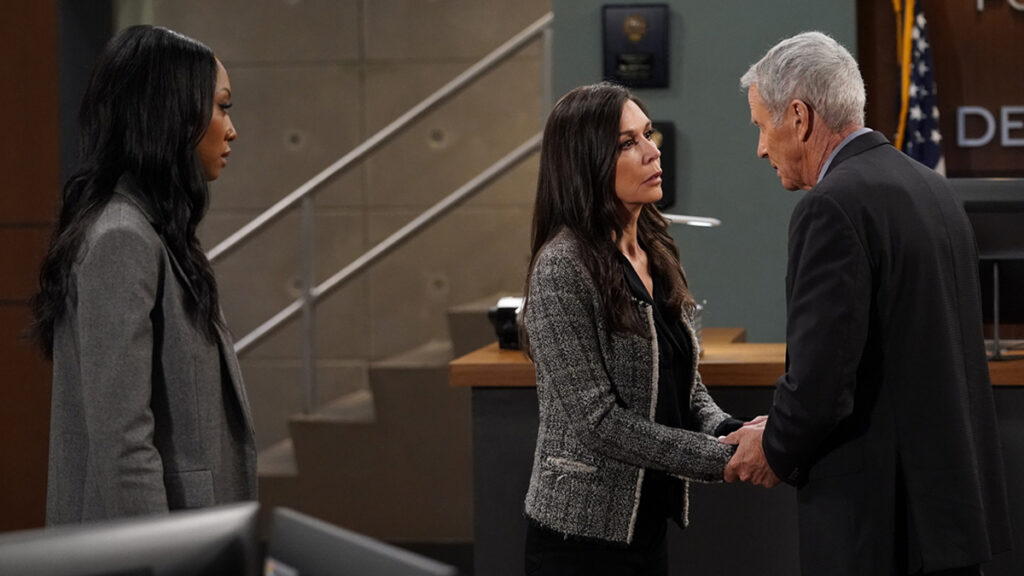 Hospital – Britt's Office
Britt and Sam are in a meeting in Britt's office.
Has Sam ever been a jewel thief?
Britt shows Sam a picture of the necklace she thinks has to be worth millions.
She must find out where the necklace came from,
This peaks Sam's interest she will take the case.
Volonino's Gym
Sam and Dante feel they have had the craziest day ever.
Britt has hired her as a PI.
Dante had to arrest Anna for murder.
You win the big one!
They hug and kiss like two little love birds!
Marta & Chloe
Holly and Felicia are having a spa day
Felicia wants to know how Holly is holding up.
Holly is embarrassed that she cannot remember the last two years.
What Holly would like is to know more about Victor.
He will not soon forget Holly after that slap.
Victor is the one who needs to watch out.
Holly proclaims she is just getting started.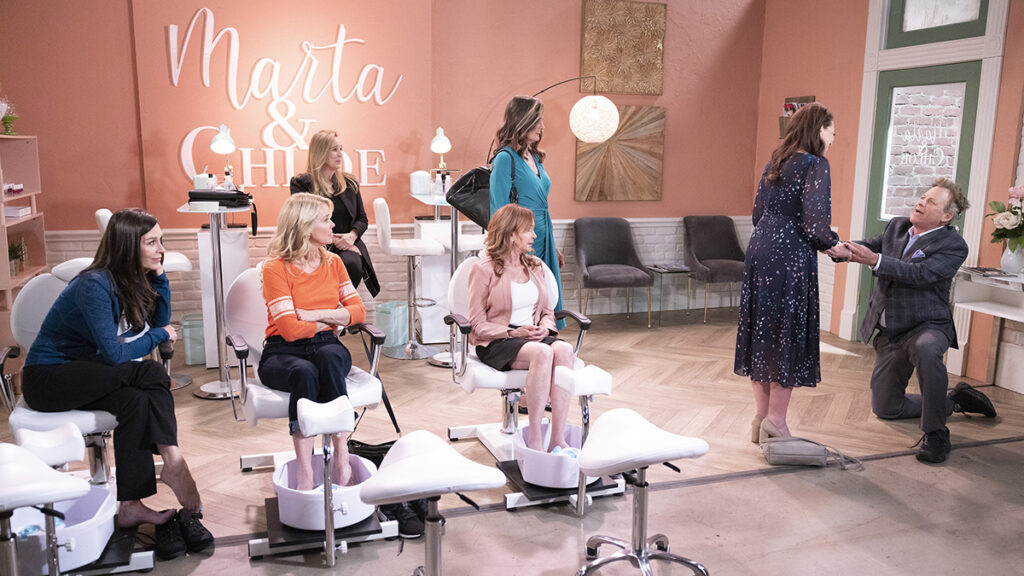 PCPD Jail Cell
Mac goes to see Anna at the PCPD Jail.
Robert comes in and assumes she already has heard Holly is alive.
He wants to know what he can do to help.
Get me out of jail so I can clear myself.
That is the one thing he cannot do.
He has been told that he has to excuse himself from the case.
Mac agrees it is a frame up job by Victor Cassadine.
Anna wants Robert to find Valentine.
She feels like Valentin and Charlotte are in danger.
Anna gives Robert the phone number to reach Valentin.
Please find him,
Anna lets Mac know that Ashby is on Victor's payroll.
Robert could not reach Valentin, he left a message.
He is aware that the Cassadines, all of them are toxic.
Holly arrives to see Anna.
Anna and Mac are excited to see her.
Holly reminds Mac of an appointment he has at the hospital.
Robert informs Anna that her arraignment had been pushed back until tomorrow.
Of course it has.
Robert promises Anna that he will not stop until she get out.
Anna is like good deal, then we go all guns blazing after Victor!
Holly is all in, they can all count on her,
We love to hear from you, please be respectful, follow the rules, stay on subject, Start or join a conversation / comment below