Many people discover that putting up their Christmas decorations earlier than usual helps them relive their youth. Preparing for the Hallmark Christmas movie marathon may bring up lots of childhood memories as well. Slipping into your pajamas, settling in front of the TV, gripping that remote, and anticipating the start of Hallmark Christmas. For many, it is a family tradition.
Nothing brightens up the holidays like brand-new original movies! Unwrap everything, beginning on October 21, Countdown to Christmas 2022 will feature spectacular romances every Friday, Saturday, and Sunday.
OCTOBER
Friday, October 21, 2022
1-Noel Next Door
Cast: Natalie Hall (All My Children), Corey Sevier (Cedar Cove,Mistresses), also stars Joanna Douglas, Sean Jones, Callum Shoniker.
Storyline: As she engages in a verbal battle with a neighbor who is destroying Christmas, a hard-working single mother learns that this misunderstood grouch just might win her heart.

Saturday, October 22,2022
2-We Wish You A Married Christmas
Cast: Brian Sills, Marisol Nichols, Christoffer Polaha, Amy Groening, Lauren Cockrane, Caroline Campos, Rene Escobar Jr., Claude Knowlton, Derek Kun, Cindy Myskiw, Frederick Allen, and Tom Young.
Storyline: The approaching holidays make it difficult for a married couple to communicate with one another. On the recommendation of their marriage coach, they travel to a quiet Vermont inn just before Christmas to unwind. Their intended weekend getaway is postponed when their automobile encounters an accident. This unanticipated extension might result in a very joyful Christmas for newlyweds.
Sunday, October 23, 2022
3-A Kismet Christmas
Cast: Sarah Ramos, Carlo Marks, Marilu Henner, Rubi Tupper, Michele Scarabelli, Barbara Pollard.
Storyline: In it, a children's book author named Sarah visits her hometown and catches up with her family and her high school crush. She quickly finds out that a family rumor might be real.
Friday, October 28, 2022
4-A Cozy Christmas Inn
Cast: Jodie Sweetin plays Erika with Davis O'Donnel as Andy. Brian Doyle-Murray, Vivica A. Fox
Storyline: It follows Erika as she travels to Alaska during Christmas to acquire a bed and breakfast, only to discover that it's owned by her ex. She finds herself falling in love with the town and quite possibly him.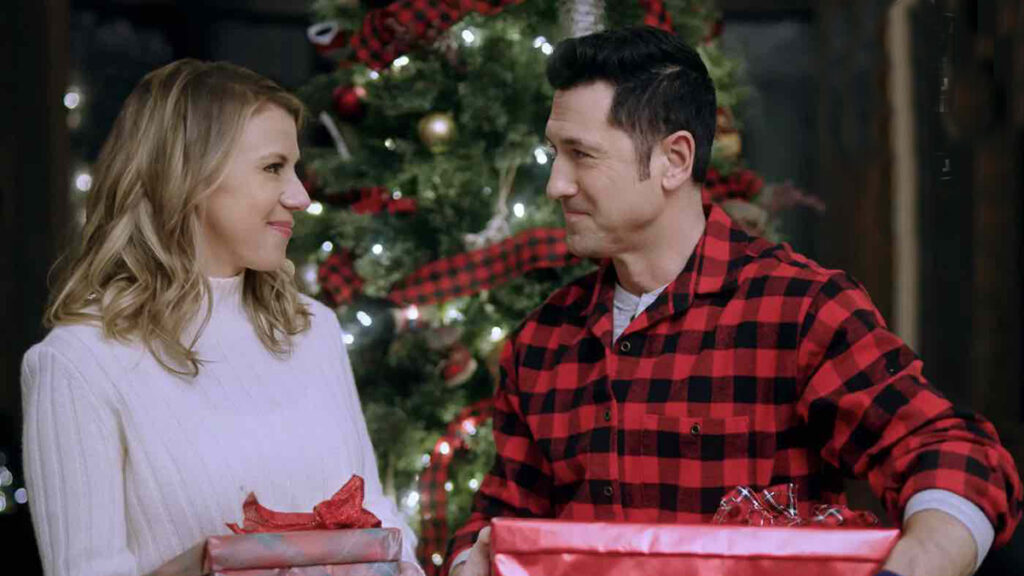 Saturday, October 29, 2022
5-Jolly Good Christmas
Cast: Will Kemp ("The Christmas Waltz") and Reshma Shetty ("Blind Spot")

Storyline: Will Kemp plays David, an American architect who moves to London to work at a famous business. As Christmas approaches, David realizes he is running out of time to provide his girlfriend—who also happens to be his boss's daughter—a thoughtful gift. As a last resort, he buys her an uninspired gift card. Anji (Shetty), a seasoned shopper, raises an eyebrow when she runs into David with his unimpressive gift, so when they meet paths again, he asks her to assist him in finding the ideal gift. Soon after, the pair embarks on a "wild adventure across Jolly Old London" as they navigate a slew of unanticipated occurrences while looking for the perfect gift.
A lot of prominent London landmarks will be visible in the film, which was totally filmed on location, from Piccadilly Circus to residential neighborhoods in the city's north-west.
Sunday, October 30, 2022
6-Ghost of Christmas Always
Cast: Ian Harding, Reginald VelJohnson, Kim Matula (Bold&Beautiful), Lori Tan Chinn, Kathleen Garrett, Mrs. Winchester, Leo James Davis, Middle Peter, Christopher Innvar, Beth Leavel.
Storyline: We follow Katherine, a Ghost of Christmas Present, as she helps one soul to rediscover his Christmas spirit, but this year has something unusual in store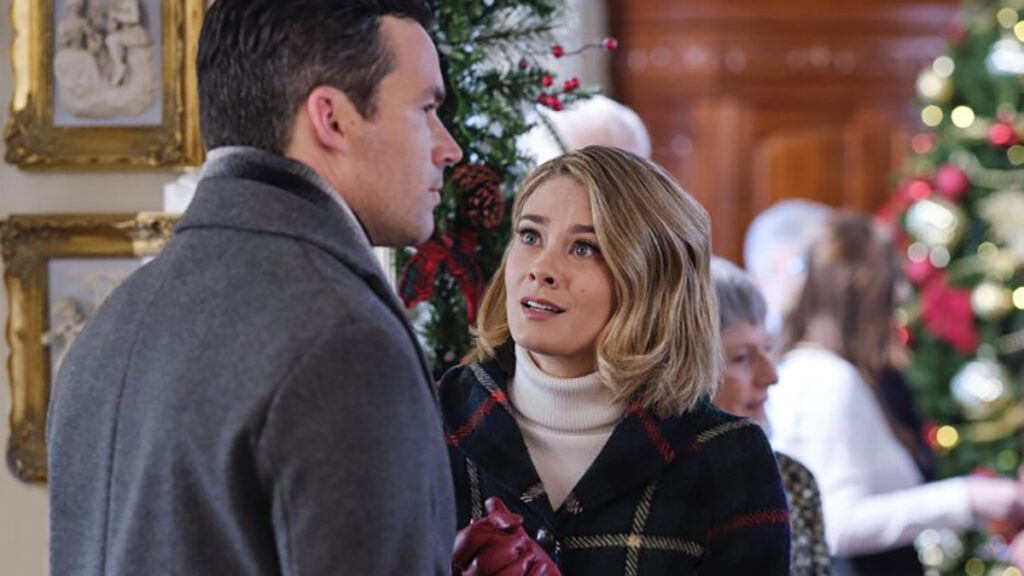 NOVEMBER
Friday, November 4, 2022
7-A Magical Christmas Village
Cast: Alison Sweeney (DOOL), Luke Macfarlane, Marlo Thomas
Storyline: Her routine life is upended when Summer's mother Vivian moves in with her and her little daughter Chloe. When Vivian first gets there, she sets up a vintage, little Christmas village that looks like their town and assures Chloe that it grants Christmas wishes. Chloe starts arranging the figurines as real-world incidents are mixed into the settings she crafts. The family will become closer with a little assistance from the Christmas village's magic, and perhaps Summer will learn to let love into her heart once more.
Saturday, November 5, 2022
8-Lights, Camera, Christmas
Cast: Kimberley Sustad, John Brotherton, Kallie Hu, Jana Berengel, Nik Andrews, Marissa Leong
Story: Kerry, a proprietor of a nearby business, fills in when a costume designer is needed for a holiday rom-com film that is being filmed in her community. She rediscovers her love of costume design while working on the film and starts to fall for Brad, the movie's famous leading man.
Sunday, November 6, 2022
9-All Saints Christmas
Cast: Ledisi, Roger Cross, Lucia Walters, Darien Martin, Trezzo Mahoro, Peter Bryant, Miranda Edwards, Tosca Baggoo, Denzel Brooks, Michael Keitha

Story: Popular R&B singer Lisette is preparing to fly back to New Orleans for Christmas. Her family insists that her ex-music producer go with her on the vacation when the media misinterprets a photo of them together as an engagement announcement.
Friday, November 11, 2022
10-A Merry Measure
Cast: Patti Murin, Brendan Penny, Jennifer Robertson, Cassidy Reichman, Garfield Wilson, Jude Wilson

Story: Pop singer Darcy unexpectedly finds herself working with her former nemesis, Adam, as the high school choir coach when she goes home for the holidays to spend time with her sister and niece.
Saturday, November 12, 2022
11-The Royal Nanny
Cast: Rachel Skarsten, Dan Jeannote, Greta Scacchi
Story: A M15 agent named Claire poses as the royal nanny for the sake of completing her task. She faces challenges such as the charming Prince Colin's advances while keeping the family secure over the Christmas season.

Sunday, November 13, 2022
12-Christmas At The Golden Dragon
Cast: Barbara Niven, Sara Canning, Kara Wang, Genevieve Buechner, Robyn Bradley, Osric Chau, Zak Santiago, Antonio Cupo, Markian Tarasiuk, Mila Jones, Brendan Taylor, Richard Keats, Sharon Crandall, Juliette Hawk, Alana Hawley Purvis, Bobby Stewart, Lydia Campbell, Vincent Cheng, Jason Fernandes, Devon Busswood
Storyline: When a beloved Midwestern Chinese restaurant announces its closing right before Christmas, it prompts their clientele to re-examine their relationships in a series of interconnected stories amid the chaos of its busiest week of the year.
Friday, November 18, 2022
13-Inventing The Christma Prince
Cast: Tamera Mowry-Housley, Ronnie Rowe, Dan Zukovic, Isabel Birch
Storyline: Shelby is about to quit her job when her daughter becomes convinced that her boss Evan is the Christmas prince from a story Shelby made up a few years ago.
Saturday, November 19, 2022
14-Three Wise Men and A Baby
Cast: Tyler Hynes, Margaret Colin, Andrew W. Walker, Matt Hamilton, Mark Laclark, Paul Campbell, Paul Almeida, Felicia Simone.
Storyline: Three brothers are surprised when they find themselves forced to care for a baby during the holidays, during the journey they begin to rebuild their relationships as brothers while rediscovering their love for Christmas.
Sunday, November 20, 2022
15-When I Think of Christmas
Cast: Shenae Grimes-Beech, Niall Matter, Beth Broderick
Storyline: When Sara Thompson visits her hometown to assist her mother with a move, she is shocked to see her ex-boyfriend Josh Hartman there. The two once discussed pursuing a career in music, but Sara left to pursue her interest in law. Slowly rekindling their relationship, the ex-flames work to mend both old and fresh scars. Josh and Sara devise a daring plan for the forthcoming Christmas concert when Sara makes an unexpected discovery that will take them all back to their musical beginnings and make this a holiday to remember.
Thursday, November 24, 2022
16-My Southern Family Christmas
Cast: Bruce Campbell, Moira Kelly, Jaicy Elliot, Brian McNamara, Ryan Rottman, Bri Collins, Mary Gralen, Bryant Banks, Gralen Bry
Storyline: Turned into a journalist, Campbell gets the chance to meet his biological father for the first time without him knowing. In the end, Campbell must decide if she will reveal the truth, a decision that will change Christmas forever.
Friday, November 25, 2022
Double Feature Tonight
17-#Xmas
Cast: Brant Daugherty, Clare Bowen, William MacDonald, Jack Faison, Sebastian Stewart, Matt Clarke
Storyline: Jen gets the chance to enter a brand design contest, she poses as a family influencer, and when her video is selected as a finalist, Jen is torn between continuing her perfect "family" or revealing the truth.
18-A Royal Corgi Christmas
Cast: Hunter King (Y&R), Jordan Renzo, Sharon Coade, Julie Lamberton
Storyline: Prince Edmond, to ingratiate himself with his mother, gives him "Mistletoe", which after several disasters turns to Cecily, an expert in dogs. They will discover that love can grow in unexpected places, questioning what they really want.
Saturday, November 26, 2022
Double Feature Tonight
19-A Tale of Two Christmases
Cast: Kat Barrell, Chandler Massey, Evan Roderick
Storyline: Emma enjoys two distinct Christmases thanks to some Christmas magic: one where she stays in the city and celebrates with a new crush and his pals, and another where she goes back to her family's house for all the customs. and Drew, a trusted companion who might harbor affections for her. Emma's double vacation finally aids in her learning what will actually bring her happiness in both love and life.
20-Haul Out The Holly
Cast: Lacey Chabert, Melissa Peterman, Stephen Tobolowsky, Wes Brown,Peter Jacobson, Ellen Travolta, Eliza Hayes Maher, Walter Platz, Alireza Mirmontazeri, John Forker, Mario DeAngelis, Abby Villasmil
Storyline: Emily arrives home hoping to visit her parents, only to find that they are going on a trip of their own. While she stays at her house for the holidays, her HOA is determined to get Emily involved in the neighborhood Christmas festivities.
Sunday, November 27, 2022
Double Feature Tonight
21-A Christmas Cookie Catastrophe
Cast: Victor Webster, Rachel Boston, Averie Peters, Dylan McEwan
Storyline: Annie Cooper has big shoes to fill when she takes over as CEO of her late grandmother's small-town cookie company and is doing her best to help their struggling business get back on track. That task gets more daunting when her grandmother's secret recipe is stolen during the Christmas party. As Annie tries to crack the case and uncover the culprit she works with Sam, the owner of a local bakery, to recreate the recipe in the hope of saving the company and her job. As Annie and Sam bake batch after batch in pursuit of the perfect one, they begin to learn that their lives go together like milk and cookies.
22-A Holiday Spectacular
Cast: Ginna Claire Mason, Derek Klena, Eve Plumb, Ann-Margret, and the Radio City Rockettes
Storyline: An heiress from Philadelphia named Maggie decides to postpone her high society wedding in 1958 so that she might sneak into New York City and fulfill a secret ambition: to perform live on stage in the Radio City Music Hall Christmas Spectacular.
DECEMBER
Friday, December 2, 2022
23-A Big Fat Family Christmas
Cast: Shannon Chan-Kent, Shannon Kook, Tia Carrere, Jack Wagner

Storyline: Photojournalist Liv is driven to succeed on her own. She conceals the fact that they are her family in order to land a dream job—shooting the Chang family's yearly holiday party for a cover story. She finds herself getting close to Henry, the coworker who is covering the story alongside her, but she doesn't want to risk losing her big break by confiding in him.
Saturday, December 3, 2022
24-A Fabled Holiday
Cast: Brooke D'Orsay, Ryan Paevey, Jake Guy

Storyline: The plot centers on Talia and Anderson, who were best friends since childhood, as they reunite in a strangely familiar-looking village that exudes a festive attitude that heals its guests just when they need it.
Sunday, December 4, 2022
25-Undercover Holiday
Cast: Noemi Gonzalez, Stephen Huszar

Storyline: The plot centers on Jaylen, who misrepresents Matt as her new boyfriend to her watchful family by revealing that he is actually her security guard.
Friday, December 9, 2022
26-The Most Colorful Time of The Year
Cast: Katrina Bowden, R Austin Ball, Christopher Russell, Bert Cardoz, Joanna Douglas, Ava Weiss

Storyline: Ryan, a teacher in an elementary school, discovers that he is colorblind. His mother is one of his students, and Michelle, an optometrist, helps him add color to his life just in time for the holidays.
Saturday, December 10, 2022
27-Christmas Class Reunion
Cast: Aimee Teegarden, Tanner Novlan(B&B), Andy Thompson, Pete Graham, Maya Ford
Storyline: A group of friends reunite for their 15th high school reunion at Christmas ready to ignite unrequited loves, reconnect with new friends and enjoy the holiday season.
Sunday, December 11, 2022
28-The Holiday Sitter
Cast: Jonathan Bennett, George Krissa, Chelsea Hobbs, Everett Andres, Amy Goodmurphy

Storyline: The story follows Sam as he looks after his niece and nephew before the holidays, enlists the aid of their attractive neighbor Jason, and enters an unforeseen relationship.
Friday, December 16, 2022
29-Holiday Heritage
Cast: Lyndie Greenwood, Brooks Darnell, Holly Robinson Peete
Storyline: Ella, with the help of her ex-boyfriend, Griffin, encourages her family to celebrate Christmas and Kwanzaa to heal their past wounds.
Saturday, December 17, 2022
30-'Twas the Night Before Christmas
Cast: Torrey DeVitto, Zane Holtz

Storyline: In a town's annual Christmas Eve courtroom production where the authorship of the well-known poem "A Visit From Saint Nicholas" is disputed, a former actress hoping to break into directing tests her skills.
Sunday, December 18, 2022
31-Hanukkah on Rye
Cast: Jeremy Jordan, Yael Grobglas, Lisa Loeb

Storyline: Prepare yourself for Molly and Jacob's romance as they discover that they are actually rival deli proprietors. Will a Hanukkah miracle save this young couple?
We love to hear from you/comment below