Hosted by Emmy Award-Winner Stephen Colbert of "The Late Show with Stephen Colbert."
"PICKLED," a new hilarious pickleball tournament featuring a star-studded field that will air November 17th as a two-hour special event on the CBS Television Network.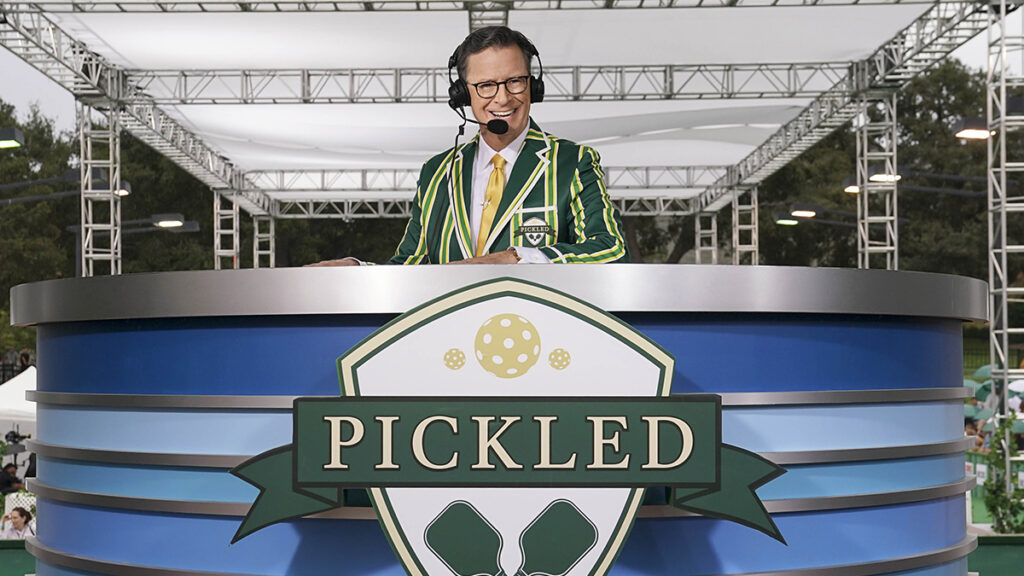 Many have said, "Pickleball is primetime-ready." The most popular new sport in a generation is a classic American concoction of one part tennis, one part badminton, one part ping pong, one part ibuprofen for safety's sake, and one part love. Pour a big glass of FUN for yourself after giving it a good shake.
Teams compete against one another in this humorous and competitive pickleball tournament in an effort to raise money for Comic Relief US and take home the coveted Colbert Cup, the trophy of excellence!
The host, Stephen Colbert, remarked, "If you love pickleball, love celebrities, and love helping people, you're going to love seeing these celebrities serve others by playing pickleball."
There are 16 famous people who will team up and compete on the PICKLED court, including Jimmie Allen, Murray Bartlett, Dierks Bentley, Jaime Camil, Will Ferrell, Max Greenfield, Luis Guzman, Phil Keoghan, Daniel Dae Kim, Sugar Ray Leonard, Tig Notaro, June Diane Raphael, Kelly Rowland, Paul Scheer, Aisha Tyler, and Emma Watson.
The exciting bouts are narrated by all-star broadcasters like Cari Champion, John Michael Higgins, and Bill Raftery. After Stephen Colbert and singer-songwriter Kenny Loggins sing the national anthem together, the 16 celebrities compete on the court to earn the title of PICKLED champions.
Where to watch: CBS Television Network, and will be available to stream live and on demand on Paramount+.
Pickleball is a racket/paddle sport played inside or outdoors in which two players (singles) or four players (doubles) use solid-faced paddles to hit a perforated hollow polymer ball over a net that is 36 inches high. Up until one side breaks a rule, the two teams alternately hit the ball over the net. In 1965, children's backyard pickleball was created on Bainbridge Island. Pickleball became the official state sport of Washington in 2022.]=
5 Rules of Pickleball
Rule 1: The ball must stay inbounds. …
Rule 2: There must be one bounce per side. …
Rule 3: You must serve at the baseline. …
Rule 4: Serves cannot land in the no-volley zone. …
Rule 5: The game ends at 11, 15, or 21 points….
We love to hear from you, please be respectful, follow the rules, stay on subject. Start or join a conversation / comment below