Cast who appeared in todays episode:
Sonny Corinthos (Maurice Benard)
Josslyn Jacks (Eden McCoy)
Adam (Joshua Benard)
Cameron Webber (William Lipton)
Britt Westbourne (Kelly Thiebaud)
Austin Gatlin-Holt (Roger Howarth)
Trina Robinson (Tabyana Ali)
Laura Collins (Genie Francis)
Spencer Cassadine (Nicholas Chavez)
Cyrus Renault (Jeff Kober)
Agent Whitten (Mike Peebles)
Dex Heller (Evan Hofer)
Jordan Ashford (Tanisha Harper)
Sets Used on today's episode:
PCU Dorm
Safe House
Kelly's Dinner
General Hospital
Pentonville Prison
Safe House
Anna and Valentin are together.
Anna and Valentin have made it to the safe house Sonny is providing for them.
There is a knock on the door.
Anna pulls out her gun. Valentin opens the door.
Sonny arrives to make sure all is well and they tell him about Heather & Dex.
Sonny is concerned about Dex.
He updates them on the Heather capture at Kelly's.
Anna tells him Dex was shot.
She feels really bad about what happened.
Sonny gets a call from Jordan, she wants to talk to him.
He explains they have to cut ties at this point.
Anna understands and thanks him before he leaves.
Anna tells Valentin he too has to go.
She doesn't want to put him in danger and he needs to keep Charlotte safe. 
He does not want to leave Anna, but he understands.
Before Valentin leaves, he gives Anna his Cassadine ring.
Until we are together again, they kiss,they say goodbye.
Anna becomes very emotional once Valentin leaves.
Kelly's Diner
Cameron is at Kelly's trying to  reach Joss.
Trina is there.
He tells Trina that Esme was spotted in PC.
Trina asks where she is. 
Cameron explains she got away.
Trina tells Cameron that she tried to see Spencer before he
left but she was too late.
Last time she saw him she told him that she didn't want to be friends.
Cameron and Trina talk a little about their current relationships.
Trina wants to know what was in Spencer's letter.
Cameron reminds her that she knows how to find Spencer.
What is she waiting on?.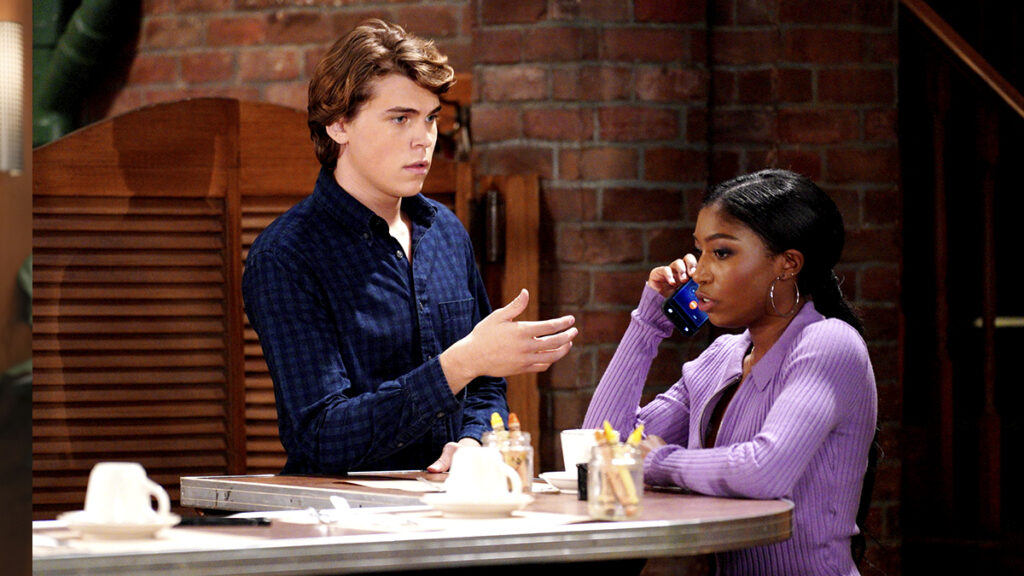 PCU Dorm Room
Joss is on the phone with Carly.
She assures her that she is safe there,
She has Dex in her dorm room.
He awakened and wondered how he got there.
Joss explained she couldn't take him to the hospital.
So she brought him to the dorm.
Everyone thought she was just helping get a drunk guy inside.
He says he can't stay there.
Joss explains to him that no one is going to come into the room.
She tells him that she hopes this is all worth getting shot over.
Dex wants his cell phone to call Sonny.
Josslyn explains he did not have one on him.
She can't stop him from asking Sonny for help
He also can not use her phone to call him.
Joss gives him her computer and he can use his email.
Joss leaves the room to make a phone call.
In the hallway on a pay phone she calls Trina
Josslyn tells her not to come to their dorm room.
They are spraying for bed bugs.
She asks if Joss wants to speak to Cameron.
She does not, she is in a rush.
Cameron seems offended.
Josh runs into Adam in the hallway.
He overhears her talking about bed bugs.
She assures he has nothing to worry about.
Later on a girl is banging on Joss's dorm room door.
Dex is laying there unable to move looking very scared.

Pentonville Prison
Laura is visiting Spencer at Pentonville.
Spencer doesn't think Laura should have come to see him.
There is no other place Laura would rather be.
 Laura tells him that Esme was spotted in Port Charles. 
He hopes they release the dogs on her.
Laura tells Spencer she knows he and his father had a serious fallout.
He asks Laura if she knows why he and his father are estranged. 
She says that he never told her, would he like to share?
Spencer informs her that she needs  to ask his father or if they find Esme, ask her.
Laura wonders what all that means.
Spencer tells his grandmother that it is not his story to tell.
The guards tell them that time is up, Laura hugs Spencer.
He is happy she came to see him.
Laura tells Spencer that she is so proud of him and The way he defended Trina.
Spencer is led back to his cell, Laura is on her way out.
The guard stops her, she has someone who wants to see her,.
She cannot imagine who that could be when her brother Cyrus walks in.
He tells her that he and Spencer have become acquainted. 
Laura warns him to stay away from Spencer.
He is the one keeping Spencer safe here, it's a cruel place.
He cannot say the same if Anna Devane is sent to Pentonville.
He informs Laura that she needs to pull some strings to make sure that does not happen. 
 Laura wants to know what he knows.
Cyrus asks Laura does the name Olivia Jerome mean anything to you?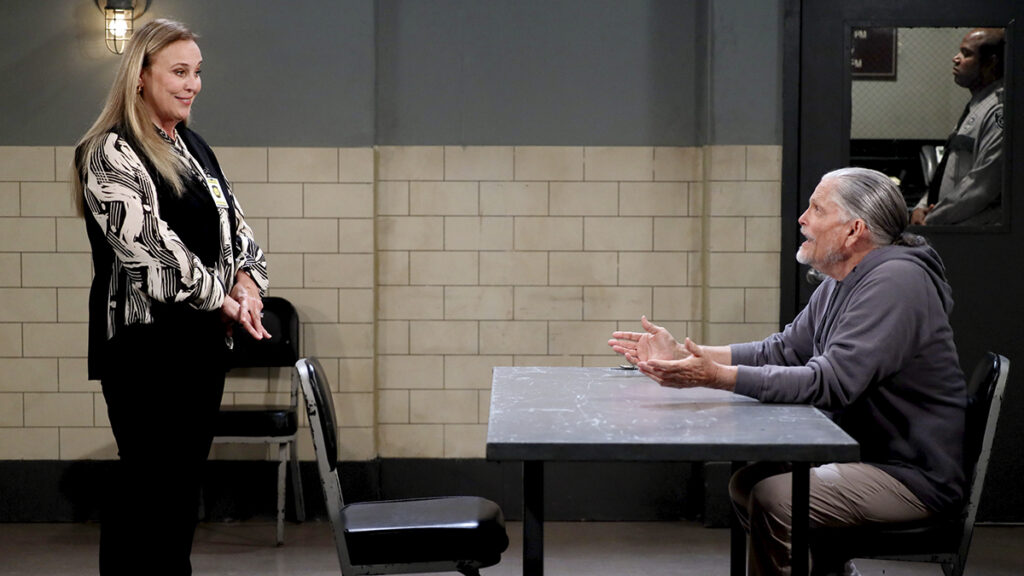 General Hospital
Austin Leaves Spinelli a message, he would like an answer to that favor he ask for.
Britt is having trouble with the vending machine.
Austin helps her get her soda out.
After a drink of it, Britt starts to cough. 
He helps her into an examining room. 
He wants to run some tests on her. 
She tells Austin she does not need any test that she knows what her problem is.
Britt tells Austin that she has Huntington's Disease. 
Her father had it also.
Only her mother and Scott know. 
Austin tells her he doesn't see it as the end of the line for her. 
She should seek another doctor's opinion, they have made strides in medicine.
She knows this.
Austin believes that Britt is respected and everyone would support you.
Lean on those that care for you.
PCPD
Jordan is in her office waiting for Sonny. 
The US Marshall marches in her office unannounced.
Jordan reprimands Agent Whitten for barging into her office.
She doesn't care who he is, that is unacceptable.
He asks if the security footage shows anything.  
He is taking over the case.
Orders from the Deputy Mayor in charge.
He demands all files and records on the Anna Devane case.
Sonny comes into the office
Agent Whitten  says that Anna is a fugitive at large.
Let your friend know we can offer her a safe haven
If we can't bring her in, we have to bring her down.  
After he leaves Jordan and Sonny agree that Anna is better on the run.
Agent Whitten claims that is going to find the closest person to Anna,
He will lean on them until they break. 
He's looking at Valentin's picture.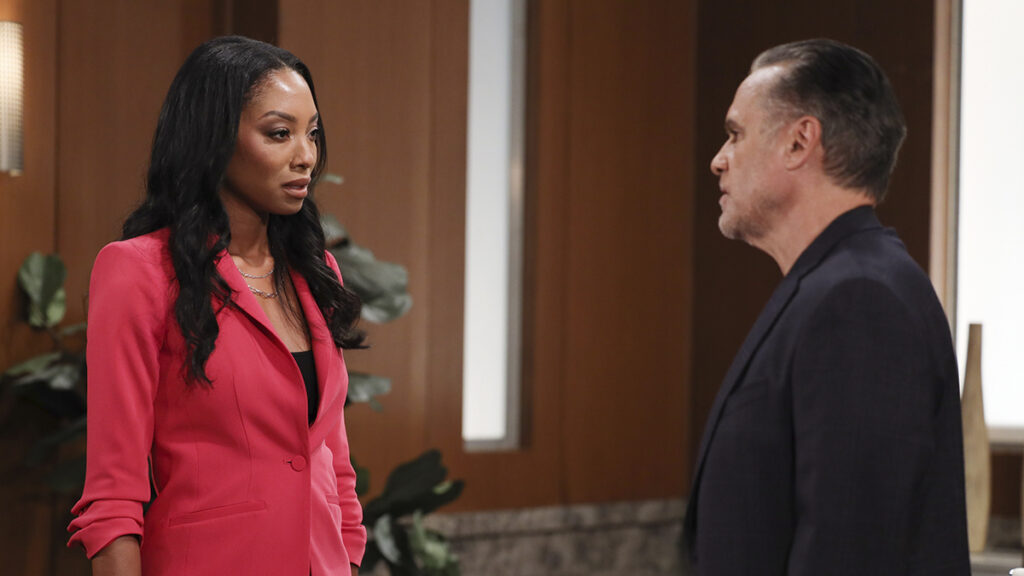 Pentonville Prison
Spencer is told he has another visitor.
He thought his grandmother had left.
He walks into the visitors room, he is staring at Trina.
We love to hear from you, please be respectful, follow the rules, stay on subject, start or join a conversation / comment below