Happy Thanksgiving Week to All!

Cast who appeared in todays episode:
Mac Scorpio (John J York)
Felicia Scorpio (Kristina Wagner
Agent Whitten (Mike Peebles)
Damian Spinelli (Bradford Anderson)
Robert Scorpio (Tristan Rogers)
Holly Sutton (Emma Samms)
Dante Falconeri (Dominic Zamprogna)
Sam McCall (Kelly Monaco)
Austin Gatlin-Holt (Roger Howarth)
Maxie Jones (Kirsten Storms)
Britt Westbourne (Kelly Thiebaud)
Cody Bell (Josh Kelly)
Laura Collins (Genie Francis)
Victor Cassadine (Charles Shaughnessy)
Sets Used on today's episode:
General Hospital
Metro Court Hotel
PCPD
Port Charles Docks
Safe House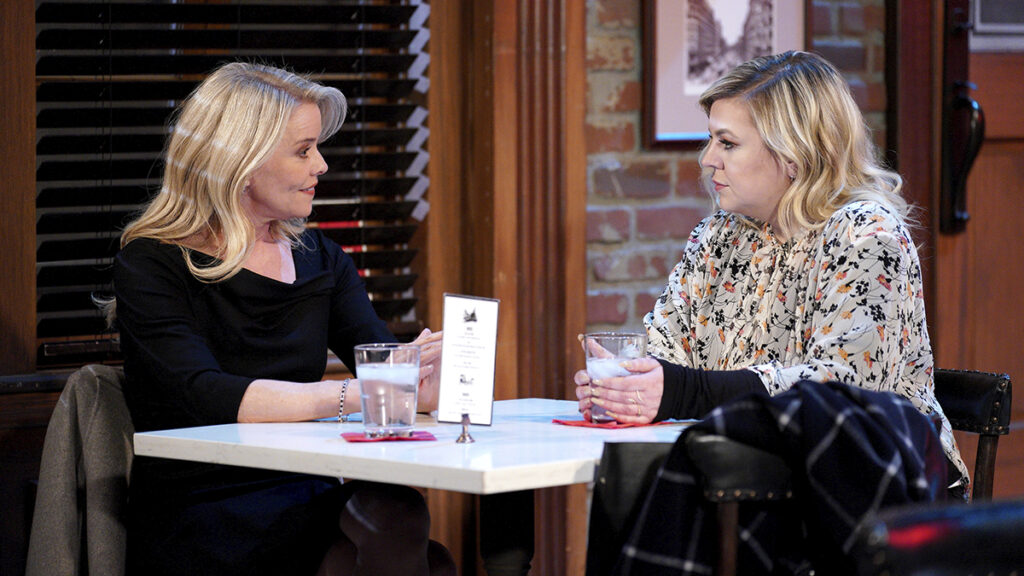 General Hospital
Sam is at the hospital and meets Spinneli.
She wanted to know if he found anything on Cody.
He found out that he had a juvenile arrest record.
Spinneli could not access his records.
Cody is in Britt's office.
Britt tells Cody about her evening with Brad.
She is thinking about her illness.
She is trying to take pills and her hands are shaking.
Cody asks her if she is ok and that he is there for her.
Sam comes to Britt's office while Cody is still there.
Sam explains the necklace most likely belongs to Cody.
It was left to Taub's heirs.
If a sales receipt is found from Faison or Peter then the necklace belongs to Britt.
Britt is called out of her office by Austin.
Sam tells Cody that he has been after the necklace all along.
He asked how that was possible, he never knew about the necklace.
Sam thinks Cody is raising red flags for her.
Cody used blackmail to be paired with Britt.
Cody said none of us are squeaky clean, not him, her or Dante.
Out in the corridor Austin tells Britt he has found a top notch specialist referring to her Huntington Disease.
He is at a nearby conference and would like her to meet with him.
Austin is there for her.
Britt comes back in and she is talking about the ice princess diamond.
Victor is listening and lurking at the door.
Sam runs into Spinelli again.
She asks him to cease investigating Cody.
Circling back to Austin who is on the phone.
He is talking about a patient he just handled.
Maxie is standing behind him and overhears him.
Maxie questions him about all the extra surgeries that he has been doing.
Does he have to do them or is it a cover?
Maxie thinks Austin is avoiding her because of Spinelli and Georgie.
How can I put your mind at ease?
Austin kisses her and Spinelli is lurking in the background.
Austin previously talked about taking the kids on a trip.
He would like Georgie to go and have her blessing.
Austin gets called away.
Once they are alone, Maxie let's Spinelli know she is annoyed with him.
Georgie can pick up on the fact that he doesn't like Austin.
Spinelli comments that maybe she is just a good judge of character.
He does not trust Austin or think he is being honest.
Austin returns to Maxie and Spinelli.
Now, Maxie must take a call, she steps away.
Austin asks Spinelli if he ran the algorithm?
Spinelli does not understand why he wants it.
Austin states e wouldn't understand even if he told him.
Metro Court
Holly and Robert are having breakfast at the MC restaurant.
Robert knows something Is off with Holly.
She answered it's Lucy.
Holly also feels bad that Martin is suffering.
Our friends told me that you moved heaven and earth to find me, she leaned in for a kiss.
She wishes they could have made a go of it.
Robert knows Anna is safe and sound.
He knows the address of the safe house she is at.
Holly spills something and asks Robert for club soda.
As he steps away, she steals the address of the safe house from a text message, off of his phone.
Upon his return, Holly tells Robert she must leave, she forgot and appt she had with Kevin.
Holly leaves, then calls Victor to meet her.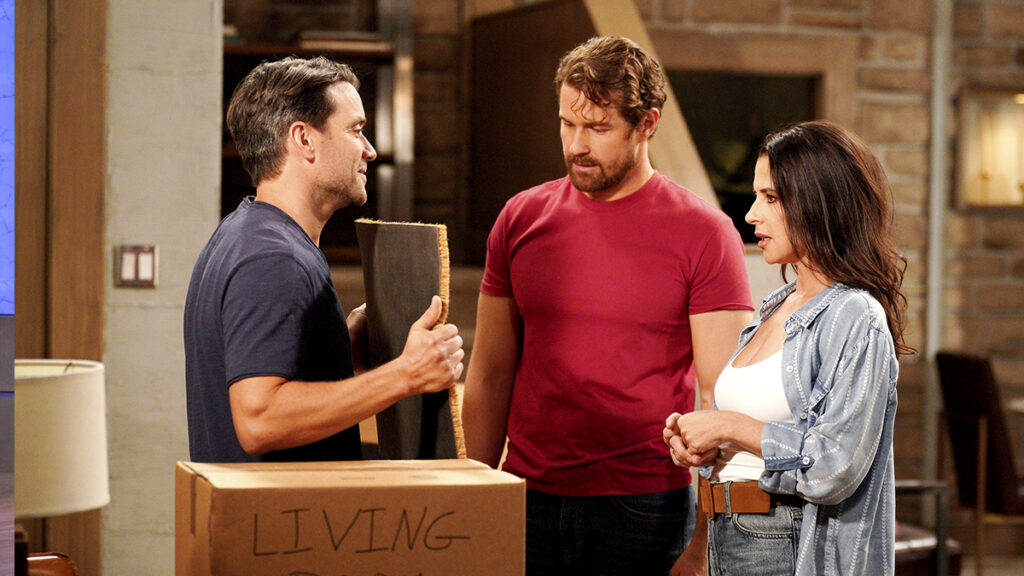 Port Charles Docks
Holly meets up with Victor at the docks.
She knows where the safe house is and gives him the address
He gets a call and tells Holly that she will have to alert the authorities.
Holly departs.
Laura also meets up with Victor at the dock.
He is annoyed that she won't change her opinion of him.
She ask if he is going to frame her for murder, like he did Anna.
Laura tells him that she is going to take him apart when the family is back together.
Victor wants Lucy's killer brought to justice.
They do not agree on anything, but on this issue Laura agrees.
PCPD
Mac and Dante are at the PCPD meeting with Agent Whitten.
Dante knows Mac is a bothered by something,
He asks what is bothering him.
Whittenl is yelling on the phone that they lost Valentin.
Felicia overhears his conversation.
She goes into the integration room with Mac & Dante.
Felicia relays to Mac the conversation she overheard between Agent Whitten and someone on the phone
She can tell Mac is bothered by something.
She asks if he told Dante about the DNA test/Cody..
Felicia knows Mac is upset over Cody not being his son.
She tells him he is allowed to grieve his loss.
Laura is now at the police station.
Agent Whitten introduces himself.
He wants information on Valentin.
The Agent tells Laura that knows about LuLu.
Laura gets angry and asks what that has to do with anything.
He tells her he would just hate for her granddaughter to lose both parents.
Laura tells him he is aggressive and rude.
Agent Whitten gets a call that they have a lead on Anna Devane.
Mac and Dante are going to go with him.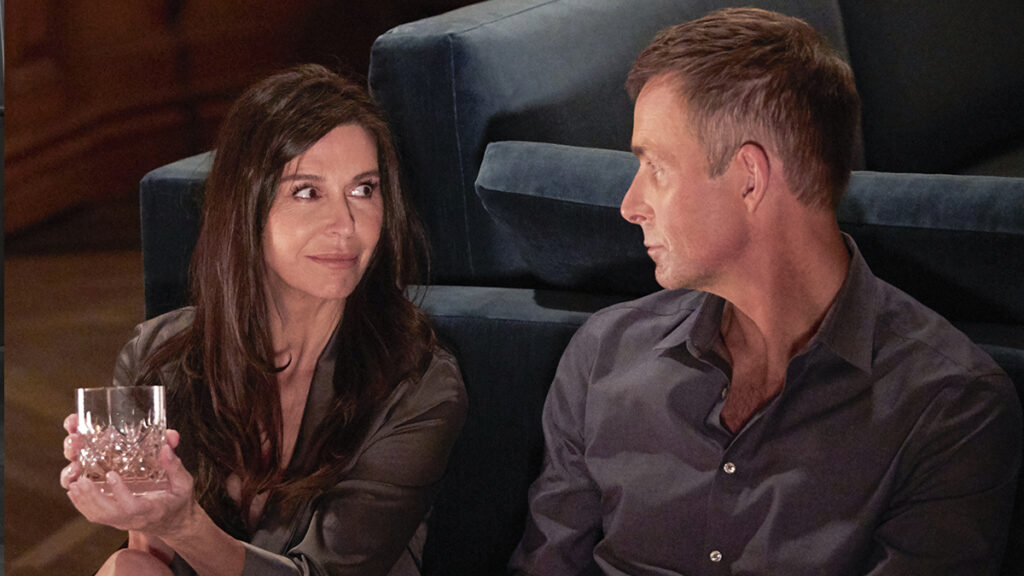 Safe House (Correct one)
Anna is at the safe house with Valentin.
He tells her she has to go, it's not safe there anymore.
Valentin will fight for her, no way she is going to prison.
Olivia Jerome reached out and made it clear if she winds up in Pentonville
she won't last a night.
They agree that she has to get her out of the country.
Valentine tells her that he has arranged for someone to pick her up within the hour,
They make love and spend what precious time together that they can.
Her car is there and the driver has a new passport.
Anna & Valentin kiss again and say this won't be forever.
They have to take Victor down.
She walks out and comes back to kiss him again.
Safe House (wrong one)
Agent Whitten has the house surrounded, all guns blazing.
He and his squad bash in the door, it is empty.
That is because you got some bad information bud!
Port Charles Docks
Holly is standing on the docks, thinking she is free and clear.
Robert comes up to her and says she has explaining to do.
We love to hear from you, please be respectful, follow the rules, stay on subject, start or join a conversation / comment below