Cast who appeared in todays episode:
Josslyn Jacks (Eden McCoy)
Cameron Webber (William Lipton)
Jordan Ashford (Tanisha Harper)
Portia Robinson (Brook Kerr)
Carly Spencer (Laura Wright)
Maxie Jones (Kirsten Storms)
Damian Spinelli (Bradford Anderson)
Michael Corinthos (Chad Duell
Willow Tait (Katelyn MacMullen)
Nina Reeves (Cynthia Watros
Sonny Corinthos (Maurice Benard)
Curtis Ashford (Donnell Turner)
Drew Cane (Cameron Mathison)
Dex Heller (Evan Hofer)
Holly Sutton (Emma Samms)
Robert Scorpio (Tristan Rogers)
Victor Cassadine (Charles Shaughnessy)
Trina Robinson (Tabyana Ali)
Austin Gatlin-Holt (Roger Howarth)
Mason (Nathanyael Grey)
Mac Scorpio (John J York)
Felicia Scorpio (Kristina Wagner)
Sasha Gilmore (Sofia Mattsson)
Gladys Corbin (Bonnie Burroughs)
Diane Miller (Carolyn Hennesy)
Curtis Ashford (Donnell Turner)
Sets used on today's show
Metro Court Hotel Terrace
Greystone Manor
Charlie's Pub
Robinson-Ashford Beach House
Footbridge in Port Charles
Kelly's Dinner on the Waterfront
General Hospital: Corridor and Austin's Office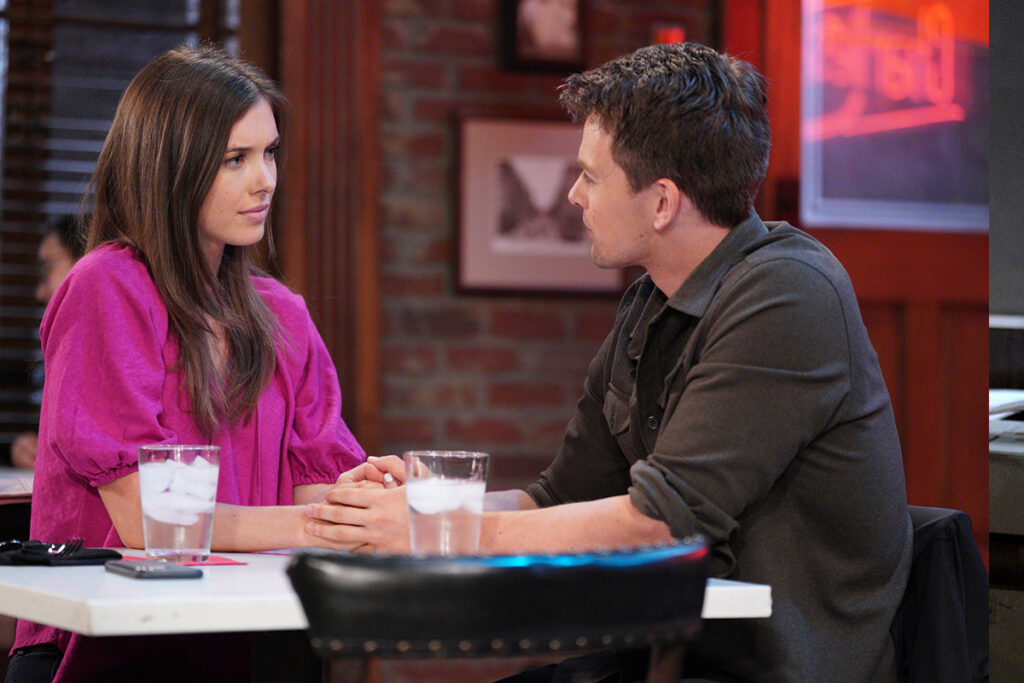 Charlie's Pub
Willow and Michael are on a rare date.
They are kissing and simply enjoying a night out.
Willow assures him that everything is fine with the baby.
Michael promises to be right there with her every step of the way.
Michael notices Willow is nervous.
She is waiting for test results.
With Willow his whole life has changed.
Willow loves Michael and he loves her very much!.
Michael wants to know if Willow would like to get married.
This time for all the right reasons.
Her phone rings, It's Dr. Randolph
She wants to see Willow tomorrow for test results.
Michael wants to be there, she agrees

Kelly's Dinner on the Waterfront
Dex stands guard outside the dinner;
Nina and Sonny are on a date night, enjoying a sundae inside.
Nina loves that Sonny stood up to Carly for her.
Sonny considers Nina part of the family.
Dante and Kristina have accepted her.
It is obvious Donna & Avery love to be around Nina.
Michael & Josslyn need to catch up with the program.
Nina is not going anywhere!
Austin's GH Office
In his office, Austin is trying to convince Mason that he is a different person now.
Maxie interrupts Austin & Mason's deep conversation.
She would like to know what she walked in on.
Austin said his cousin was having insurance problems.
It is not his field of expertise.
He is a doctor not a file clerk but will see what favors he can call in.
Austin questioned Maxie as to why she is there?
Maxie thought since she had canceled on him, was in the area they might grab a bite to eat.
Austin speaks his apologies, but says he has some urgent things to take care of.
Maxie totally understands and heads off to get some take out.
Austin gets a phone call that he has a patient in the ER.
He is on his way.
When Austin returns to his office Mason is sitting there in the dark.
Austin informs Mason the illegal job is done.
He orders Mason to never speak to Maxie again.
Mason is not buying into Austin's good guy persona.
He reminds Austin that if Maxie knew the real Austin, she would run for cover.
Austin thinks Maxie would accept him as he is.
Everyone makes mistakes and Maxie would forgive him for his.
Mason assures Austin she would not, but to let him know how that works out for him.'See you around cuz.' are his parting words.
Roinson-Ashford Beach House
At the beach house Portia, Curtis and Jordan are discussing Trina being in serious danger.
Jordan assures them that the PCPD will keep Trina safe.
Curtis is beefing up security.
He insists on calling Taggett, and Portia agrees.
This could cause a delay in he & Portia's wedding plans.
Jordan appears shocked that why are moving so fast.
She does her just dues and congratulates them on picking a date.
They are aiming for Valentines Day 2023, Portia gloats.
Portia thanks Jordan for understanding and wishes.
Jordan still has her noise in Portia's business.
She gives her unwanted opinion to Portia.
Portia will handle the situation the ways she feels is proper, when the time is right.
Curtis returns, Taggert is on board to do anything to keep Trina safe.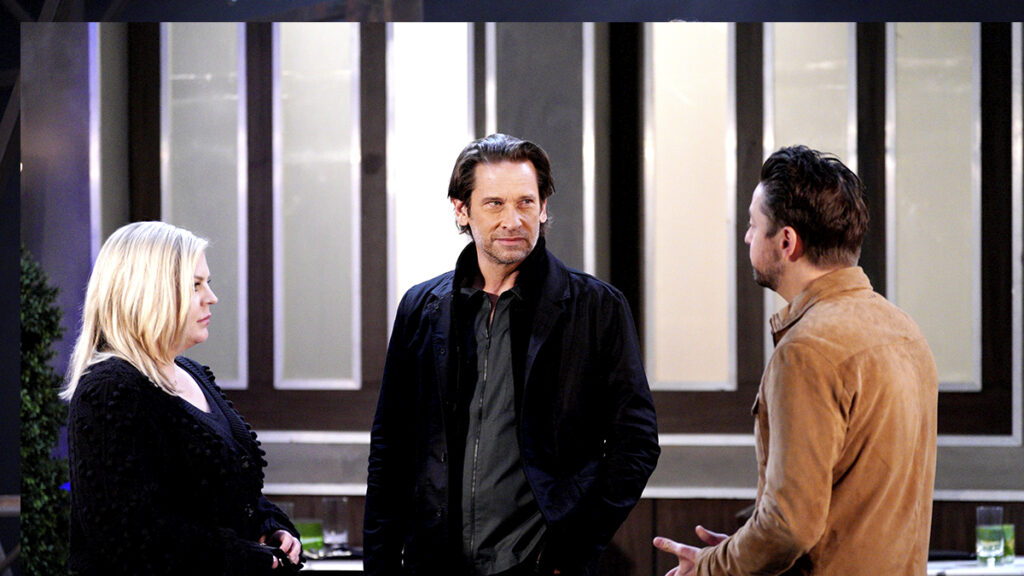 Metro Court Terrace
Spinelli is on the phone, he wants to shut down Society Setups.
He is not getting the answer he wants.
He is not a happy camper at the moment.
She knows the real story of society setups.
I have faith you will find love again Spinelli.
Trust the algorithm and trust your heart.
Austin interrupts and is glad to have caught Maxie.
He is now free to join her for dinner.
Spinelli is told that Austin knows he's behind Society Setups.
Maxie insists he can totally be trusted.
Maxie will be right back, in her absence Austin asks Spinelli for a favor.
Austin wants Spinelli to run his algorithm on himself and Maxie.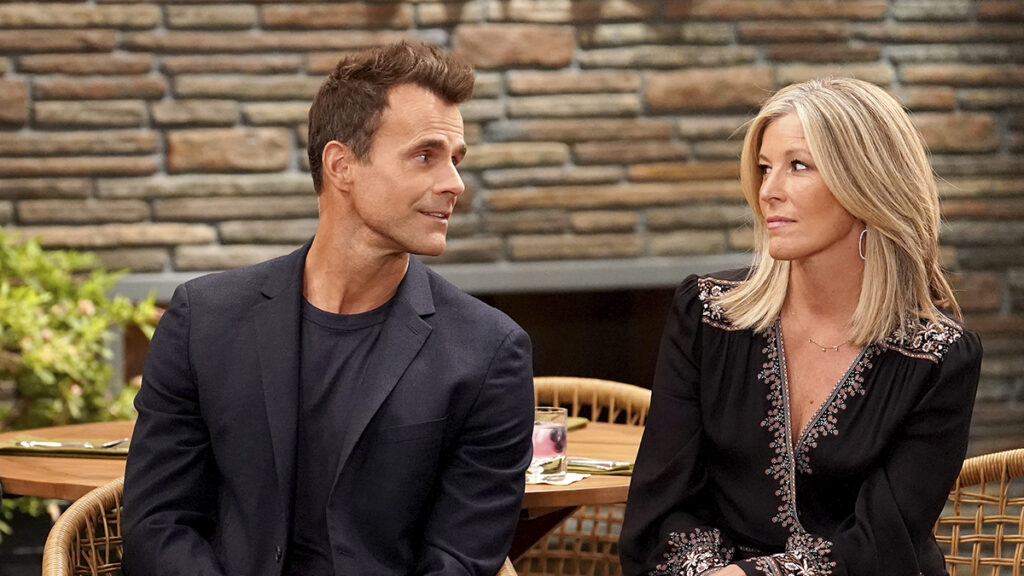 Greystone Manor
Joss tells Carly someone is targeting Trina and her associates.
Joss realizes Cameron could be in danger also.
He is alone at Kelly's, she has left him messages everywhere with no response.
She had to find Cameron.
Carly is not willing to let her go. 
Carly senses a distance from Joss and  what's to know what she is keeping from her.
Joss is thinking about Dex.
Let's see besides being targeted by a killer, things are fine between her and Cameron.
Carly assures Joss that she would never let anyone hurt her.

Footbridge in Port Charles
Who knows why with it being dark and a killer on the loose, but Cameron decides
he will find peace standing on the bridge.
He is looking at the love locks and thinking about making love to Josslyn..
He suddenly hears a noise, and shouts for whoever is there to reveal themselves.
Lucky for Cam it is Drew who steps out of the shadows.
His first question is to ask why Camron is out there alone with the hook killer still on the loose.
Today is Oscar's birthday and he feels close to him on the bridge.
Carly calls Drew to see if he can go by Kelly's to check on Cameron.
No need, he is standing on the footbridge with Cameron at this very moment.
Is there a problem, Drew would like to know?
Greystone Manor
Carly is surprised to see Drew at her door.|
You were clear we had to stay under the radar.
Drew could tell she was worried about Cameron.
He just wanted to let her know that he had walked Cam to his car.
He is safely on his way back to Kelly's Dinner.
She wants Drew to give Joss the good news.
Josslyn is absolutely nowhere to be found.
Carly calls Joss but she does not answer.
Kelly's Dinner on the Waterfront
Nina brings Dex out some hot chocolate to keep him warm.
Josslyn finds Dex standing outside Kelly's.
He is standing guard for Nina & Sonny who are inside.
She is still digging in her heels about Dex working for Sonny.
Cameron returns and interrupts them.
Joss is sooooo happy to see Cameron, she is glad he is okay.
She runs over and gives him hugs and kisses.
Joss shares Jordan's theory that everyone involved in Trina's trail is a target for the killer.
Dex feels he should give Sonny this information right away.
Joss is not on board with Sonny getting involved in her business.
Dex basically tells them, do not be stupid and let your pride get you killed.
The three of them head inside.
Dex tells Sonny there is something Josslyn needs to tell him.
Someone is trying to kill her and Cameron and she needs his protection.
Sonny takes charge.
He instructs Dex to see that both Nina & Cameron get home safely.
Sonny leaves with Josslyn to get her home safely.
Cameron is closing up Kelly's.
Dex offers to see Cameron home safely.
He declines, he is a big boy now.
Both Nina & Dex ask if he will be okay alone.
Neither insist as Sonny told them to do.
Cameron is alone inside Kelly's.
He looks at his phone and sees the missed message from Josslyn.
He smiles, thinking of Josslyn.
Greystone Manor
Carly is heading out the door to find Josslyn.
Drew insists on driving her.
She opens her front door to Sonny and Josslyn standing there.
Joss assures Carly she is fine.
Carly orders her in the house.
Sonny knows all of Jordan's theory and wants to return Joss safely home.
Dex will see to it that Cameron gets home safely.
Carly thanks Sonny, who sees Drew and comments everything there is in control.
Carly shuts the door and turns to tell Drew to leave now.
They need Sonny to see Drew leaving so they can keep up the charade of not being together.
Drew and Carly embrace and kiss goodbye.
Josslyn is standing in the shadows dismayed at just witnessing the kiss.
We love to hear from you, please be respectful, follow the rules, stay on subject, Start or join a conversation / comment below