Cast who appeared in todays episode:
Nina Reeves (Cynthia Watros)
Ava Jerome (Maura West)
Victor Cassadine (Charles Shaughnessy)
Josslyn Jacks (Eden McCoy)
Cameron Webber (William Lipton)
Heather Webber (Alley Mills)
Willow Tait (Katelyn MacMullan)
Michael Corinthos (Chad Duell)
Dante Falconeri (Dominic Zamprogna)
Jordan Ashford (Tanisha Harper)
Elizabeth Webber-Baldwin (Rebecca Herbst)
Nikolas Cassadine (Marcus Coloma)
Esme Prince (Avery Pohl)
Dex Heller (Evan Hofer)
Deanna Sirtis (Dioni Michelle Collins)
Johann Bauer (Johann Bauer)
Sets Used on today's episode:
Scene of the Crash
Quartermaine Gatehouse
Wyndemere Castle
General Hospital
Port Charles Grill
Kelly's Dinner
Pier 55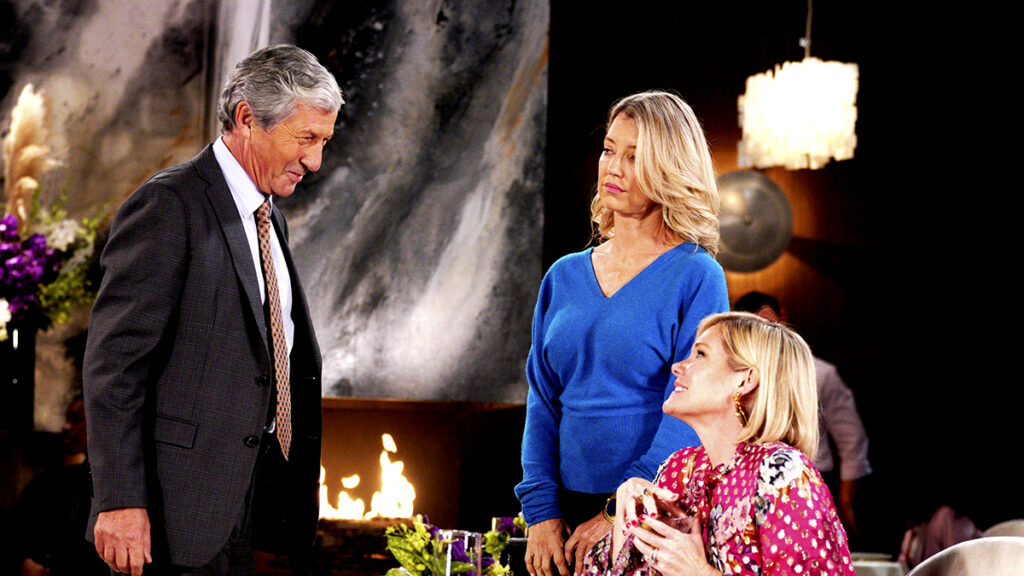 Port Charles Grill
Nina and Ava are having a girls night out, drinks and dinner all around.
They make a toast to Ava's freedom and Nina finding love with Sonny.
Nina tells Ava about trying to help Sonny's family, which they were not thankful for.
She admits she could have overstepped her boundaries just a tiny bit.
Also, that she may have misinterpreted things the wrong way between Willow & TJ.
Ava suggests that Nina go to Willow and apologize and try to make some of it up to her.
Nina thinks that is a good idea.
They give each other a high five and Nina throats off to find Willow..
Victor comes in to the restaurant as Nina is leaving.
Victor sits with Ava un-invited.
He's so sorry things didn't work out with Nikolas.
"You must be frantic searching for Lucy," Ava asks.
Victor misses Lucy terribly but something about seeing Ava eases his mind.
General Hospital-Dr Terry's Office
Back at the hospital, Michael and Willow are still in Terry's office.
Michael tells Willow to always remember that she is not in the fight alone.
All he wants from her is to be honest with him going forward.
Willow doesn't want to share her diagnosis with anyone yet.
She does not want to be treated different because she has leukemia.
She will need a bone marrow donor and that could be a little tricky.
Willow needs Michael to hold her.
They are interrupted by Nina who tells Willow she needs to apologize.
She is sorry that she jumped to conclusions about her and TJ.
Michael, who is relentless, tells Nina that she is just evil.
Nina tells him this is not about his hatred and bullying of her, she is truly sorry.
She wants to know what she can do to make amends with Willow.
Willow tells her to drop dead and she and Michael walk out.
Scene of the Crash
Dante and Jordan are still on the scene of the transport van accident.
He informs her there has been no sight of either Anna or Heather.
Anna has an agenda but Heather is just crazy and unpredictable.
Jordan said someone set this up.
She first says it was likely Valentin.
Jordan also tells Dante she thinks Sonny may have a hand in it also.
Dante thinks his dad could be involved.
Jordan gets a call that Esme Prince was spotted at the Pier.
Jordan takes off for the Pier in hopes of finding Esme.
Dante gets a call from Cameron that Heather is at the cafe.
Kelly's Dinner on the Waterfront
Cameron is at Kelly's working while on the phone with Joss.
She is babysitting for Wiley.
Cameron tells her that he plans to come over after his shift to help her.
He announces to the customer that the kitchen is closing.
Last call, can he get them anything?
Heather looks up from a table, she hears the BLT's here are to die for.
Cameron recognizes her as Franco's mother Heather.
"Do you need me to call someone for you," Cam asks?
Heather is on a field trip and just wants a BLT.
He heads to the kitchen where he calls Dante to let him know that Heather is in Kelly's.
PCPD's finest has arrived.
Dante wants Heather to tell him more about the accident.
Heather tells him she was on her way home to Darkham, she couldn't stop thinking about Kelly's BLT's.
Dante tells Cameron to wrap her food up to go.
As Dante takes her out, she tells Cameron not to be a stranger.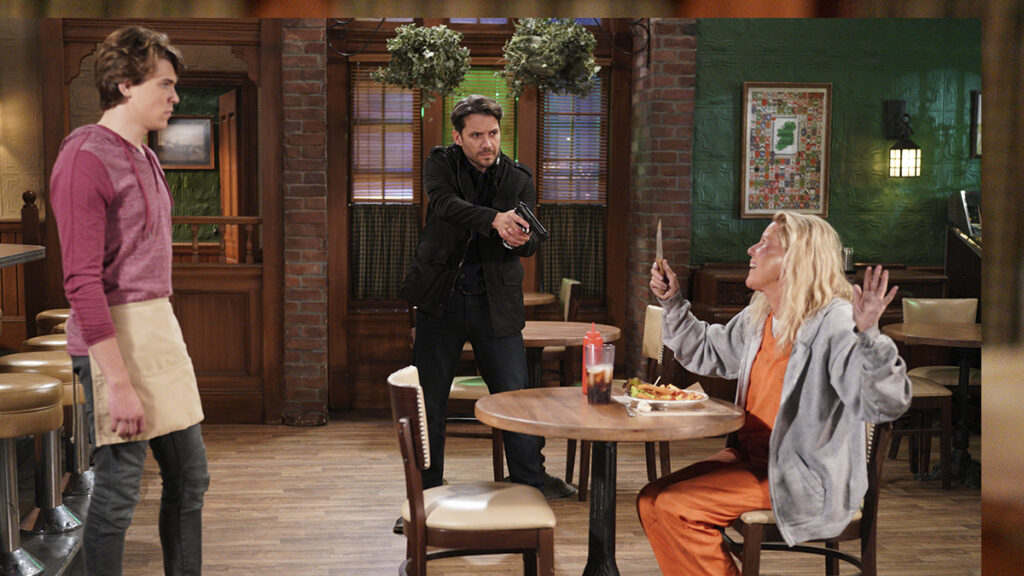 Pier 55
Liz is on the dock's, trying to get to Spoon Island.
She heard a rustling sound, who is there she calls out, I am not alone.
Sure you are not alone, Esme whispers before stepping out.
Liz tells her she is calling the Police.
Esme knocks her over, but not before Liz gets out that Esme is at Pier 55.
Nikolas grabs Esme, asking if she stabbed Elizabeth.
After her fall, Liz is trying to focus.
She needs to know who else is on the Pier.
Nikolas puts Esme on the launch and gets her back to Wyndemere.
Jordan arrives and has Liz transported to General Hospital.
She has only a mild concussion, her head is spinning.
Jordan wants to know who did this to her.
Esme Prince did this, but she is sure someone else was there.
Elizabeth remembers who she saw, it was Nikolas.
Quartermaine Gatehouse
After hanging up from Cameron's phone call, Joss settles back into her studies.
She hears noises outside and thinks it might be Annabelle ll only finds Dex instead.
Dex is bleeding profusely from a gunshot wound, she wants to know what happened.
Willow has a medical kit, she will grab it.
Dex insists on sewing himself up, he does not want Joss involved.
She refuses to let him do so and tells him to stand and lean on a chair.
She takes his shirt off and keeps Dex talking as a distraction.
Josslyn finishes sewing him up, gives him one of Michael's shirts then lets him rest.
She cleans up the bloody towels, trying to find a place to put them.
Wyndemere Castle
Nikolas has Esme back to Spon Island with a little help from his bodyguard.
Esme warns him when Elizabeth wakes up he will be toast.
Nikolas knows Elizbeth will not hang him out to dry.
Esme tells him here is a fyi for you, Elizabeth called the PCPD before she fell.
Where does Nik think they will look first?
Bingo, right here at her last residence, Wyndemere.
Esme says she has hurt no one, has not attacked him, is not the hook!
Nikolas of course does not believe a word she is saying.
He does however realize he has to move her before PCPD comes looking for her.
Nikolas informs her that as soon as she has the baby, he d.o.n.e with her.
Esme says to herself, we will see about that.
Port Charles Grill
Nina returns to the grill to fill Ava in on Willow and Michael.
Victor is still sitting in her seat taunting Ava.
Ave tells Nina it is not a problem that Victor was just leaving.
He sees his henchman Johann outside, and leaves.
Nina tells Ava if she gets the idea to reach out to Willow again,
please just slap some sense into her.
Victor returns once again, he interrupts the ladies with a big grin on his face.
He informs them that Esme Prince has been spotted in Port Charles very much alive and well.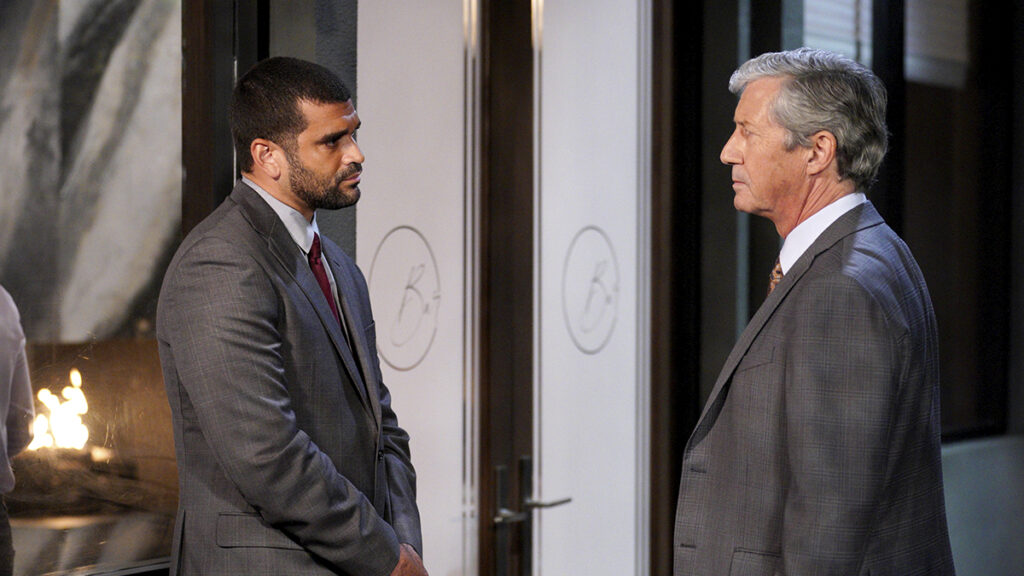 Quartermaine Gatehouse
Michael and Willow return home.
They call out to Josslyn who comes in from outside.
She tells them she was checking on Annabelle ll who had been restless tonight.
Michael basically wants to know why the living room looks a mess.
Josslyn explains she was studying and had pulled everything around her .
She then spots a bloody gauze over by the couch but is able to retrieve it.
She tells Willow and Michael good night.
Outside, Joss sees some blood on the ground and realizes Dex is still bleeding
We love to hear from you, please be respectful, follow the rules, stay on subject, start or join a conversation / comment below