Cast who appeared in todays episode:
Sonny Corinthos (Maurice Benard)
Sasha Gilmore (Sofia Mattsson)
Gladys Corbin (Bonnie Burroughs)
Brad Cooper (Perry Shen)
Selina Wu (Lydia Look)
Robert Scorpio (Tristan Rogers)
Holly Sutton (Emma Samms)
Dante Falconeri (Dominic Zamprogna)
Sam McCall (Kelly Monaco)
Elizabeth Webber-Baldwin (Rebecca Herbst)
Esme Prince (Avery Pohl)
Britt Westbourne (Kelly Thiebaud)
Laura Collins (Genie Francis)
Nikolas Cassadine (temporarily portrayed by Adam Huss)
Sets Used on today's episode:
Wyndemere Castle
Metro Court Hotel
PCPD
Local Coffee House
Metro Court Bar & Restaurant
Sonny happens upon Sasha and Gladys enjoying a meal at the MC.
Sasha thanks Sonny for the beautiful flowers he sent to her.
Sasha thanks him for the flowers in honor of Liam's first birthday.
Sonny tells them that Liam will always be in their hearts.
Sonny asks about the guardianship and how that is working out for the two of them.
Gladys shares it is a work in progress telling him about the Deception save.
Sonny takes Sasha on a kitchen tour so he can have a one on one with her.
He wants Sasha to be truthful and tell him how Gladys is really treating her.
Sonny asks what part did Gladys play in the Deception deal and did she try to block it?
She did at first, quickly realized that the deal was good for the company.
Sasha trust Gladys is looking out for her
Britt is coughing, but trying to enjoy a drink at the bar.
Bradley joins her and Britt pretends it is like old times.
Them against this cruel world.
Brad asks Britt, is this about the cowboy?
Selina approaches them, she is happy to see they are out enjoying their time together.
She tells the bartender to put their drinks on her tab.
Wu departs and Brad is puzzled.
He wonders what happened to make Selina suddenly like Britt?
She tells Brad that Selina had blackmailed her, Iin the end, she caved. That is why he couldn't work at GH.
Brad tells her you did me a favor.
'I always have your back' Britt tells him.
The fact that Britt is his bff, he knows something is wrong.
How can I help you out?
Gladys approaches Selina Wu.
Selina gives Gladys her condolences.
She is aware that Sasha is an owner in Deception.
She invites Gladys to a high stake Texas holdem poker game at the Savoy.
Selina gives Gladys a business card to get in.
Sonny is surprised to find them together.
Selina says they are not friends, but might have some business together.
Sonny asks what kind of business.
Selina hopes Sasha and Gladys will consider her a friend.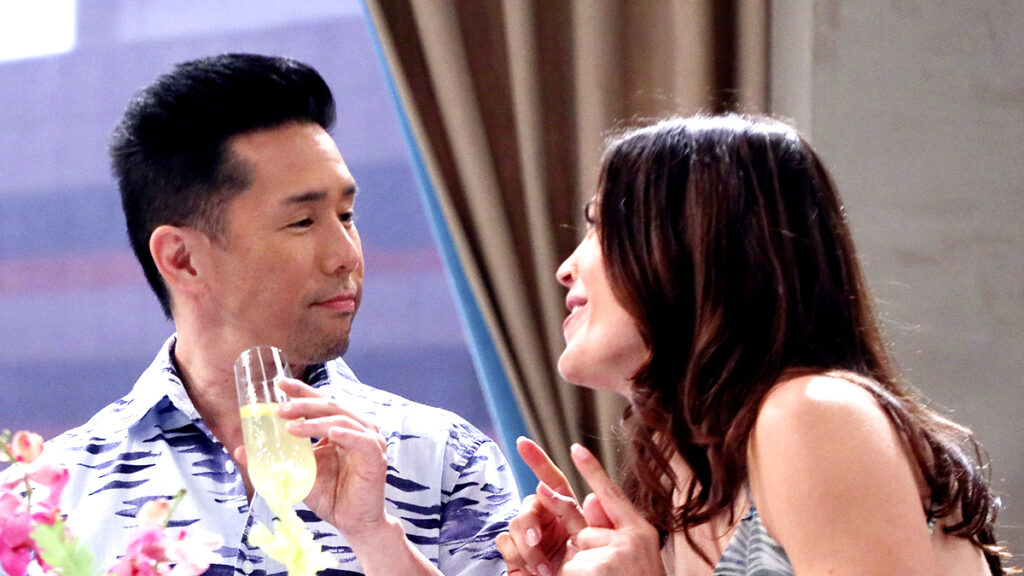 Local Coffee House
Laura is outside talking to Marty on the phone.
She will bring him food, he needs to take care of himself.
She tells him a lot of people are trying to find Lucy.
Holly and Robert are together at the restaurant.
Robert admits he hasn't heard from Anna since the escape.
He has no idea what she has been up to.
Maybe he's trying to protect him.
Robert mentions that she's probably gone underground and hopes she can find who she's looking for.
Laura runs into Robert and Holly at the restaurant.
She tells them that her brother Marty is grieving Lucy.
Holly's heart goes out to Martin.
Holly knows Anna is not responsible for Lucy's shooting.
Do you know something we don't know?
Holly goes out for some fresh air.
Laura replies that Holly seemed remorseful.
She tells Robert that Holly is struggling with her conscience.
Laura thinks that she is hiding something.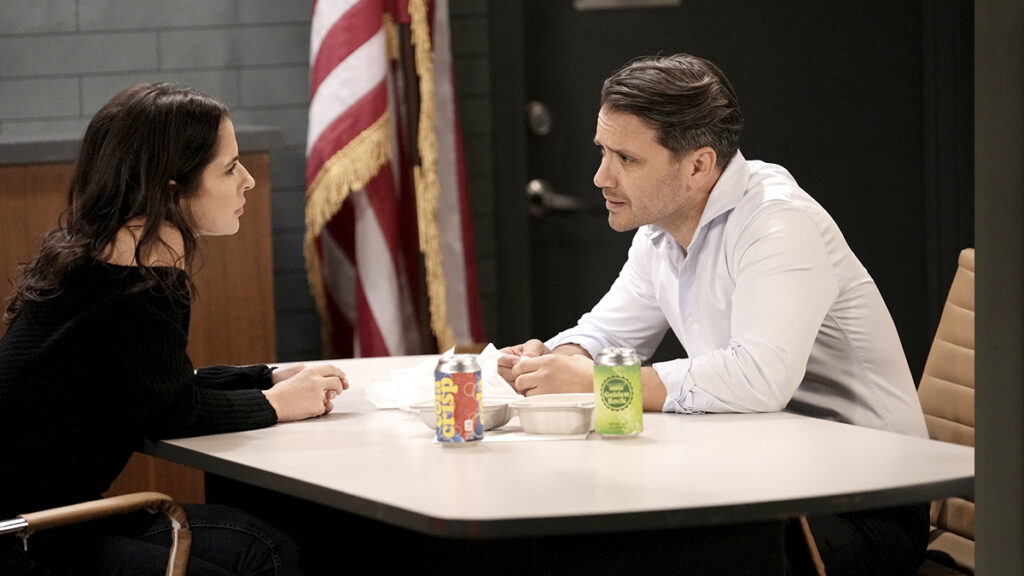 PCPD
Sam comes to visit Dante at the PCPD.
She has a surprise for him.
They go into the interrogation room so all eyes are not on them.
She brought him a hoagie sandwich from his favorite place.
Dante tells Sam she is an angel.
Dante has to search for Anna.
He asks Sam if she remembers where any of Sonny's safe houses are?
Sam doubts she is at any of them if she ever was.
Anna is a super spy who can take care of herself.
Dante tells Sam that he thinks his father helped Anna escape.
They talk about remodeling their house and taking the kids to Iceland in the summer.
Wyndemere
Lizzie and Nikolas find Esme passed out on the floor of her tower cell.
She checks Esme's pulse.
Lizzie is telling Nikolas that they may need to deliver the baby early.
She needs a knife in case they need to do a c section.
Lizzie goes to touch Esme's stomach and she pops up.
She knew Esme was faking all along, she just needed to make sure.
Lizzie needs to leave now that the medical crisis is over.
She would like to see her give birth in Pentonville.
She-devil Esme is talking to herself again.
Esme is beside herself that some one like Cams mother outsmarted her.
Do not let it happen again.
In a moment of calmness (very rare) she feels the baby move.
She is calling the baby Ace.
Ace seems to bring out the soft side of the she-devil.
Downstairs Lizzie starts to question Nikolas big time.
Nikolas tells her that he is not involved with Esme and he plans to raise the baby on his own. (good luck with that Niki boy)
Nikolas kind of threatens Lizzie.
He tells her that whatever happens to the baby depends on her.
Lizzie wants nothing else to do with all this.
Nikolas would like to take Esme to Cassadine Island so she can give birth there.
Liz said there is an alternative, she will give birth her and I will be the nurse.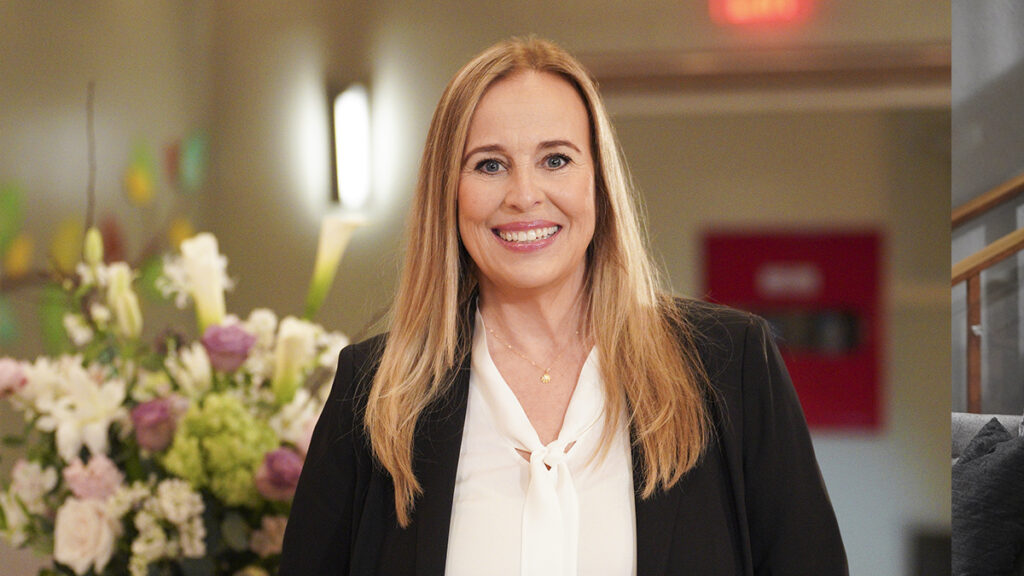 Coffee House
Holly is outside getting fresh air
She is thinking back, her memories are coming into focus.
In her memories she sees herself taking off her disguise.
The disguise looking just like Anna and she had just shot Lucy.
We love to hear from you, please be respectful, follow the rules, stay on subject, start or join a conversation / comment below