This is what happened on 'General Hospital' today!
Cast who appeared in todays episode:
Robert Scorpio (Tristan Rogers)
Mac Scorpio (John J York)
Holly Sutton (Emma Samms)
Laura Collins (Genie Francis)
Eileen Ashby (Heather Mazur)
Jordan Ashford (Tanisha Harper)
Felicia Scorpio (Kristina Wagner)
Alexis Davis (Nancy Lee Grahn)
Sonny Corinthos (Maurice Benard)
Nina Reeves (Cynthia Watros)
Dante Falconeri (Dominic Zamprogna)
Sam McCall (Kelly Monaco)
Sasha Gilmore (Sofia Mattsson)
Gladys Corbin (Bonnie Burroughs)
Olivia Quartermaine (Lisa LoCicero)
Leo Quartermaine (Easton Rocket Sweda)
Drew Cane (Cameron Mathison)
Carly Spencer (Laura Wright)
Harrison Chase (Josh Swickard)
Brook Lynn Quartermaine (Amanda Setton)
Michael Corinthos (Chad Duell)
Willow Tait (Katelyn MacMullan)
Sets Used on today's episode: 
Quartermaine Estate
Harborview Tower
PCPD
Baylor Woods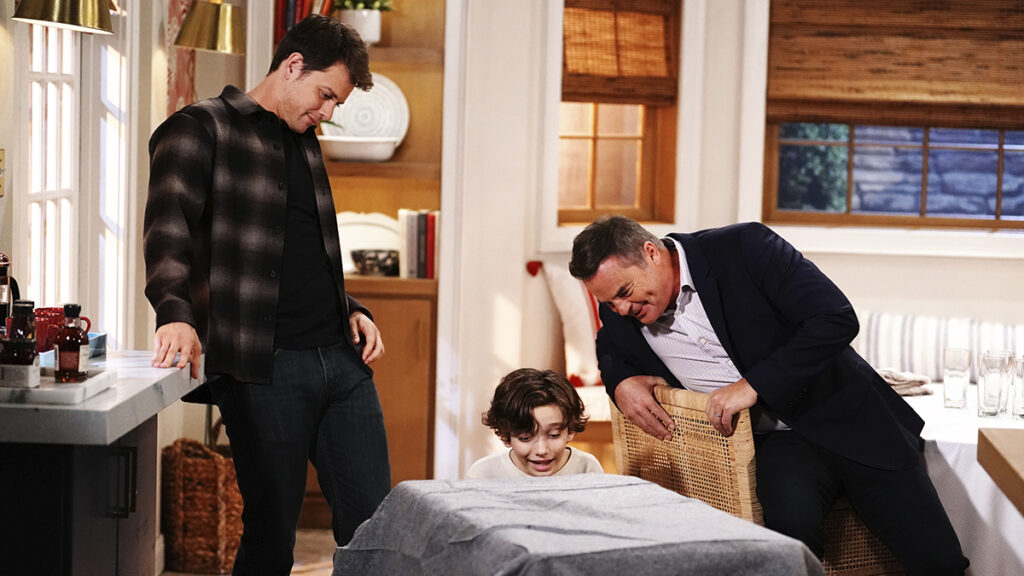 Quartermaine Estate
Olivia is with Leo preparing for Thanksgiving
Ned is nibbling on food.
Olivia tells them she has a mystery guest coming.
She ordered a turkey that was fully ready to eat.
Ned jokes that Turkey is the man of the hour.
Olivia needs this turkey to be perfect.
A delivery man wheels in a live turkey.
Olivia is freaking out, this is not what she had in mind.
Leo quickly names him Mr. Waddle and tells him that he will not let him be cooked.
Ned and Michael will help Olivia cook him.
Leo let's Mr. Waddle out of his cage
The turkey is walking around loose all over the mansion.
Everyone is outside looking for Mr Waddle.
Chaos at the Quartermaine Mansion.
Would you expect anything else on thanksgiving.
Everyone is spread throughout the manion doing their own thing.
Carly is sitting with Willow
She asks how she was doing.
Willow freaks as she thinks Carly is asking about her cancer.
Drew joins the conversation and tells Willow that he may have a lead on some of the commune members.
Carly will join him in his search, they will now be Team Drarly.
Together they will find her birth parents.
Be very careful what you wish for Willow!
Over in the foyer Brookie welcomes Chase who brings her a bottle of fine wine.
Chase asks what she has for him as his mind wanders back to his conversation with Dante.
He thinks Brookie has something to tell him.
She only kisses him and tells him this isn't the place.
Chase is sensitive about losing his badge. He wants a second chance.
Brookie tells Chase, I want what you do.
Do you really, he asks.
Chase questions if she is being truthful, he asks has something happened you haven't told me about?
He is trying to explain to her that he wants a relationship where they support each other.
Chase tells Brookie that she supports the life she wants for him, not what he actually wants.
Were you going to tell me about the letter you never wrote on behalf of my badge being reinstated?
Back to Mr Waddle, who has now terrorized the kitchen knocking over all the dishes Olivia had prepared.
She cannot believe another Thanksgiving dinner has been ruined at the Q Estate.
Carly pops in with this dinner for the birds.
Brookie says it is a tradition in the Quartermain Manion,
Now what, ask Olivia.
Like she didn't already know.
Everyone shouts call Luigi's for pizza.
They all break out into a song.
Then everyone dives into that famous Thanksgiving Pizza!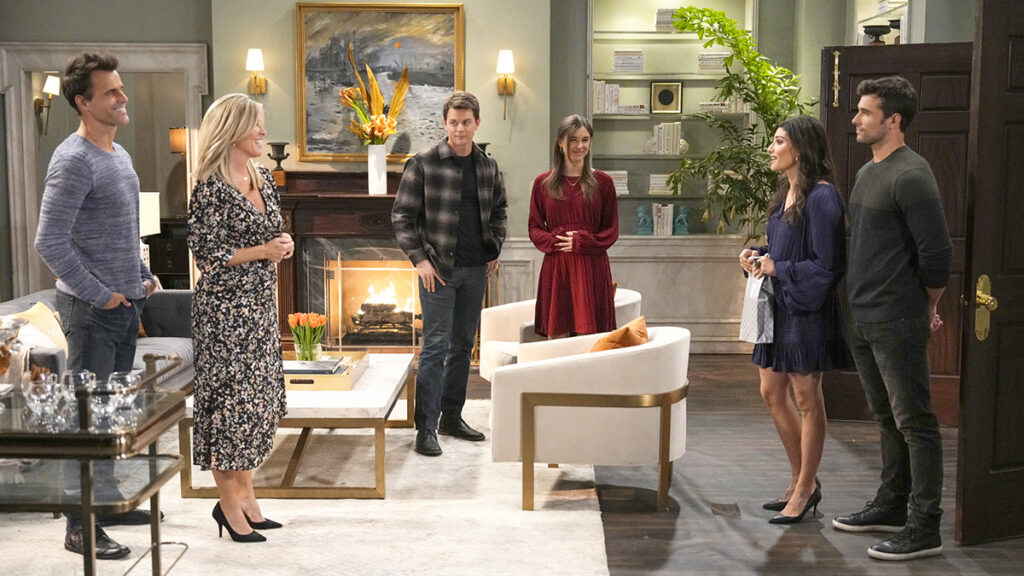 Harborview Towers
Sonny's Penthouse
Dante and Sam are outside of Sonny's door.
Nina is inside of Sonny's tidying up.
Sonny gives Nina a gift which is beautiful diamond earrings.
He thanks her for changing his life.
Nina asks how he really is, you have to miss the girls, your home etc.
Sonny explains he saw the girls last night and they were excited and happy with all the gifts he showered on them.
He says this is now his residence, and the fact that she is there makes it his home.
Sonny tells Nina that he loves her and ask if she wants to make some new traditions with him.
Dante, Sam, Sasha & Gladys have all gathered by invitation to Sonny's Thanksgiving dinner.
Nina inquires to Dante if he invited his friend Cody.
Sam is wondering out loud if Cody would even like social gatherings
Dante asks Sam, you thought he was a good guy, what changed.
Sam didn't like Cody's reaction to investigating the necklace.
Dante explains that he comes from humble beginnings and may be inheriting millions.
Sam replies, 'what if he doesn't deserve it?"
She explains to Dante that she did some digging.
Cody has a juvenile record that is sealed.
Dante said we both got Into trouble.
The conversation turns to Brando.
Gladys remembers taking Brando to buffets at the casino for Thanksgiving.
Sasha tells her that she did the best that she could.
There is a knock at the door, it is Alexis.
When Gladys sees Alexis she starts to scream at her about her recent article.
Sasha is thinking about Brando and tells Sonny that he would want her to embrace life.
Gladys and I understand each other.
While Sonny and Sasha are deep in reminiscing about Brando, Gladys is calling about the next poker game.
She wants to reserve a seat at the table.
PCPD Station
Laura is at the PCPD station with Robert, Jordan and Mac.
Deputy Mayor Ashby is lurking there also.
Alexis comes in as she is summoned.
Jordan wants to arrest her.
You printed sensitive information.
Alexis replies, you promised me an exclusive and didn't deliver.
Robert, Laura and Mac are trying to figure out where Holly went.
Eileen Ashby receives a text stating where Holly went.
Felicia shows up at the station where she brings Thanksgiving dinner for everyone.
Everyone thanks her and are just about to dig in.
Mac hears from his squad that Holly Is in a cabin in Baylor Woods. with fresh footprints.
Laura agrees to stay with Felicia.
They will guard the food.
Laura tells Felicia she is worried about Robert.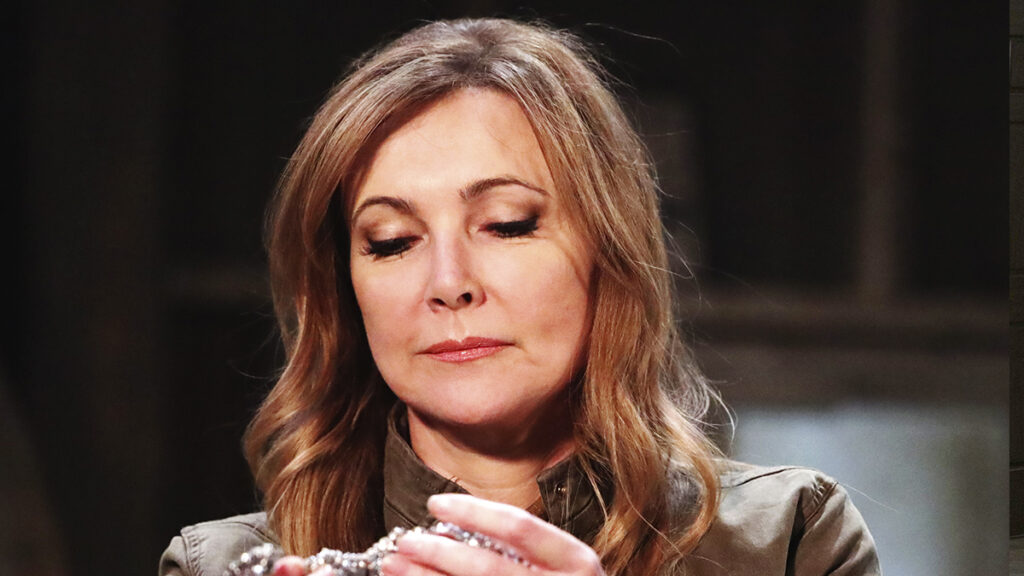 Baylor Woods
Holly is on the run, the ice princess diamonds in hand.
She is held up in a cabin outside of Port Charles.
PC's finest has spotted fresh foot prints and knows it can b no one but Holly.
They report back to Max.
He, Robert and Jordan take off to help surround the cabin.
.
One of Victor's men is lurking around the cabin.
Mac, Robert and Jordan have arrived and join the squad surrounding the cabin.
Mac makes Robert put on a protective vest.
Robert mumbles that Holly wouldn't hurt him.
Robert said she wouldn't die for the necklace but there is not much she won't do for her Freedom.
Robert is talking to Holly on the megaphone.
She is surrounded, there is no place to go. Come out!
Holly asks if Laura is ok.
She never meant for anyone to get hurt.
In the total chaos around her, Holly knocks over a kerosene lantern.
The whole cabin explodes.
Robert is yelling at Holly!
Holly runs out of the cabin, she is in flames.
Thank you following our blog, we love to hear from you, please be respectful, follow the rules, stay on subject,start or join a conversation / comment below