This is what happened on 'General Hospital' today!
Happy Thanksgiving Week to All!
Cast who appeared in todays episode:
Holly Sutton (Emma Samms)
Robert Scorpio (Tristan Rogers)
Diane Miller (Carolyn Hennesy)
Linc Brown (Dan Buran)
Brook Lynn Quartermaine (Amanda Setton)
Harrison Chase (Josh Swickard)
Dante Falconeri (Dominic Zamprogna)
Drew Cane (Cameron Mathison)
Sonny Corinthos (Maurice Benard)
Nina Reeves (Cynthia Watros)
Carly Spencer (Laura Wright)
Valentin Cassadine (James Patrick Stuart)
Martin Grey (Michael E. Knight 
Sets Used on today's episode:
Kelly's Diner
Metro Court Hotel
General Hospital
Port Charles Docks
Volonino's Gym
Volonino's Gym
Drew is getting his work out on at Sonny's gym when he gets a call from Aurora Media.
He is told that the commune in Arizona had left for parts unknown.
He asked his employee to keep looking for someone, anyone who knew Willow.
Sonny arrives at the gym and overhears the end of Drew's conversation.
Drew explains that Willow is looking for her biological parents, he offered his help and she accepted.
Sonny questions why Michael would go to Drew and not him. (well Sonny in case you haven't noticed, your son is out of control right now).
Sonny mentions that Carly told him about the two of them being a couple.
He tells Drew that Carly is honest to a fault.
Sonny assures Drew that he told Cary he did not feel threated by him.
Drew hopes Sonny means that.
He does, he only wants what is best for Carly and for her to be happy.
Metro Court Hotel
Carly is at the Metro Court with her eyes on Nina.
She is there to continue the 'I hate Nina' campaign.
Nina offers her a menu.
Carly is there waiting in her room to be ready for check in.
Nina asks, "Are you staying at my hotel.
Carly informs her that she booked the honeymoon suite and that Brick is on his way.
Carly tells Nina that we need a chat or better yet a cat fight.
Let me be clear, I don't care about Sonny.
You can spread whatever malicious lies you want about me and Brick. I couldn't care less.
You want to come at me, bring it on.
When you come at my son and his family then we have a problem.
Nina tries to explain that she had it wrong and that she had apologized to Willow, who told her to drop dead.
She was only thinking about Wiley and did not want him to have a broken home.
Carly now has venom coming out of her mouth.
She spews at Nina, don't pretend you're looking out for Wiley because your looking
for payback because they don't want someone like you around their son.
She asked Nina, "How's that working for you?'
Are you spending time with Wiley?
In retaliation Nina brags about all the wonderful changes she has made to the hotel.
From the decor, to the menu to the chef and how it is thriving under her partnership.
Trish the waitress comes by with a new dish on her platter which Carly takes it.
She is about to pour it on Nina, but hesitates.
Sonny and Drew show up just in the nick of time.
There was just about to be that cat fight.
Sonny insists to Nina, lets go, but not before he thanks Drew for helping Willow.
Carly asks Drew if he is going to help Willow find her birth mom.
She Is not opposed and has no objection. (Well, Carly but you already know who the biological mother is).
Carly wants to help.
Kelly's Diner on the Waterfront
Dante is with Chase at Kelly's where he mentions to him that he was in pursuit of the letter from Brookie.
Chase wants to know what letter Dante is talking about.
Dante explains that he asked her to write a letter to the review board.
The review board could ren-instate you if Brookie writes a letter.
He also tells him time is of the essence.
Chase asks how long ago Dante requested the letter.
Dante admits it had been several weeks.
Chase can't help but start thinking, did she ever mean to send in the letter?'
Dante cautions him about assuming things, he needs to ask her.
I'm sure she meant to tell you.
Meanwhile over at the counter Linc wants Brookie to make a deal with him.
He requests she doesn't embarrass him by letting the world know what a creep he is.
In return he will give her his music catalog back.
Brookie needs to get this straight, he wants her to paint a good picture of him in her head.
She does not know if that is a possibility.
Linc continues that she needs to go the extra mile, if she believes in Chase.
If not she and Chase could end up the losers.
Work is calling, Dante has criminals to chase (lol).
Chase approaches Brookie & Linc at the counter.
He notices tension in the air, is everything okay.
Linc explains they were just ironing out a few details.
Chase asks if she is ok with his terms.
Brookie tells him everything is good.
Chase trusts her to do the right thing.
General Hospital
Over in Britt's office she tells Liesl the Huntington disease is progressing quicker than she expected.
Lisel tells her we can get a second opinion.
She tells Liesl she was examined by Dr Talone, a specialist in Huntington Disease.
She was told that she had stage 1 when she was on the run, now she is at stage 3.
What was the prognosis Liesl asks?
Britt tells her mother she was told 5 to 15 years but in a year and a half I could end up in assisted living.
Liesl explains to Britt they can start treatment.
Britt says she does not need a doctor right now she needs a Mom.
I need my daughter more than ever.
Liesl tells her you deserve so much better.
It was the luck of the genetic draw, Britt tells Liesl.
Liesl is not a quitter; she wants to fight back.
Britt tells her to go home to Scott.
I need to be alone and gather my thoughts.
Port Charles Docks
Valentin finds Martin at the docks.
He has a hummingbird cake that she had baked for him.
He misses Lucy who worked hard trying to perfect the cake for him.
Martin is irate at Anna whom he thinks is guilty of shooting Lucy.
Valentin is positive that Anna was framed and did not shoot his girlfriend.
Martin knows Valentin is in love with Anna so he is biased.
Valentin explains that Anna escaped so she could try to clear her name and find Lucy.
Martin knows that Valentin's own father believes she is guilty.
That is what Victor wants everyone to think.
In talking with Martin, Valentin realizes there were 2 shots fired that night, but only one casing was found.
Anna would not need two shots.
He tells Martin that is going to help him clear Anna.
Valentin tells Martin they have work to do.
Off they go to solve the mystery, clear a loved one and find a loved one!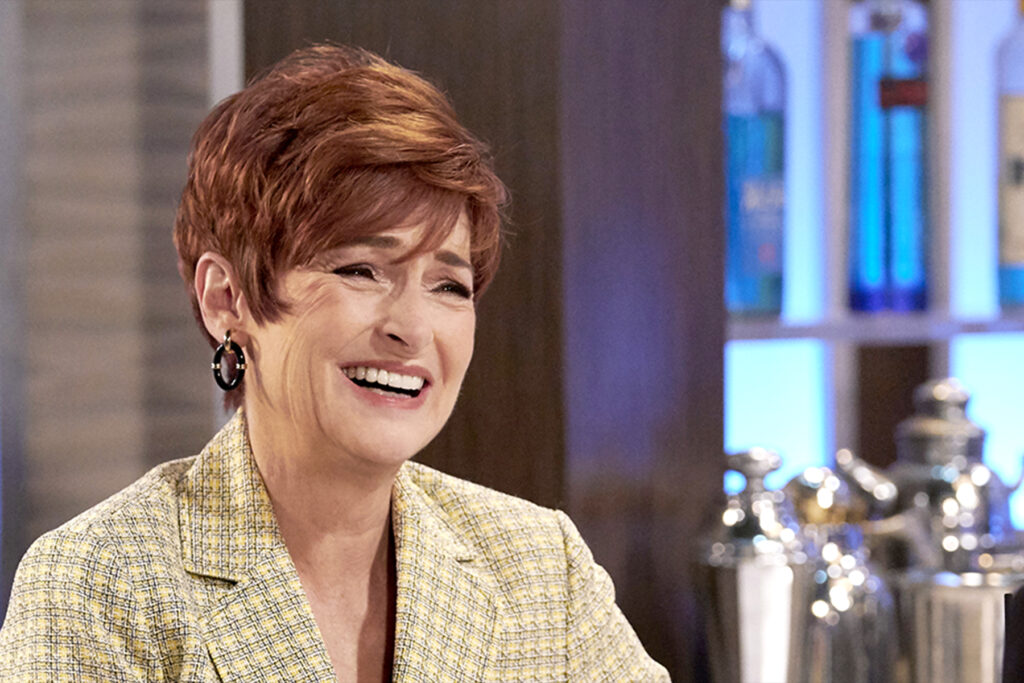 Metro Court Restaurant & Bar
Robert is in the restaurant enjoying the company of Diane Miller.'
She finds it strange that he has a briefcase locked to his wrist.
Diane asks Robert, `"What do you have there?"
He says he has diamonds in the case.
Not just any diamonds, some of the ice princess diamonds.
She wants to see the diamonds, he won't show them to her.
Holly is shown calling Victor.
He tells her that she needs to get the diamonds.
Holly shows up at the table interrupting Robert and Diane.
He introduces Diane to Holly.
They are both fond of Robert.
Holly excuses herself and gets a bottle from one of Victor's men at the bar.
She serves Tequila shots for them.
Diane declines due to the medication she is on after her attack.
Holly, under the table, puts drugs in the salt shaker then hands it to Robert.
He puts the salt on his hand and takes the shot. (And you are an ex-WSB agent)
He is getting drowsy and Holly tells him he hit a rut.
Robert falls over on the table.
He wakes up and says he is ok.
Holly insists that he is not okay, that he needs a nap, that she needs to take him to her room.
She asks Diane to send his contact downstairs.
Diane's wheels are turning, something doesn't feel right about this.
Standing by the elevators Diane places a call to Robert.
She doesn't feel right leaving him there alone.
At that split second the elevator doors open and Robert stumbles out.
Without the briefcase locked to his wrist.
Fade to Holly with the necklace in her hand.
We love to hear from you, please be respectful, follow the rules, stay on subject, start or join a conversation / comment below