Cast who appeared in todays episode:
Nina Reeves (Cynthia Watros)
Sonny Corinthos (Maurice
Willow Tait (Katelyn MacMullan)
Michael Corinthos (Chad Duell)
TJ Ashford (Tajh Bellow)
Elizabeth Webber-Baldwin (Rebecca Herbst)
Terry Randolph (Cassandra James)
Nikolas Cassadine (Marcus Coloma)
Esme Prince (Avery Pohl)
Hamilton Finn (Michael Easton)
Heather Webber (Alley Mills)
Victor Cassadine (Charles Shaughnessy)
Anna Devane (Finola Hughes)
Laura Collins (Genie Francis)
Valentin Cassadine (James Patrick Stuart
Robert Scorpio (Tristan Rogers)
Cameron Webber (William Lipton)
Eileen Ashby (Heather Mazur)
Sets Used on today's episode:
Port Charles Park
Webber House
Wyndemere Castle
PCPD
General Hosital
Port Charles Park
Nina and Sonny are enjoying a little fresh air sitting on a bench in the Port Charles Park.
Wiley, Willow and Michael are also enjoying the park.
Michael is apologetic for missing Willows doctors appointment yesterday.
They are enjoying the great weather and Michael assures Willow that Wiley will not be an only child.
TJ is also taking a stroll through the park and run into Willow & Michael.
Michael receives a business call and needs to step away for a minute.
Willow confesses to TJ that she is going to finally tell Michael the truth after her meeting with Terry.
TJ hugs Willow to let her know how proud he is of her.
As they are embracing just so happens Sonny and Nina are strolling by.
Sonny apologizes for interrupting but says they saw Wiley.
Wiley rushes over to Nina, but Willow pulls him back.
Willow tells Sonny she is sure they can arrange for him to spend time with Wiley later.
Michael storms over, and Nina assures him they were just leaving.
She and Sonny quickly depart.
Sonny was surprised that Nina backed off so quickly.
Nina knows her boundaries with Willow and Michael and they are never going to accept her.
Sonny presses her for the real problem.
Nina shares with Sonny that she thinks something is going on between Willow & TJ.
Sonny does not think that is the case.He knows TJ as an honorable man.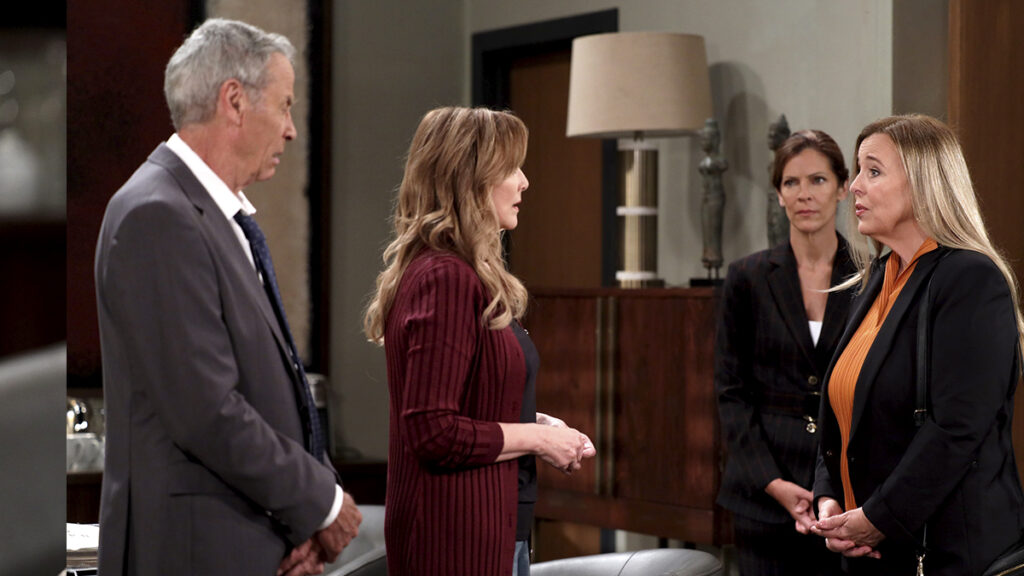 General Hospital
Finn is in doubt, should he call Liz, should he not?
Heather is wheeled out only to taunt Finn again.
She wants to know why he has such a happy face, which he does not.
He tells her he is so happy that he can give her the all clear and head her right back on up to the psych ward.
Valentin approaches Finn who instructs the orderlies to take Heather to meet with another doctor for her checkup.
Valentin tells him Anna is being transferred tonight to Pentonville.
They must escalate their plan about Anna.
Finn has it under control.
Finn bumps into Terry in the corridor.
He knows there was no conference.
Should he be worried?
Liz is at her house and she can give him all the answers he needs.
Dr Randolph departs for an appointment with Willow.
The news is not good.
Willows leukemia is now at stage four.
Webber Home
Liz is home from her trip with Terry.
Cameron inquires how her trip was.
She is happy to be home with the people she loves.
Liz is angry and betrayed by what her parents did.
She feels Violated.
Liz has no idea how to tell Finn that she is the reason his wife Reiko is dead.
Terry offers to be by her friends side when she tell Finn/
Elizabeth is torn about how to handle this new development.
Cameron catches Liz up on the latest hook attacks.
He tells his mother that Josslyn did spend the night while she was away.
He and Josslyn are now targets according to Jordan.
Cameron leaves for school and Finn knocks on Elizabeth's door.
Wyndemere Castle
In her lonely room at the castle, Esme is plotting the great escape.
Not so fast she devil, your capture is watching over you as Nik enters.
Esme, who is trying to get the window open, tells Nik she just needs some fresh air.
Nikolas knows she is trying to escape or alert someone that she is being held hostage.
Nice try Esme, but the staff is paid to ignore your howls.
Nikolas leaves and locks Esme back in her room as she screams as loud as she can.
Victor is in the family room on the phone to Johan.
Why are you here? Nikolas wants to know.
Victor reminds him that he is moving into the Castle.
He warns him something big is about to happen and Nik must help him protect the family.
Nikolas is really sick of Victor and his antics.
If he doesn't have anything important to say, then he needs to leave.
Victor gets a phone call that Charlotte is missing.
How can that be when he had all the bases covered.
Without warning, Laura enters the room.
"Hello Victor, aren't you going to welcome me home?"
Back in the North Tower Esme does not plan to give up on her escape plan.
She has a window open and has tied the sheets together to make a rope.
Let's see how that works out for her. Stay tuned folks@
PCPD
Anna is still locked up downstairs in the jail cells.
She is so surprised when Laura walks in to see her.
Anna is double surprised and so happy when she sees Valentin behind her.
Val rushes over to give Anna a wet one, and fills her in on Charlotte.
Letting her know that Charlotte is home safe, and will be staying with Laura & Kevin.
She will be heavily guarded from Victor.
It was Laura and Keven who were their guardian angels and helped them escape.
They update Anna on the set up by Victor to frame Anna for shooting Lucy.
Not so quick, Laura will inform the people of Port Charles that the wrong person is locked up.
Laura departs to give them some alone time.
Valentin has a plan to break Anna out of jail.
Anna is being transferred to Pentonville tonight, she does not seem to think his plan will work.
Valentine wants Anna to trust him, that she does, with her life.
Holly and Robert are in his office at the PCPD.
She receives a text from your's truly wanting to know what ADA's case is against Anna?
Holly wants to help Robert help with his investigation into Lucy and Anna cases.
It will be just like old times.
They are interrupted by Deputy Mayor Ashby, who confronts him over rumors that he's placing calls to get Anna out of jail.
Ashby threatens Scopio that she will force him to turn in his badge.
He is an elected official and she has no power to do any such thing.
She will run the city as she sees fit until Mayor Collins returns.
Well said just as Mayor Collins enters the room and proclaims she has indeed returned.
Mayor Collins is not happy to hear of Asby's behavior in her absence.
Laura is happy to see Holly and learns of her memory gaps.
She offers up Kevins help, Holly comes back with a quick 'No.'
Laura asks Robert to see her out.
Ashby comes at Holly, for almost getting them caught.
Laura knows something is off with Holly.
Robert returns to his office and you could cut the tension with a knife as Holly and Ashley try not to blow their cover.
Later that night a guard approaches Anna's cell.
She asks if he is there to transport her to Pentonville.
"Oh, you're not going anywhere," he responds.
We love to hear from you, please be respectful, follow the rules, stay on subject, start or join a conversation / comment below