Cast who appeared in todays episode:
Elizabeth Webber-Baldwin (Rebecca Herbst)
Carolyn Webber (Denise Crosby)
Jeff Webber (Wiliam R. Moses)
Robert Scorpio (Tristan Rogers)
Holly Sutto (Emma Samms)
Anna Devane (Finola Hughes)
Hamilton Finn (Michael Easton)
Felicia Jones (Kristina Wagner)
Nina Reeves (Cynthia Watros)
Sonny Corinthos (Maurice Benard)
Carly Spencer (Laura Wright)
Sam McCall (Kelly Monaco
Victor Cassadine (Charles Shaughnessy)
Avery Corinthos (Ava and Grace Scarola)
Donna Corinthos (Arya and Ayla Dormiani)
Charlotte Cassadine (Amelie McClain)
Scout Cain (Ella Ramacieri)
Drew Cain (Cameron Matison)
Alexis Davis (Nancy Lee Grahn)
Sets Used on today's episode:
PCPD Jail Cell
Metro Court Garden & Grounds
Scorpio's DA Office
Alexis Davis Office
Switzerland Boarding School
Webber California Home
Metro Court Garden & Grounds
The Halloween Fair is happening on the grounds of te Metro Court.
Just about everyone in town is stopping by.
Sonny brings Donna and Avery.
Nina Reeves is hosting the event and working the fair.
Nina offers to take the girls to the tables with the best candy.
Sam and Carly arrive just in time to see Nina walking off with the girls.
Sam questions Carly about Jacksonville.  Give up the goods she wants to know everything.
Carly blows it off like nothing happened.
The girls run over and hug Carly, they are so happy to see their absent mother. 
Carly tells the girls they should have a pj/slumber party soon.
They would like to know if aunt Nina can bring them 
Carly would like to speak to Sonny alone.
She does not want Sonny letting Nina spend the night when he has the girls.
He says that has never happened but it is about too.
He is getting closer to Nina and his family will have to deal with it.
Sam takes the girls to some fun booths while Carly does what she does best.
Just be Carly. 
Alexis Davis Office
Drew brings Scout by her grandmothers office for a little trick or treat,
Alexis is happy to see her grandbaby, tells her how cute she looks and of course gives her candy.
Drew needs advice in a legal matter, that could land the
CEO and the Individual's in question straight to jail.
Alexis advises this could be considered insider trading and the parties could serve prison time for sure.
Alexis gets a letter in her office.
Scorpio's DA Office
Robert is in his DA office.
Holly asks what his plans were to break Anna out of jail.
He can't sit around and do nothing.
She convinces Robert not to do anything to help Anna right now.
She will need his power as the DA later down the road.
Holly experiences a dizzy spell.
Robert suggests they get some fresh air.
He takes Holly to the Halloween Festival at the Metro Court.
After a short time out in the fresh air Robert notices Holly's color has returned.
Sonny & Nina approach.
He is happy to see that Holly is alive.
Holly jokes with Sonny about her death being over exaggerated.
However she is missing two years of memories.
Sonny can relate.
Robert and Sonny are concerned about Anna.
Robert assures him that he is working on it.
Holly will return, she is in search of some hot cider.
Once she walks off, Holly makes a mysterious phone call.
She informs the party on the other end of the phone that Robert is trying to get Anna another hearing through his sources.
Not to worry she wails, "I am sticking to him like glue."
PCPD Jail Cells
Finn goes to see Anna at PCPD.
He heard she was denied bail
What can Finn do to help?
Anna wants Finn to stay clear of her problems.
Finn wonders where Valentin is when Anna is in such need.
Valentin is dealing with something very important.
Anna turns the conversation to Elizabeth.
Elizabeth is with Terry at a medical convention which Finn knows is not true.
Finn thinks Liz left him out of the loop on purpose.
Anna thinks they will work it out in the end.
Finn thanks her for the faith and knows she will be exonerated.
Anna hopes he is right but has her doubts.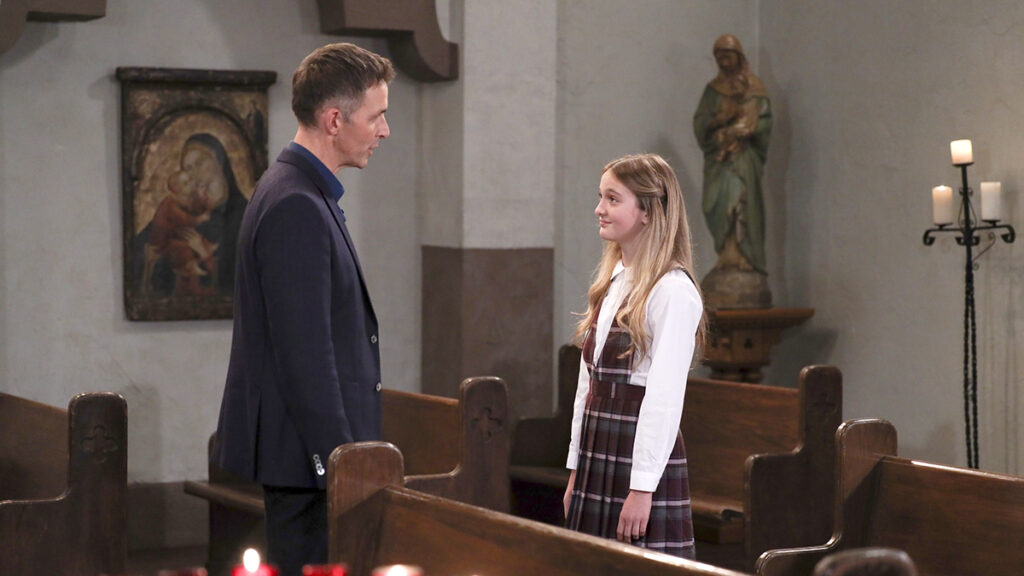 Switzerland Boarding School
Valentin sees Laura and asks her is this some kind of divine intervention?
She is dressed like a nun.
God didn't send me. Anna  did.
Valentin tells Laura what happened to Lucy.
A man is in the chapel, he looks like one of Victor's  bodyguards.
He wants to know who Laura is and what her name is. 
He has never seen her before. 
Her name is Sister Margaret.
He spots the other bodyguard in the corner moaning. 
He pulls a gun.
The bells start to ring in the Chapel and distract the man.
This gives Valentin a chance to knock him out. 
Kevin walks in dressed as a father. 
He was responsible for ringing the bells.
Valentin wants to just grab Charlotte and get out of here.
They tie the two men up and leave to find Charlotte.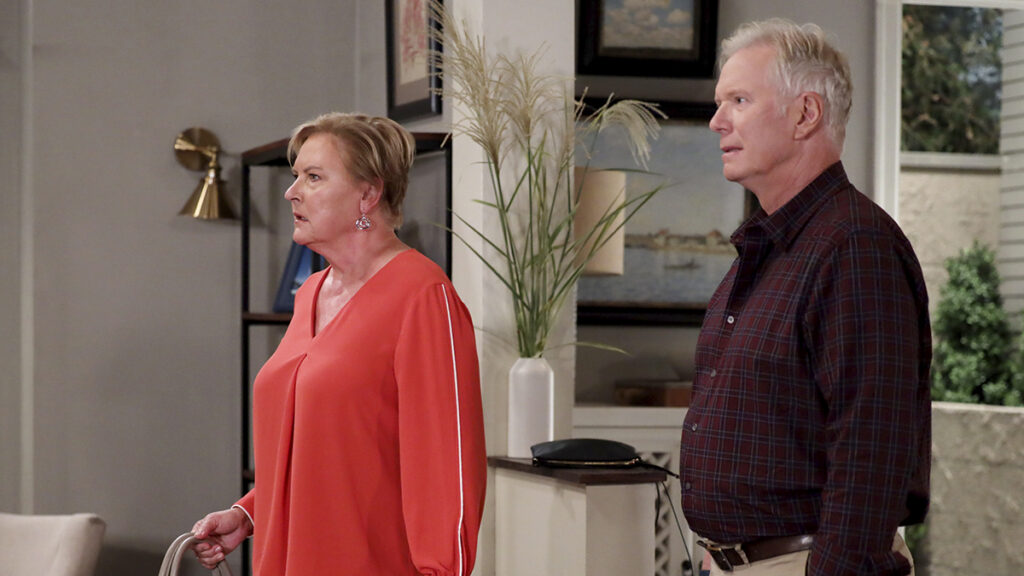 Webber California Home
Liz is not leaving her parents house without answers.
She wants to know what happened  on Marietta island. 
It is the only thing Liz wants from her parents.
Who was Reiko to them?
Jeff admits he and Reiko had an affair.
Liz cannot believe what she is hearing.
She is shocked that her mother is not surprised to hear this.
Liz wants to know if something bad happened?
Just tell me what it is.
Did you push Reiko down some stairs?
In her faded memories Reiko Finn is at the bottom of the staircase.
Liz is blocking out the rest of that memory.
She wants her parents to file in the blank.
At first they say Jeff pushed her down after Liz found them together.
She does not want to lose Finn over all this.
She has to know the truth. 
Carolyn tells her husband it is time for Elizabeth to know the truth.
It is why they have stayed away for 20 years.
She can't handle the truth.
It is time for her to face the truth.
Jeff tells Elizabeth that she was the one who pushed Reiko to her death.
We love to hear from you, please be respectful, follow the rules, stay on subject, start or join a conversation / comment below