Cast who appeared in todays episode:
Holly Sutton (Emma Samms)
Robert Scorpio (Tristan Rogers)
Victor Cassadine (Charles Shaughnessy)
Josslyn Jacks (Eden McCoy)
Trina Robinson (Tabyana Ali)
Jordan Ashford (Tanisha Harper)
Maxie Jones (Kirsten Storms)
Austin Gatlin-Holt (Roger Howarth)
Mason (Nathanyael Grey)
Mac Scorpio (John J York)
Felicia Scorpio (Kristina Wagner)
Sasha Gilmore (Sofia Mattsson)
Gladys Corbin (Bonnie Burroughs)
Diane Miller (Carolyn Hennesy)
Curtis Ashford (Donnell Turner)
Portia Robinson (Brook Kerr)
Carly Spencer (Laura Wright)
Brook Lynn Quartermaine (Amanda Setton)
Harrison Chase (Josh Swickard)
Sets used on today's show
Metro Court Hotel
Corinthos Manor
Deception Offices
Charlie's Pub
Robinson-Ashford Beach House
Winslow Garden Apartments #68
Port Charles Footbridge
Austin's GH Office
Hospital Corridor
Metro Court Hotel
Robert and Holly head back to her room at the MC.
He is on his way to meet Felicia & Mac to brainstorm a plan concerning Anna.
Holly is just to tired to occompany him.
Giving Robert time to leave the hotel, Holly sneaks out to meet someone.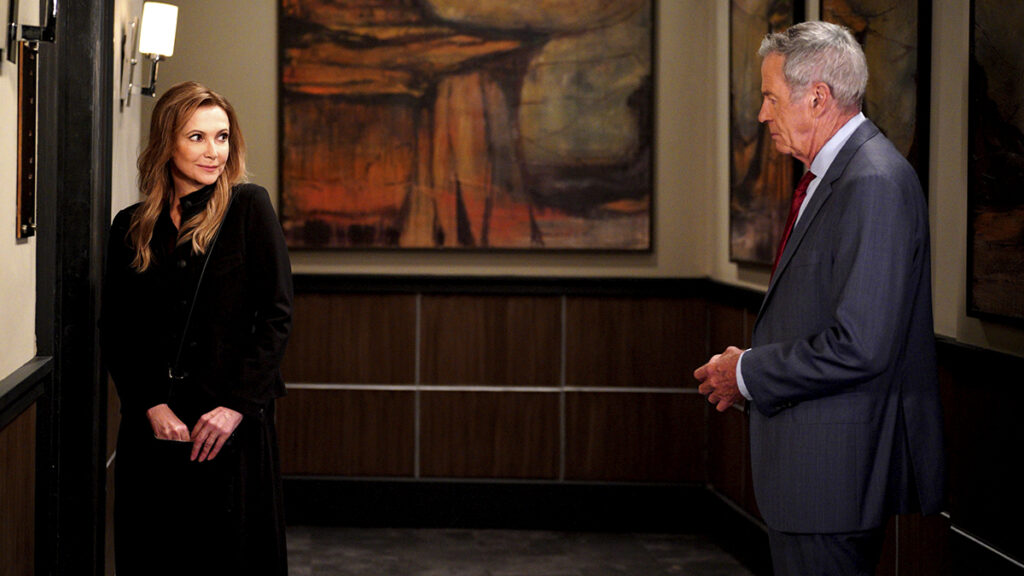 Corinthos Manor
Trina and Josslyn are spooked when Jordan admits who she thinks the hook is after.
Jordan believes the hook is attacking those in Trina's world.
She also believes that Josslyn was the real target the night Brando was killed.
Jordan tells them of the new evidence that has come to light.
She shares that Alexis received a letter from the hook.
The Hook stated that their victims were not random, but well thought out.
They are out to even the score against those who have wronged them,
Esme is the first person that comes to mind.
Jordan is not ruling anyone out.
She warns the girls to always be aware of their surroundings.
She does not think they should live alone or on campus at this time.
Josslyn per Carly will move back with her at this time for safety precautions.
Trina and Josslyn thought life was just starting to get back to normal after the tape exposure.
Josslyn starts to cry, Carly promises to always protect her.
Jordan offers to take Trina home.
Robinson-Ashford Beach House
Portis and Curtis return home from a late dinner.
Curtis is waiting on his genetic test results.
He is hoping Portia can give him a time frame of when to expect them.
Curtis is anxious to know if he has any of the genes and if it could effect his children.
Portia is like kids, how many are you talking about?
Curtis would like to have about six, Portia does not think so.
He smiles and says three would be fine.
Much better Curtis.
Today is their lucky day.
Portia receives an email from Olivia that a time slot has opened up at the Metro Court.
The wedding can be held at the MC, on Valentines Day 2023.
Portia thinks that is too soon to plan a wedding.
Curtis does not, what better way to celebrate their love than Valentines's Day.
They both agree on the date, February 14, 2023 it will be, they kiss and seal the deal.
As they are basking in the glow of love, Jordin arrives with Trina in tow.
Jordan catches them up on the danger that Trina is in and that she should stay at home and not the dorms.
She shares with them that the target seems to be Trina and urges her to be extra aware of her surroundings and those in it.
The PCPD is working hard to catch the Hook killer, but they do not want any more bodies until they catch this evil person.
Charlie's Pub
Brookie and Chase are at the pub for drink.
A fan asks Chase to take a selfie with them.
Brookie believes that all the fan attention will force Linc to beg him to sign a contract.
He wants to retire from music as soon as Linc signs over Brookie's songbook.
Chase promises Brookie that if and when he receives his badge back, he won't continue doing music.
Brookie wants him to do both.
Actually, it's simply music, but she pretends both to appease Chase.
Blaze enters Charlie's and introduces herself to Brookie and Chase.
Linc wants Blaze and Chase to perform a duet together.
Linc believes they will be the hottest duet in the industry.
Brookie invites Linc to join her and let Blaze and Chase get to know one another.
Chase believes Blaze did not care much for Linc after their chat.
They need to bring Linc to his knees in part for that reason, Brookie reminds Chase.
Deception Offices
Maxie regretfully calls Austin to cancel their dinner plans/
Deception is in a freefall with Lucy missing.
Diane and Sasha show up brainstorm with Maxie about saving the company,
Diane suggest Maxie move some stocks around for some case flow.
Maxie also throws out the idea of Serena replacing Lucy.
Sasha thinks that is a good idea, as Carolyn reminds her that she has no say so.
Gladys arrives and wants to know what Maxie's emergency meeting is all about.
Diane fills Gladys in on the plan to save Deception.
Gladys refuses to sign off on Sasha's part of the plan as her guardian.
Maxie sees tension and leaves to give Gladys and Sasha privacy.
Sasha gets Gladys to see what her and Maxie are try to do.
She agrees to sign off on Sasha's behalf.
All she wants is for Sasha to be happy and feel secure.
They hug, but Sasha feels something is off,
Winslow Garden Apartments #68
At Maxie's residence, Felicia and Mac are in charge of watching the children.
Conversation turns to Cody, the DNA test and what Mac is hoping for.
Robert arrives and Mac fills him in on Anna
No new evidence has turned up & Arden thinks she has enough to move forward with charges.
Robert's goal is to get Anna out on bail, because he cannot protect her in Pentonville.
As they continue to talk, Robert admits he cannot shake the fact that Holly is hiding something.
Felicia admits that she tried to get Holly to share with her but nothing.
She thinks Holly is afraid of what she will remember.
Felicia shares the news with Robert about Cody possibly being Mac's son.
If he is his son he wants the chance to be a real father to Cody.
Robert excuses himself, he has something to check up on.
Hospital Corridor
Austin spots Gladys sitting by herself in one of the corridors.
Gladys now volunteers at the maternity ward every so often.
She doesn't feel like she did Brando right and working the nursery makes her feel close to Liam.
Things have not been the same since Brando died, she feels very lost.
Austin's cousin Mason interrupts and introduces himself to Gladys.
Gladys is surprised Austin has family, and that they are in town.
Austin's Office
Austin suggests Mason follow him to his office.
Austin tells Mason once again, to stop bothering him and showing up at his workplace.
Mason informs him another patient will arrive soon and the boss knows he can depend on him.
Austin wants everyone to know that he is a changed man and that he has paid his debt.
Maxie arrives unexpectedly.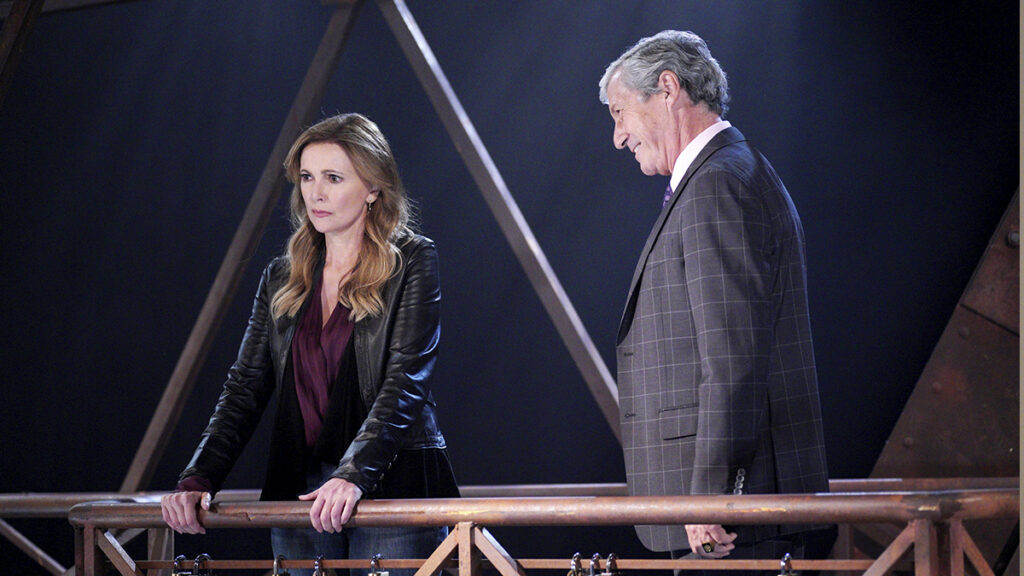 Port Charles Footbridge
The person that Holly sneaks out to meet is non other than Victor Cassadine.
They meet at the footbridge.
She lets him know from jump that she is not happy betraying her closest friends.
All Victor wants to hear is what Robert is trying to do get bail for Anna.
Victor explains to her that he freed her from that cell, and that being imprisoned there was much worse than betraying her friends.
He also reminds her that if she does not keep Robert distracted that he will be happy to take him out.
He bought her freedom from Winston Rudge, she needs to remember that.
He assures her that as soon as Anna is convicted of murdering Lucy she will truly be set free.
Victor also will not let Holly forget who she left behind.
Holly will kill Victor if anything happens to him.
That is her sworn promise.
Metro Court Hotel
Robert encounters Diane at the hospital.
She offers to buy him a drink,
He declines and says he is on his way to get Holly.
Diane is clearly not happy with that response.
She woman's up and tells him to have a splendid time with Holly.
Robert is knocking on Holly's door but is getting no response.
Holly suddenly appears and Robert ask were she has been.
He says she looks like a frozen popsicle.
She explains that she could not sleep so she took a walk.
Robert suddenly kisses Holly, they kiss again and gaze into each other's eyes.
Holly tells Robert that was unexpected and she needs to tell him something.
The thought of seeing him had kept her going.
Holly then tells him that she is extremely tired now.
Robert tells her they can catch up tomorrow and wishes her a good night.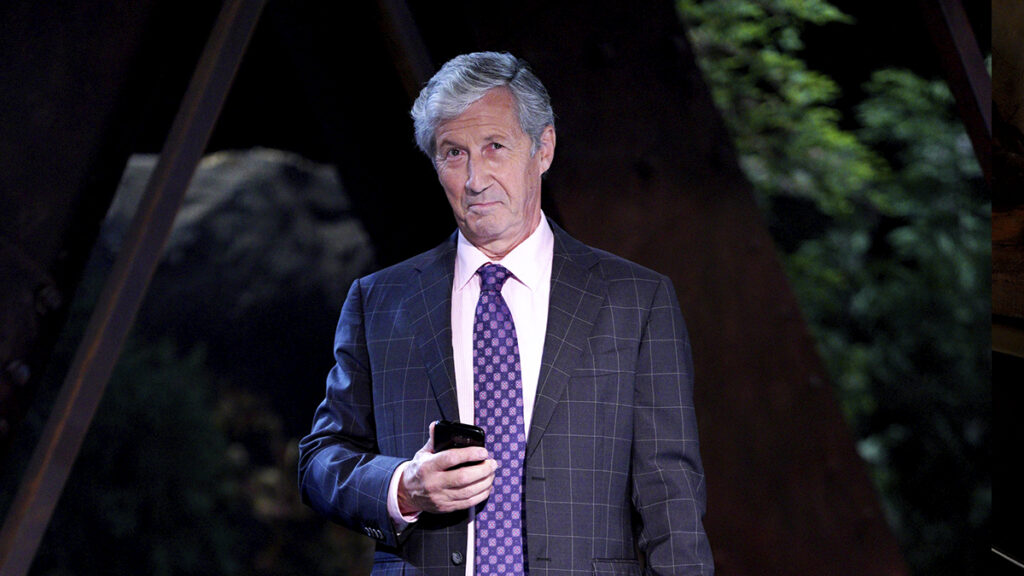 Port Charles Footbridge
Victor is still on the bridge talking to someone on his phone.
He wants to know if the bank managers was yet willing to give them the information they need.
He looks down at a photo on his phone.
He is starring at a photo of the priceless diamond necklace that Peter left for Britt.
He thinks to himself that this might finally be it.
We love to hear from you, please be respectful, follow the rules, stay on subject, start or join a conversation / comment below