Here is what happened on The Drew Barrymore Show on October 25, 2022
Drew introduces Meghan Trainor as someone she loves, but really respects. She shares that she cannot wait to meet her. After hugs and admirations the two sit down for a quick interview.
Meghan on Meeting Husband Daryl Sabara
Drew: You are married to a 'Spy Kid.'
Meghan: A man…I'm not married to a child, I'm married to a 'Spy Man.'
Drew: Now, how did you meet him, may I ask?
Meghan: Oh, there's a couple stories, but the first one ever I was like eighteen years old Is a baby songwriter out here in L.A. and I was at a songwriter Hollywood party and he crashed it with two of his friends and I was like, 'Spy Kids is here,' and I went right to him and usually I fangirl so hard and I don't say anything, but I went to right to him and I was like, 'Are you Spy Kids?' and he was like, 'Yeah' and was really nice, and then two years later I became a famous pop star and I was friends with Chloe Moretz and I was like, 'I want a nice guy. I'm sick of all these mean guys, I want a nice guy,' and she's like, 'My best friend's the nicest guy,' and we went on a double date and we've never been apart ever since.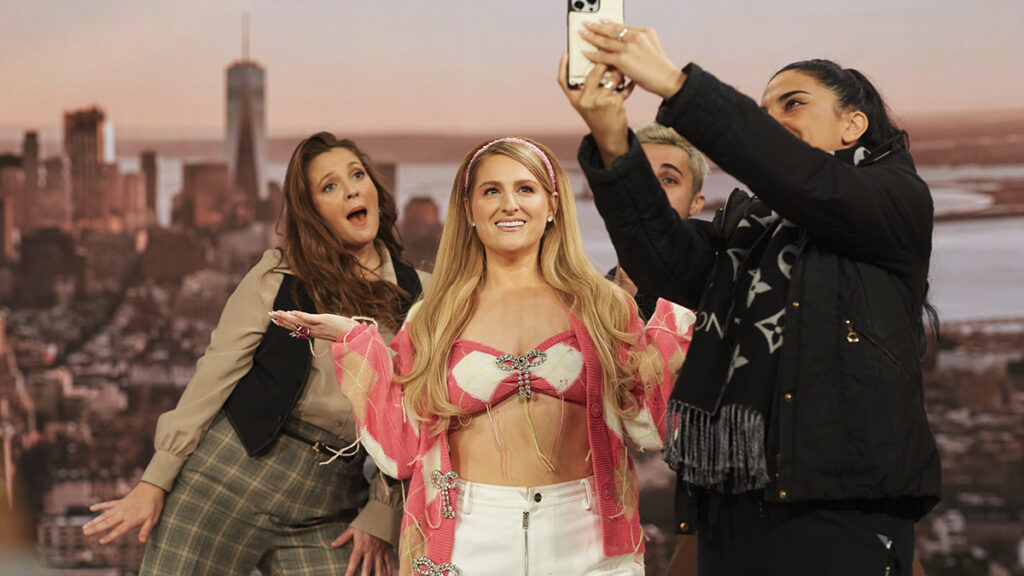 Check out the rest of what Meghan shared with Drew
We love to hear from you, please be respectful, follow the rules, stay on subject, Start or join a conversation / comment below