This is what is happening on 'The Rachael Ray Show' this week!
Monday, November 21
A cake,a legend and a kitchen: Following the turkey on Thanksgiving, Chef Carla Hall teams up with Rachael to bake a gingerbread spice cake. Then, actor Jimmy Smits is describing his new program, "East New York," to Rachael. Rachael is preparing cauliflower with kale and pesto, a simple vegetarian recipe that can be served as a side dish on special occasions or any night of the week. Yum!
Tuesday, November 22
Italian turkey and a holiday movie: Everybody is welcome to Rachael's Thanksgiving feast! She has a turkey prepared in the Italian style, mashed potatoes, and enormous cauliflower steaks. Lacey Chabert, star of "Mean Girls" and "Party of Five," talks later about her newest Hallmark Christmas film.
Wednesday, November 23
Chef Emeril Lagasse is in the house: Emeril is back and kicking the stuffing and turkey up a notch. Meanwhile, Jessica Biel is here for the first time and telling us how she's celebrating Thanksgiving. Then, you can use leftover turkey to create Rachael's soup!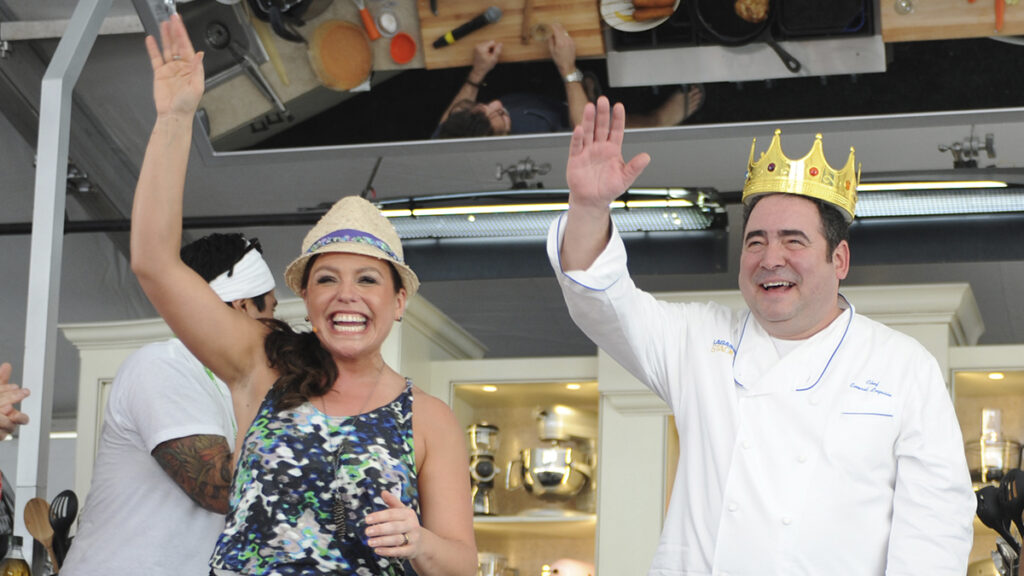 Thursday, November 24
Happy Thanksgiving to all: Rachael is preparing mac and cheese with pumpkin poppers. Additionally, Ryan Scott is cooking Thanksgiving "peel-less" ranch mashed potatoes and a mashed potato trifle to save time. Also, Elyse Myers, a TikTok celebrity with over five million followers, is dishing out some jokes.
Friday, November 25
We're thankful for leftovers: Rachael will make soup, a sandwich, and a side dish out of the leftovers from Thanksgiving. Actress Tia Mowry is meanwhile using leftover fruit to whip together a fast treat called fruit crisp.Then, chef Curtis Stone is preparing a soufflé with leftover mashed potatoes and crispy tacos.
Budget-Friendly Tablescape For Thanksgiving AND Christmas
All the recipes on this week's show sound super yummy. Check out 'The Rachael Ray Show' each day to see which sounds like something you would prepare.
In the meantime, check out one of Rachael's go to recipes when it is cold outside. Sounds Yummy!
Roasted Tomato & Pepper Soup recipe by Rachael Ray
Ingredients
2 large red field peppers or 3 large frying peppers
10 plum tomatoes, halved
Non-aerosol EVOO spray
2 tablespoons fresh thyme, picked
Salt and pepper
2 tablespoons butter or additional EVOO
1 onion, finely chopped
1 small rib celery, chopped
1 small carrot, chopped
4 cloves garlic, crushed or sliced
About ¼ cup sun-dried tomato paste or tomato paste
¼ cup red sweet vermouth or 2 tablespoons balsamic drizzle
2 cups tomato passata
10-12 cups chicken bone broth or vegetable stock
¼ cup carnaroli or arborio rice
A small handful of basil
Preparation
Heat broiler and roast peppers to blacken skins all over, remove to a bowl and turn heat to 450°F. Cover peppers and cool to handle, then peel, seed and chop the peppers.   
Line a baking sheet with foil and parchment and arrange the tomatoes on it. Spray with EVOO, season with thyme, salt and pepper and roast 20 to 30 minutes at mid oven until they slump and brown. 
Meanwhile, in a soup pot over medium heat, melt butter and add onions, celery, carrot and garlic, season with salt and pepper, then cover and sweat 10 minutes, stirring occasionally. Add paste and stir a minute more, add vermouth or drizzle and the roasted peppers and tomatoes. Add the passata, stock and rice, then tear the basil and wilt into soup. Bring to a boil and reduce to a simmer. Let simmer until the rice is cooked through. Using a stick blender, puree the soup and adjust seasonings.

Yield – Serves: 4
We love to hear from you, please be respectful, follow the rules, stay on subject, start or join a conversation / comment below