This is what happened on 'General Hospital' today!
Cast who appeared in todays episode:
Sonny Corinthos (Maurice Benard)
Dante Falconeri (Dominic Zamprogna)
Michael Corinthos (Chad Duell)
Drew Cane (Cameron Mathison)
Willow Tait (Katelyn MacMullan)
Nina Reeves (Cynthia Watros)
Carly Spencer (Laura Wright)
Dex Heller (Evan Hofer)
Josslyn Jacks (Eden McCoy)
Victor Cassadine (Charles Shaughnessy)
Spencer Cassadine (Nicholas Chavez)
Nikolas Cassadine (Marcus Coloma)
Cyrus Renault (Jeff Kober)
Sets Used on today's episode:
Pozzulo's
Greystone Manor
Rice Plaza
Quartermine Estate
Heller Apt #34
Pentonville Prison
Pozzulo's
Dante is at Sonny's office. 
He thanks him for having them at Thanksgiving.
Dante goes right into subject of Dex covering for his meat hanging incident.
He informs Sonny that he knows he abducted Dex Heller and had his beaten.
Sonny has committed a felony.
Dante tells him there is a boundary he has to balance between his love for Sonny and his love for his badge.
Dante explains he took an oath to upload the law and that's what he's going to do from now on.
Sonny tells Dante that if ever has to arrest him, he would still love him.
Sonny tells him he would never ask Dante to cover for him.
Dante wants him to be honest now and asks him if he could tell him about Anna's abduction.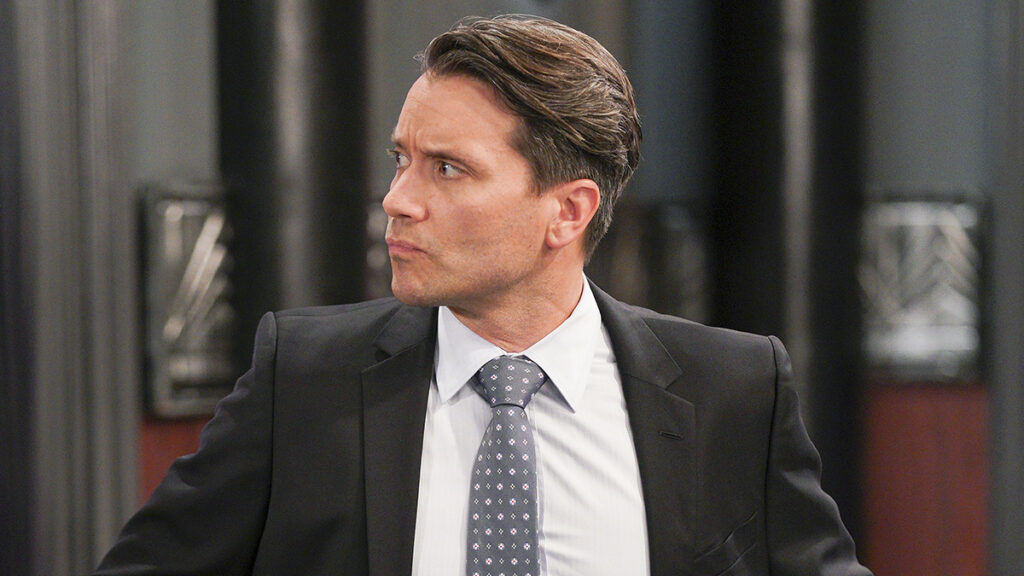 Quartermaine Estate
Meanwhile down at the Gatehouse, Willow is screaming at Nina who is telling her she is selfish.
She is also telling Willow to please calm down.
Carly who has been lurking at the door listening burst in just as Willow passes out
Carly is trying to get her to open her eyes.
Nina wants to call 911.
Willow opens her eyes just in time to say no hospital, she is fine.
Nina steps outside and Carly follows.
She tells Carly that she just come there on to reach out to Willow on Sasha's behalf.
Carly actually believes Nina but tells her she must stay away tells Nina she has to stay away.
The sight of her upsets Willow.
Nina agrees and leaves.
Willow is in the house talking to her baby.
Carly agrees with Nina and wants to take her to GH.
Michael arrives at the gatehouse and questions what happened.
Carly explains that Willow fainted and she needs to see her obgyn.
Willow tells Michael that Nina was here and calls her selfish for not helping Sasha.
Michael feels they should tell people that Willow has leukemia.
She needs a bone marrow donor, this could better their chances of finding one..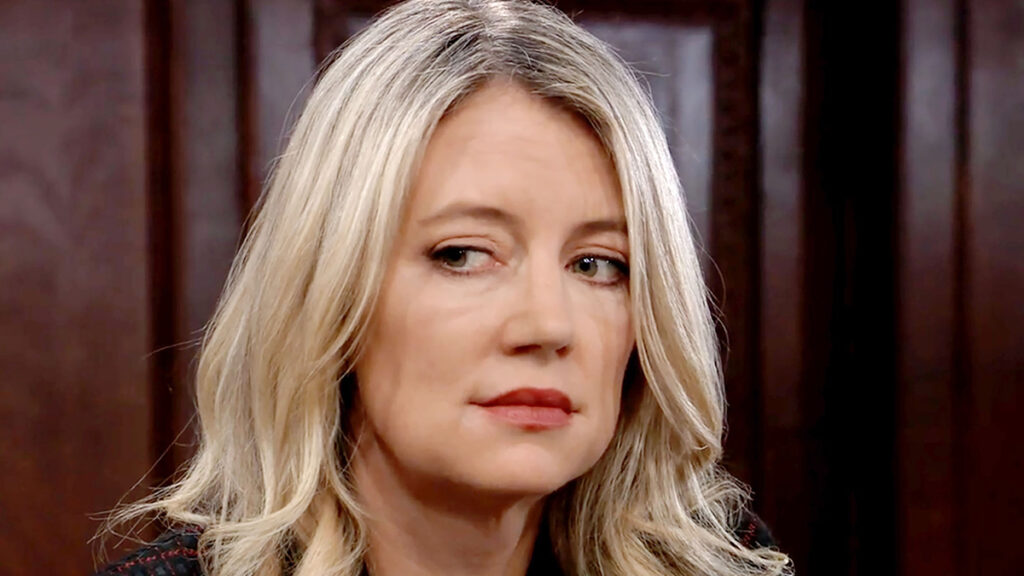 Heller Apt #34
Joss stops by Dex's apt to check on his wounds.
She tells him that he is healing well an can now put his shirt on.
He needs to continue getting rest.
Dex is confused why Josslyn is there.
If he were her, she should have bailed on him along time ago.
Why would she bail on him now?
She started this with him and she will see it through.
Dex suggests she should do just that, bail fast.
She nursed him, she's not walking out of there pretending what they went through meant nothing.
You slept in my bed in case you forgot.
Dex claims it was too bad all he did was sleep.
What rotten luck to be lying in your bed so feverish to do anything but sleep.
Oh well, Joss says, " There is always next time."
Dex mind quickly goes to a conversation with Michael.
He remembers Michael telling him to keep Josslyn at arms length at all times.
Greystone Manor
Drew and Michael meet up at Carly's.
Drew tells Michael that he and Carly could be facing criminal charges for inside trading.
Michael tells Drew that the Q's hold a grudge.
He can't afford to provoke Nedm Michal & Drew agree.
Drew shares that he and Carly are an item but feel they have to hide from the world because of Ned's treats.
Michael was not aware but that answers why his mother has been so happy lately.
Drew tells him that it could be short lived.
He asks Michael if he was worried that Sonny is going to retaliate.
Michael tells him the rift with my family makes me value my family more.
Michael tells Drew he shouldn't pass on the chance of something good with his mother.
After Michael leaves, Carly shows up and Drew gives her a big kiss.
He can't stay Away from her.
At that very moment, Drew gets a text saying there is a lead on Willow's family.
Rice Plaza
Sam is helping Sasha with decorations at Rice Plaza.
Sasha praises Nina to Sam, even though she is not her biological mom she treats her as the daughter she lost.
She says you can tell me anything Sasha.
Sasha says it is hard for her to open up to people.
It is one of the things she is working on in therapy.
Sams says it can be real scary admitting feels that you have.
Revisiting dreams of someone who is gone and that you know is never coming back.
As time passes I have learned how to just except those dreams.
She tells Sasha about her still born daughter.
She is always on her mind, but she promises her it does get easier.
Sam tells Sasha to speak her mind.
Sasha says Liam would have been about one years old, she thinks about him constantly.
Nina has returned to the plaza.
Sasha can sense right away that something happened with Nina.
She wants to know what.
Nina thinks she might be as awful as Willow says she is.
Nina says it is her fault that Willow fainted.
She must stay away from Willow bottom line.
Sasha says it can't be that bad.
She made a mistake, just take a deep breath and calm down.
Dante shows up to check on Sam.
He says his relationship with Sonny is ike a mind field.
Sam tells him the tension between him and Sonny is because he's a cop.
She sees the love between him and Rocco.
Dante tells Sam she is the best Christmas present he could ever receive.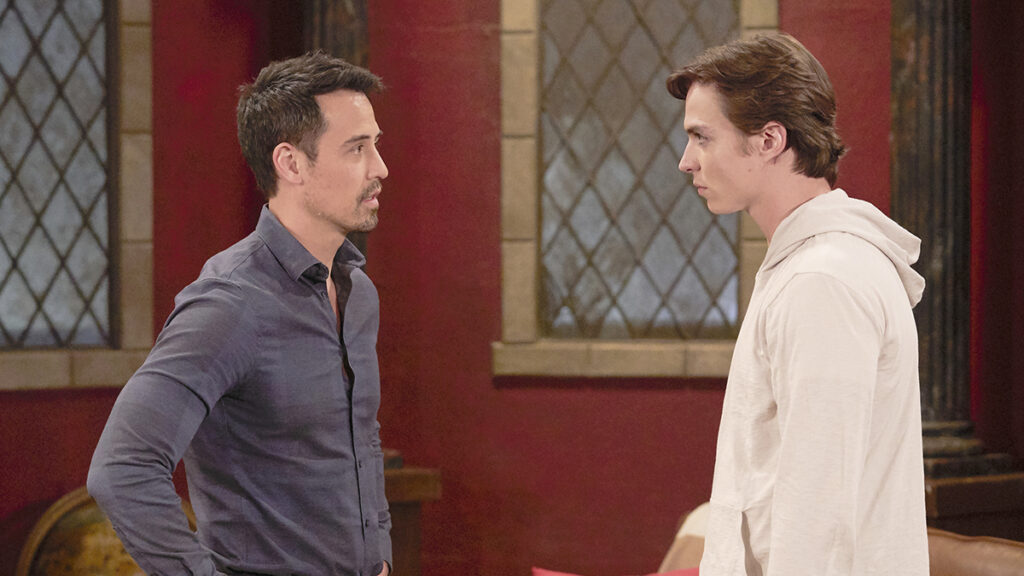 Pentonville Prison
Victor is on the phone at Pentonville, inquiring about the necklace.
He walks into the visiting area and Nikolas is there.
Spencer is not that happy to see him.
Victor tells him to stop acting like a baby.
Nikolas is your father, you are going to need him when he gets out.
Spencer thinks that Nikolas is an obsolete father.
Nikolas knows he is not a good father.
You have no reason to trust me but I promise that \ I will never hurt you again.
Nikolas says if Uncle Victor keeps his promise he will receive his inheritance ealy and does not need him.
He loves throwing that in his father's face.
Nikolas realizes this was not a good idea and parts company,
Nikolas exits, Cyrus enters, much to Victor's dis-appointment.
Victor tells Spencer he is disappointed in him.
Victor Cassadine and Cyrus Renault face off.
Nikolas tells Victor he is proud of his Uncle Martin & Uncle Cyrus.
Victor only wants peace for his family!
Cyrus says so much so that you put out a hit on my brother Martin and sister Laura.
Of course nothing but denials from Victor.
Cyrus tells Victor that his sources don't lie.
Victor says from the man that held Trina and her mother at gunpoint and stalked Spencer's friend Britt Westbourne.
Victor explains to Cyrus that you don't want me as your enemy.
Cyrus ain't scared of big bad Victor, no sir not even a tiny bit.
He turns to Spencer and apologizes that he had to find out about his uncle that way.
Spencer decides to go back to his cell to think things over.
Heller Apt #34
Dex points out he is bad for Josslyn.
Eveytime she rescues him, he is doing something illegal.
Josslyn knows he is dangerous and that he could do better than Sonny.
She insists she makes her own decision and if he does not want her there just says so.
Be honest Dex.
Dex says you want honesty, he turns around and grabs her.
They are in the middle of a passionate kiss when there is a knock at the door.
When they hear, It's Sonny, Dex open the door.
Thank you following our blog, we love to hear from you, please be respectful, follow the rules, stay on subject, start or join a conversation / comment below