This is what happened on 'General Hospital' today!

Cast who appeared in todays episode:
Ryan Chamberlain (Jon Lindstrom)
Heather Webber (Alley Mills)
Hamilton Finn (Michael Easton)
Elizabeth Webber-Baldwin (Rebecca Herbst)
Ava Jerome (Maura West)
Trina Robinson (Tabyana Ali)
Carly Spencer (Laura Wright)
Willow Tait (Katelyn MacMullan)
Spencer Cassadine (Nicholas Chavez)
Nikolas Cassadine (Marcus Coloma)
Esme Prince (Avery Pohl)
Sets Used on today's episode:
Spring Ridge
Wyndmere
General Hospital
Robertson-Ashford Beach House
Spring Ridge
Ryan & Heather are continuing to reminisce about the time they were lovers.
He tells her that he knew for a fact that she was pregnant with their baby when she abandoned him.
She cannot believe Ryan knows of her pregnancy, she went to great lengths to make sure he could never find out.
Heather says neither of them were fit to be parents during that time. (guess what nothing has changed folks).
She, not knowing anything , kind of throws a dig at Ryan to feel free to search for her and good luck with that.
Ryan gleefully says that he doesn't have to find their daughter because she has been coming to see him for months.
Heather wants to know how Ryan is sure she is their daughter?
Esme had one charm that belonged to him, that was part of a collection he owned.
Heather admits she stole it from him for a keepsake one night when he was sleeping.
Well, that one charm is how she found him.
Heather wants to know more about Esme.
I stayed away from her so I could protect her.
She tells Ryan that she want to see her daughter.
Ryan explains he cannot share her because she is missing.
A while back Ava Jerome sent her over the parapet at Wyndemere.
She survived and layed low for a while.
She snuck in to see him but he has not seen her since.
He is very worried about Esme.
Ryan tells Heather that she told him she had business with the Cassadines.
She left and he has not seen her since.
If they have done something to her, he promises they will all pay.
If they lay one hand on her, basically their days are numbered.
Heather reminds him, " lover you are stuck in that damn chair, how are you going to keep that promise?"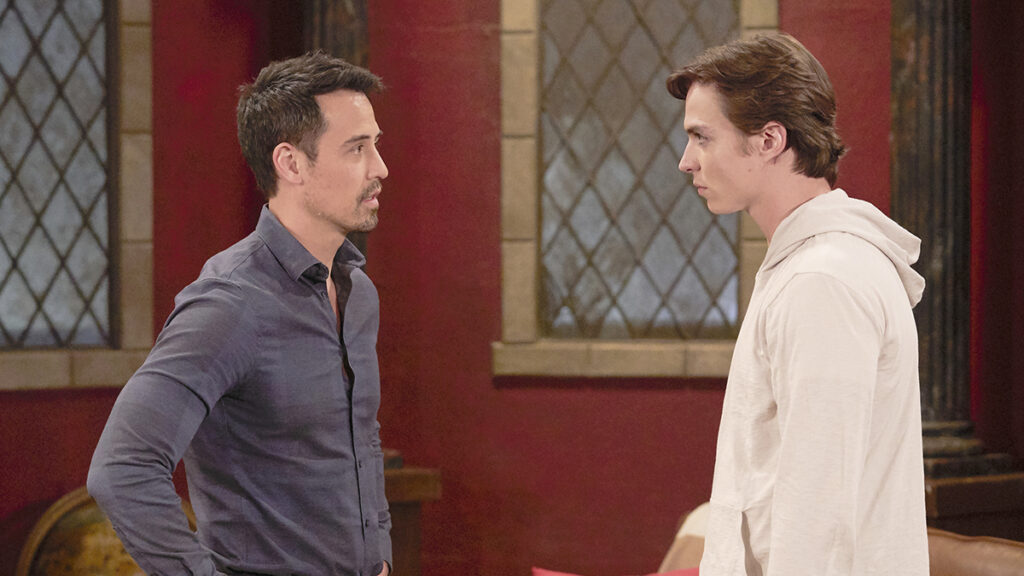 Wyndemere
Esme is the tower, laying there plotting.
Nikolas strolls in with something in his hands.
"What do you want?", Esme ask
Is that anyway to talk to someone who brings you gifts?
He hands her a small plastic christmas tree.
Nik comes in. He brings her a small Christmas tree.
She had hoped to go looking for a real one.
Nikolas just laughs and tells her to enjoy her tree, and walks out.
Esme thinks to herself what is she supposed to do with this?
General Hospital
Dr Terry's office
Finn wants answers.
He asks Lizzie if she is pregnant?
Trying to keep hope alive, he waits for her answer.
Lizzie tells Finn she is pregnant with another's man's baby.
Finn doesn't believe her.
She said it happened after she came back from Monterey.
He asks her who the father is because he knows it cannot be his.
Lizzie says Nik is the father.
Finn is upset and understandably leaves her standing there with egg on her face.
He ends up in the laboratory where he trashes the room.
Lizzie is standing there in the doorway and has the nerve to ask Finn not to tell her boys.
He wants to know, no he demands to know if Ava is in the dark, like he was?
Lizzie never wanted to deceive Finn.
Finn asks, "So you were trying to let me down easy?"
Sidebar: Dr Finn cut your losses on this one.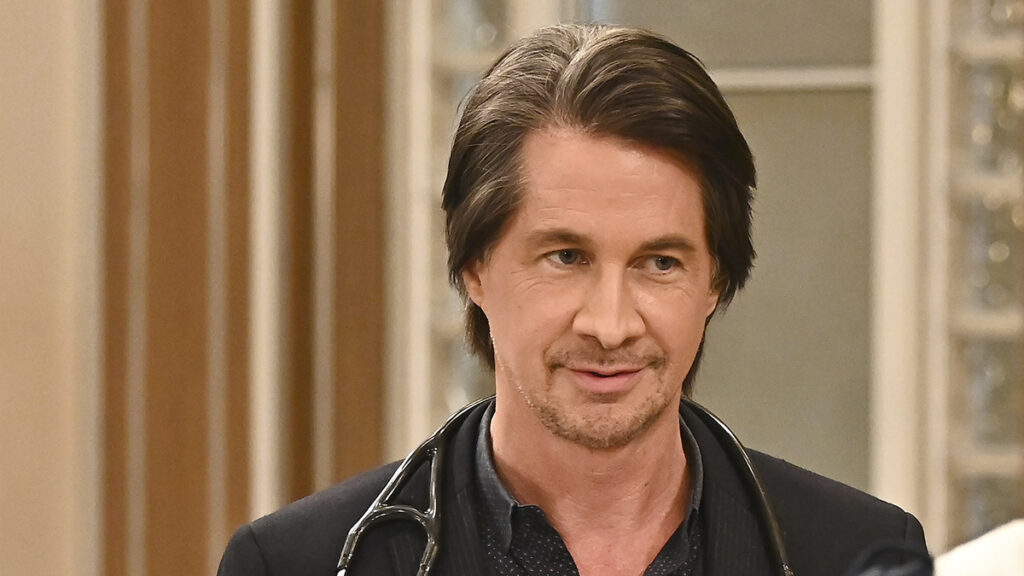 Wyndemere
Spencer goes back to Wyndemere. 
He is upset over his conversation with Trina.
He is looking through the liquor bar, he needs something to help him drown his sorrow,
He settles on a bottle of sherry, forget the glass he just start to gulp it.
Nikolas enters the room and Spencer lets him know quickly that he wants no lecture on under age drinking.
Spencer left Uncle Victor at the grill and came home alone.
He announces to his father that he is where Victor plans on living.
He unfortunately cannot help him out on that one.
He grabs the bottle of sherry to drink.
Nikolas tells Spencer that he knows he can talk to him about anything.
He tells Spencer, contrary to what you believe, I love you son.
Spencer remarks, you are one of the few then.
Nikolas says that is not true, you are incredibly loved.
Your grandmother loves you, Alexis loves you, all of your friends love you.
Spencer says not all my friends love me and Trina let him know that.
Spencer tells his father that when he was at the PC Grill with Victor, he happened upon Trina and Rory who were making eyes at each other.
Spencer does not blame Trina, after all the things his ex did to her.
His ex-girlfriend drugged her and framed her, she almost went to prison for something she did not do.
So I understand why she rejected me.
It's just 2 late.
The cop loves her and I think she loves him back.
Nikolas said sometimes hope is all we have. Neither of us like to be denied. We don't give up on people we love.
I know you love Trina.
Meanwhile, back in the North Tower Esme is dressing up her new Christmas tree with toilet paper
Demetrius enters her room, he brings her a box with a few ornaments and a few lights.
She cries that this means a lot to her.
Demetrius tells her to have a good night and leaves. Esme is delighted as she thinks Demetrius is a sign sent from Ryan.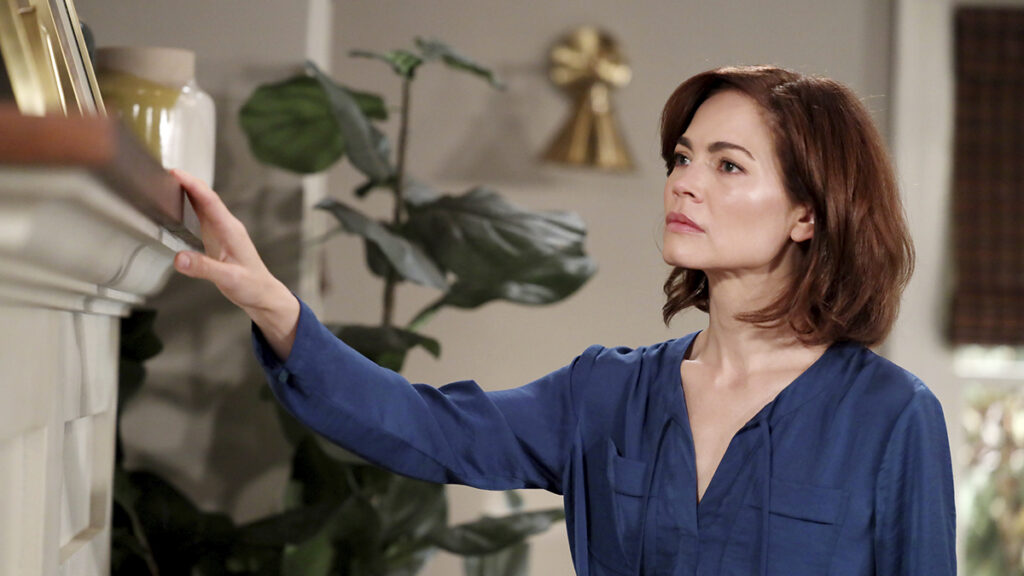 Robertson-Ashford Beach House
Robertson-Ashford Beach House
While Spencer is drowning his sorrows in a bottle and  thinking about Trina she is sitting at her spot think about Spencer.dong te same tniTrina is thinking about Spencer.
Ava knocks at her door,
Trna is excited to see her, I need you to stop me from making a big mistake.
She tells Ava that Rory is everything I should want.
Ava tells her that the heart wants what it wants.
Trina says, "even if it wants Spencer?".
She tells Ava that she has feelings for Spencer not Rory.
Ava tells Trina that she can't tell her what to do about Spencer but to just listen to that voice in her heart.
Trina asks Ava what her voice is telling her about Nikolas.
Ava laughs, her voice is loud and clear, she just doesn't know if she'll listen to it.
Ava departs, and Trina thinks over Ava's advice as she looks at Rory's gift.
She grabs her phone and texts Spencer, "Welcome home."
Spencer looks at the message and smiles.
Metro Court Hotel
Carly is at the Metro Court trying to spy on Drew.
She runs into Willow who is supposed to have dinner with Michael.
About that moment he calls and cancels.
She asks Carly to have dinner with her if she is available.
She tells Carly that Drew may find info for her about her bio mother.
Willow does not look so good to Carly, she asks if she is okay.
Willow says no. Carly wants to know what is wrong.
She is hoping the baby is happy and healthy.
Drew has been doing a littel Q&A with Denise, a former member of the commune.
She lies to him as pre arranged by Carly telling him that Willow's bio mother died over a drug overdose.
As he finishes talking with Denise he spotsCarly and Willow.
Drew has an update for Willow.
Carly excuses herself.
He doesn't have good news.
Carly goes over to Denise who is enjoying her drink.
Carly asks her how things went with Drew?
She said that they went exactly how Carly wanted it to.
A save and happy Holiday from debbiemorristv.com
Thank you following our blog, we love to hear from you, please be respectful, follow the rules, stay on subject, start or join a conversation / comment below