This is what happened on 'General Hospital' today!
Cast who appeared in todays episode:
Michael Corinthos (Chad Duell)
Willow Tait (Katelyn MacMullan)
Sonny Corinthos (Maurice Benard)
Dex Heller (Evan Hofer)
Josslyn Jacks (Eden McCoy)
Austin Gatlin-Holt (Roger Howarth)
Britt Westbourne (Kelly Thiebaud)
Cody Bell (Josh Kelly)
Mac Scorpio (John J York)
Felicia Scorpio (Kristina Wagner)
Laura Collins (Genie Francis)
Valentin Cassadine (James Patrick Stuart)
Olivia Quartermaine (Lisa LoCicero)
Robert Scorpio (Tristan Rogers)
Drew Cane (Cameron Mathison)
Carly Spencer (Laura Wright)
Sets Used on today's episode:
Heller Apt #34
Greystone Manor
General Hospital
Quartermine Estate
Metro Court Hotel
PCPD
Heller Apt #34
Things are about to get heated up as Dex pulls Josslyn in for a kiss.
Sonny is outside the door knocking telling Dex to open the door.
He knows he is in there.
They go to plan B, Josslyn hides in another room, Dex opens the door.
Dex requests he meet Sonny at his office to talk.
Sonny is suspicious of Dex hiding something.
He demands Dex tell him who helped him out after he was shot?
Dex refuses to give up the person's name but swears they know nothing about the operation or Sonny.
This angers dimples.
He gives Dex one last chance to come clean, he cannot trust someone who is not honest.
This prompts Josslyn to come out of hiding.
Joss tells Sonny it was her.
She also lets him know that it is beyond her why Dex is so loyal to him.
She also assures him that Dex told her nothing, he is safe with her.
Dex asks Josslyn to give him and Sonny some private time, and she leaves.
Sonny is not a happy camper. " You go after my step daughter for help?"
Dex feels if Sonny would just stop a minute and listen, he would explain it all.
He was headed to the Q's boathouse knowing they had supplies he could use for his gunshot wound.
He explains that he collapsed and did not know where he was.
Sonny is in no way sympathetic, big mistake he shouts out!
Dex we are sure is getting tired himself of being racked over the coals, but he keeps his cool.
He tries to finish, letting Sonny know that he was out of it.
Passed out literally, Josslyn found him and took him to her room.
She saved his life, if not for her he would be a dead man today!
Sonny insists that this thing with Joss cannot be a habit.
Sonny tells him there is something big coming up.
He wants to know if Dex is ready to step up his game?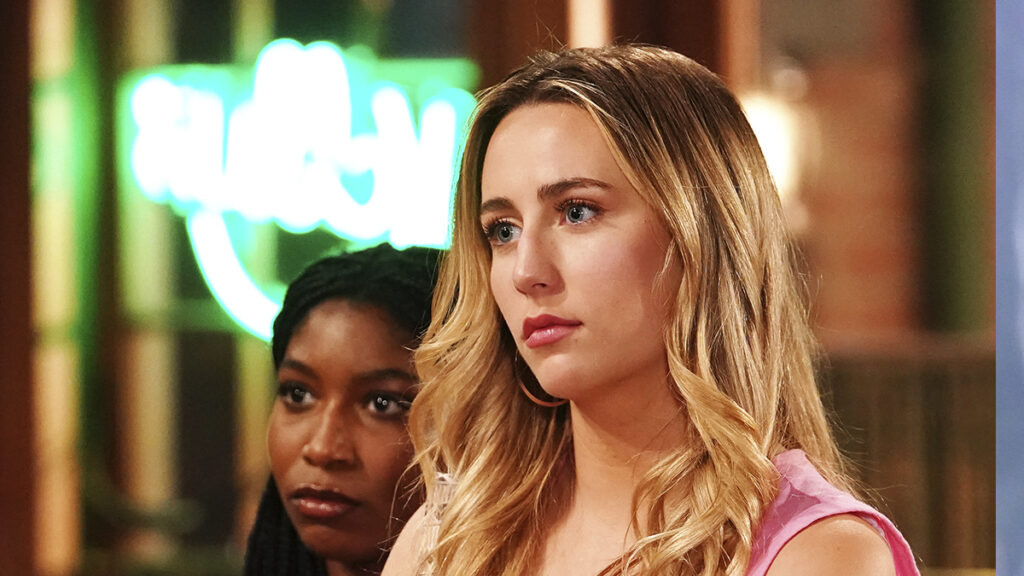 PCPD
Robert is in his office looking at a picture of Holly.
Olivia drops by, she is sorry about what happened with Holly betraying him.
She wants to know what happened between Robert and Holly.
Robert says however wrong, you can't erase the memories, they have years of history.
Holly received a raw deal; she was genuinely caught in an impossible situation.
There had to be a bigger reason why Holly betrayed you.
Things work out for a reason he tells Olivia, "We were never destined to work out."
Oivia is there for him if he ever needs to talk.
She needs to leave, Robert sees her out.
Back at his desk, he unlocks the drawer and pulls out the necklace.
There is another knock at his door, he quickly puts the diamonds back to safety.
It's Laura stopping by for a quick briefing.
A little annoyed, she asks Robert why he felt that he couldn't let her in on any of this.
He tells her Holly was petrified that Victor would kill Ethan.
He pulls out the necklace and shows Laura.
She asks Robert what he thinks Victor is after.
The diamonds I suppose, some are from the Ice Princess.
Laura is very confused, the ice princess, she thought all of those had been turned over to the WSB
Robert believes that there are secrets hidden in these diamonds.
Laura reveals it is time.
Time to bring Victor Cassadine down to his knees, and then some!
General Hospital
Britt and Austin are hanging out in her office at the hospital.
She explains to him that she has had an untraditional upbringing.
She tells him that she has never had a birthday party, this year she will.
She will throw herself the biggest, best party ever because she wants to go out with a bang.
Austin tells her that this will not be her last birthday.
Britt tells him that she doesn't fear death.
She believes you should live in the moment.
She tells Austin that she will be leaving Port Charles after the party.
Austin tells Britt she is being selfish.
He tells her that there are precious moments we might want to spend with you.
Austin offers to help her out regardless of how he feels about how she is handling her illness.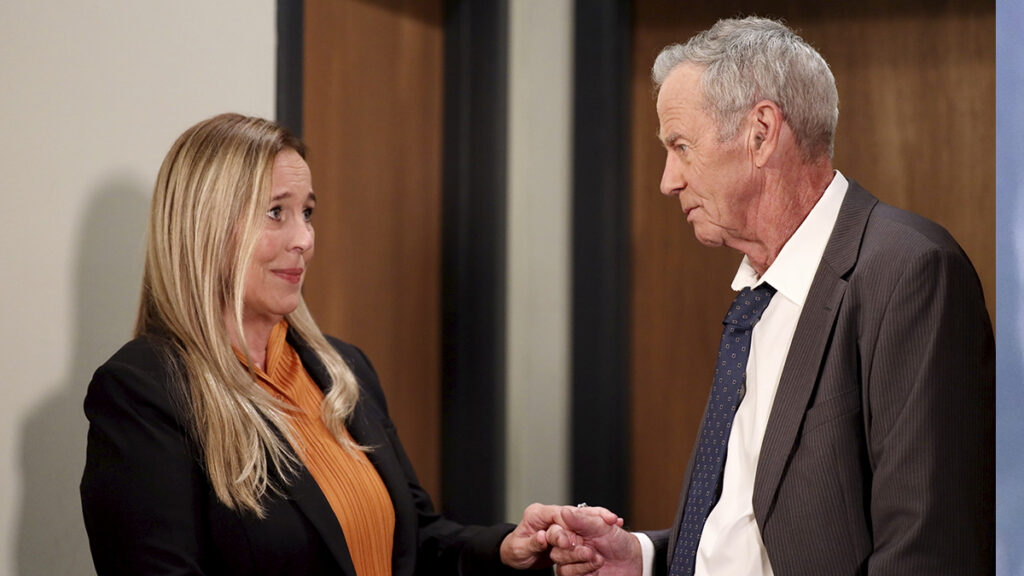 Metro Court Hotel
Mac, Felicia, Laura are having dinner at the MCH restaurant & bar.
Valentine stops by their table to inquire how Holly is doing.
For some reason this seems to anger Mac.
Mac tells Valentin that his family's finger fingerprints are all over everything.
Mac says Victor is all over town pulling strings.
He informs Val that Victor is going down.
He might want to get out of dodge before that happens.
Mac walks off to meet Cody at the bar.
Valentine sits down with Laura & Felicia.
He is very sorry that he upset Mac.
Felicia tells him Mac just has a lot on his plate right now.
Mac meets Cody at the bar.
He tells Cody that the necklace was stolen or destroyed during the burning cottage.
Cody feels he is once again cheated out of his due inheritance, first his mothers and now his fathers.
(Just a sidebar note: Cody you lost nothing, because it was never due to you to begin with, as Taub is not even your real daddy dude! Just saying!
Cody tells Mac that he keeps making the wrong choices.
Mac tells him money isn't everything.
Back at the table, Laura excuses herself as she heads out.
Valentin confronts Felicia after picking up on something she said.
He asks if his father was holding Ethan hostage, which she confirmed was true.
She also shares that Lucy's death was a fake and that he is also holding a live Lucy.
Valentin must get in touch with Anna to let her knows these things, time is of the essence.
Felicia says Anna is her best friend and gives Valentin a way, the only way to contact Anna.
Valentin thanks her as he departs.
Felicia interrupts a special moment with Mac & Cody who was about to confess something to him.
Mac asks what Cody was about to tell him when all Cody did was mumbles that the DNA test result was his loss.
Mac replies, "it was our loss also.'
He and Felicia head out leaving Cody at the bar.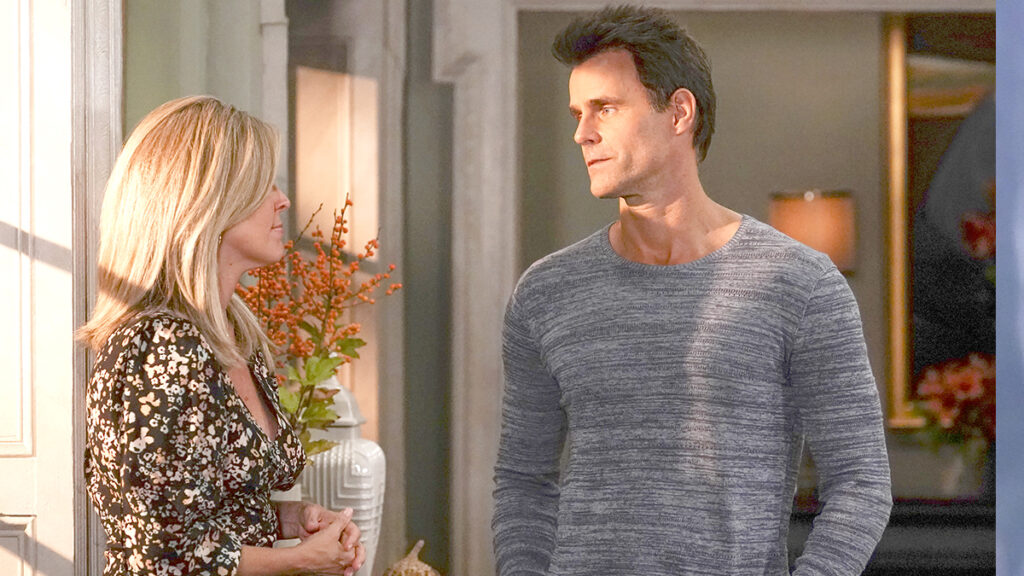 Greystone Manor
In the kitchen, Drew and Laura are locked in each other's arms.
He tells her that he has found a member of the commune that Harmony was a member of.
Drew has arranged for this person to fly into Port Charles tonight and will be staying at the MCH.
Carly thought Drew might hit a dead end on Willow's family.
Trying to buy herself time to figure out how she is going to cover her lie to Drew about Willows bio mother, she tells him now is not a good time to bother Willow.
Carly shares that Willow got upset with Nina and passed out.
She offers to go with him to meet the member but Drew prefers to do it alone.
He does not want to scare the lady off, he does not want her to feel outnumbered.
He promises that he will call when he's done after he calls Willow.
Josslyn walks in on them kissing, don't mind me she says.
She starts to think about her kiss with Dex.
Carly and Drew chuckle, as he departs.
Carly grabs her cell and calls Olivia.
She needs a favor with no questions asked.
Please notify her when a Denise McKenziethe checks in tonight.
Quartermaine Estate
Michael & Willow are still talking in the Gatehouse where they reside on the property.
He thinks she should tell her loved ones about her leukemia.
She is still playing the "I don't want people to feel sorry for me" card.
Willow is also still on her "I hate Nina" campaign as she tells Michael that she is the worst person ever.
She also says to Michael that she is worried about this war between him & Sonny.
It just feeds into her anger and is not healthy for him.
Michael knows what is most important to him and that is Willow and his children.
He tells her that he has something to take care of, it will not take long and then he is all hers.
Drew arrives at the gatehouse to talk with Willow despite Carly's warning.
He wants to make sure she is 100% committed to finding her family.
Heller Apt #34
Sonny leaves, Michael arrives at apartment #34.
He hands Dex and envelope full of money and tells him the job is over.
Dex pleads with him to rethink it and tells him about Sonny's new business venture.
Something big is coming down, we can't quit now.
This could be what we have been waiting for.
Metro Court Hotel
Meanwhile back at the MC, Sonny is seen getting off the elevator just as Valentin is shown getting on.
The two powerhouses lock eyes!
Sidebar: So what's up big fellows?
Thank you following our blog, we love to hear from you, please be respectful, follow the rules, stay on subject, start or join a conversation / comment below