This is what happened on 'General Hospital' today!
Cast who appeared in todays episode:
Laura Collins (Genie Francis)
Felicia Scorpio (Kristina Wagner)
Robert Scorpio (Tristan Rogers)
Victor Cassadine (Charles Shaughnessy)
Spencer Cassadine (Nicholas Chavez)
Cyrus Renault (Jeff Kober)
Cody Bell (Josh Kelly)
Dante Falconeri (Dominic Zamprogna)
Sam McCall (Kelly Monaco)
Valentin Cassadine (James Patrick Stuart)
Anna Devane (Finola Hughes)
Britt Westbourne (Kelly Thiebaud)
Terry Randolph (Cassandra James)
Hamilton Finn (Michael Easton)
Nikolas Cassadine (Marcus Coloma)
Elizabeth Webber-Baldwin (Rebecca Herbst)
Jeff Webber (William R. Moses)
Spencer (Laura Wright)
Sets Used on today's episode:
General Hospital
County Kerry, Ireland,
PCPD
Wyndemere Castle
Pentonville Prison
Port Charles Grill
PCPD
Robert's Office
Felicia and Laura are at this office with Robert.
Felicia informs them that she told Valentin that Lucy is alive.
She pulls out a jewelers loop, stating they need to inspect the diamonds closely.
Laura says that diamonds are used for so many things.
Felicia sees a strange serial number while inspecting the diamonds.
She looks at the diamond registry on the computer and the numbers are not coming up.
Robert remembers there being hidden codes back in the day when Luke had possession of the ice princess.
A PCPD officer brings in some paperwork Robert had requested.
Felicia is leaving at the same time as the officer.
They engage in some small talk and in doing so the officer tells her that they have a lead on Annie's location.
Robert & Laura continue to inspect the diamonds, both guessing that Victor is somehow looking for a message hidden inside some of the diamonds.
Both agree they need to crack the code before Victor's plan unfolds.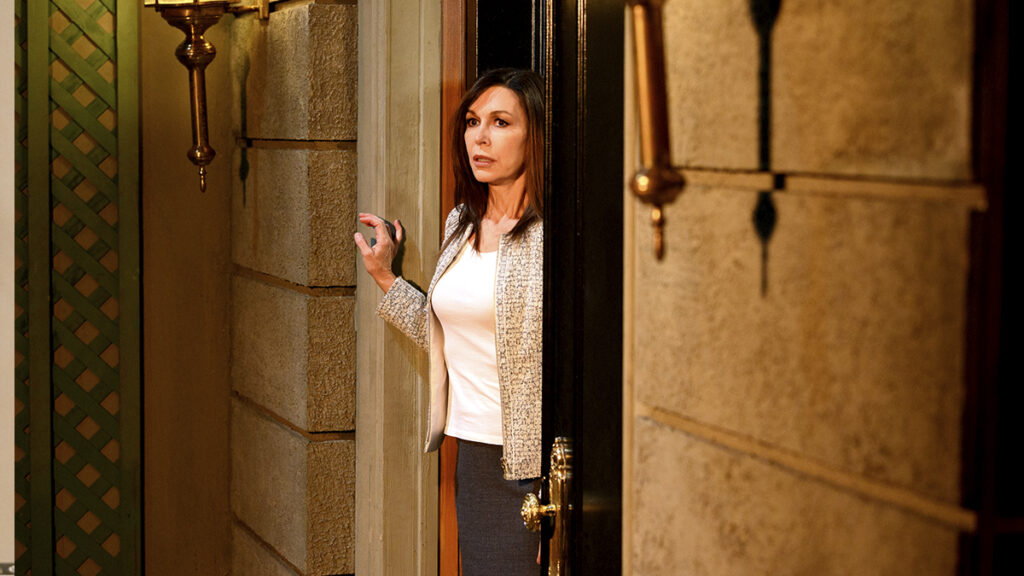 County Kerry, Ireland
Safe House
Valentin enters the safe house in Ireland, immediately calling out for Tiffany.
To his pleasant surprise it is Annie that appears.
So excited to see Valentine, her first move is to give him hugs & kisses, while jokingly asking him how risky it is seeing him.
Annie wants to know what Is going on in Port Charles.
Valentin admits that he does not yet know what Victor's end game is.
Valentin wants to try and find Lucy so he can clear Anna's name.
Anna replies, "you are not going to do that."
You can not go out like a hero by yourself. A
They are a team and that is just the way it is.
Anna has been busy looking for leads.
Felicia calls Valentin to warn him that the feds have a lead on Anna's location.
He tells Anna they have to leave now.

Wyndemere Castle
Finn arrives on Spoon Island with intent to speak with Nikolas.
Nikolas opens the door only allowing Finn in the foyer.
Dr Finn tells Nikolas that he is there about Esme Prince.
Finn thinks she's still in town and could possibly be on the Island
Nikolas would know if Esme was at Wyndemere and there has been no sign of her.
Finn said there are many places Esme could be.
He then tells Nikolas this was a huge mistake coming to speak with him.
He will just report it to the police department and they can search for themselves.
Nikolas quickly acts like he is interested in Finns request.
Wait right here and I will check with the staff to see if they have seen or noticed anything strange around the Island.
Nikolas scoffs off to do whatever because we all know truth is not in him,
Finn sees the empty bottle of prenatal vitamins sitting in plain view.
Pentonville Prison
Victor pays a surprise visit to Pentonville.
He informs Nikolas & Cyrus who in the middle of a conversation that he called in a few favors.
Nikolas time at Pentonville has expired, he will be taking him home today.
But his freedom does not come without conditions that he hopes Spencer can live with.
Cyrus speaks nothing but truth according to him, and he tells Spencer that this is a false gift. .
Spencer thanks Cyrus for looking out for him.
He tells both his uncles, without the two of them, who knows what would have happened.
Cyrus ask Nikolas to please write to him and let him know how the gift works out for him.
Spencer departs leaving his two uncles to face off.
Victor tells Cyrus that we share a family but we are not family.
He will not allow venomous lies to corrupt my nephew.
Your influence over my nephew comes to end.
'Our nephew." Cyrus replies.
Victor basically tells Cyrus that if does not stay away from Spence not even his "GOD" will be able to save him.
Meanwhile back at Wyndemere..Nikolas thanks Victor for getting Spencer released.
He explains that a term of Spencer's release is that he has to be under constant supervision.
Sidebar: I do not know about you folks but I have never seen a city where the police can arrest no one, and restrictions on troubled folks like Nikolas & Sofia are so strict it feels like abuse to me. Just saying!
General Hospital
Terry's Office
Jeff shows up at the hospital to see Lizzy.
He says he's leaving town tomorrow.
Terry asks Lizzie if everything is ok.
Jeff needs a few minutes alone with her.
Terry tells them to use her office for privacy.
They meet in Terry's office.
Lizzie says you brainwashed me for your own good.
He says it was wrong and made him miss out on most of her life.
He sent her away and he failed her.
Lizzie tells her father nothing he can say will erase the pain he has caused her.
We thought we were doing the best for you and your family.
Her father wants to be forgiven.
He will be there if she wants to reach out.
Lizzie does not know how to react as she has waited her lifetime to hear her father say that.

Port Charles Grill
Dante and Sam are meeting Cody at the restaurant.
Cody had already had a few to many.
He tells them that he's leaving town.
Dante asks what did you do?
Not a damn thing right, Cody suggested
Dante goes to fetch Cody some coffee, which he hopes sober him up.
This leaves Cody and Sam alone.
Cody tells her to say it, just say what you have always wanted to say.
Sam, repeat that you are leaving Port Charles?
I think it is a hell of a good idea.
Dante has returned and now Sam gets a call she must take.
Cody says he has nothing to stay for.
He has lost Britt, he has lost all his inheritance, he has no family.
Dante reminds him that he has him and Leo.
Cody tells Dante their friendship meant the most to him when they were kids.
He does tell Dante they would be in world of shit if what they did as kids ever came to light.
Que: A history rewrite!
Dante says the past is the past.
Those records are sealed, don't look for trouble if there is none.
Cody leaves & Dante tells Sam that Cody is going through a hard time.
Bringing up juvy records isn't going to help anone.
He thinks she should leav it alone.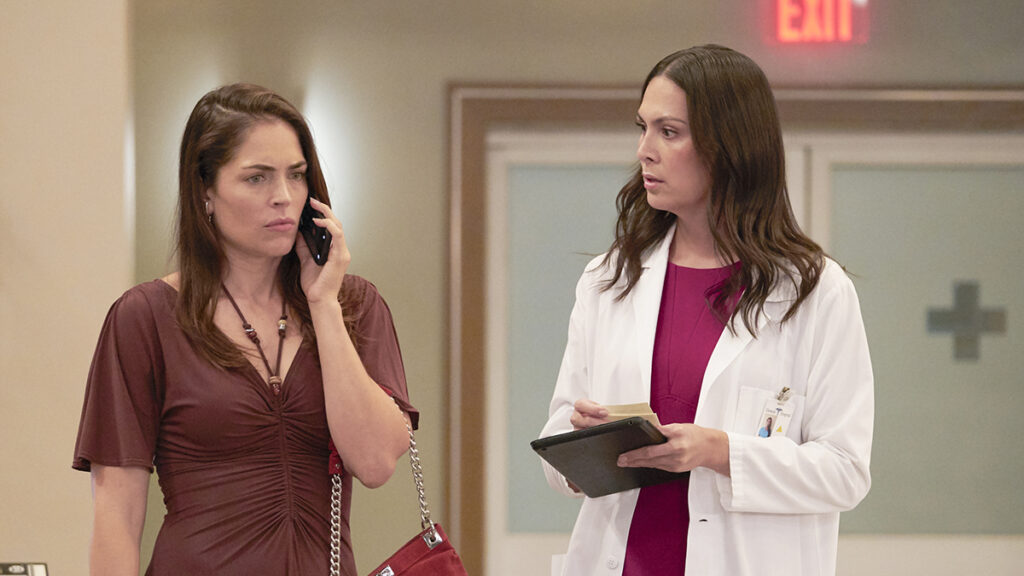 General Hospital
Dr Britt's Office
Britt is on the phone with management & would like to rent out the Haunted Star for New Years Eve.
She is going to have the party of the century, blowing up the new years.
Britt invites Terry to her big shindig.
Terry tells Britt they make a great team.
She did not think in the beginning things would work out, but look at where they are now.
Terry sees Finn, she asks if he saw Lizzie.
He has not, Jeff appears and tells Terry goodbye and does the old stare down with Finn.
Terry explains Lizzie and Jeff were just talking in her office.
Britt tells Terry she would make a great chief of staff if they let her fly solo.
Terry wants to know if Britt is planning on quitting
Britt mumbles that nothing lasts forever.
Finn rushes to see Lizzie.
He asks if she's okay.
She cries no, and they embrace.
Liz is holding the prenatal vitamins.
County Kerry, Ireland
Safe House
Anna and Valentin open the door to leave.
He is surprised who is there.
Valentin says You!
Thank you following our blog, we love to hear from you, please be respectful, follow the rules, stay on subject, start or join a conversation / comment below