We do GH Recaps Monday, Wednesday and Friday's.
On today's episode of "General Hospital."

Cast who appeared in todays episode:
Sonny Corinthos (Maurice Benard)
Nina Reeves (Cynthia Watros)
Michael Corinthos (Chad Duell)
Willow Tait (Katelyn MacMullan)
Drew Cane (Cameron Mathison)
Carly Spencer (Laura Wright)
Josslyn Jacks (Eden McCoy)
Dante Falconeri (Dominic Zamprogna)
Robert Scorpio (Tristan Rogers)
Diane Miller (Carolyn Hennesy)
Jordan Ashford (Tanisha Harper)
Portia Robinson (Brook Kerr)
Trina Robinson (Tabyana Ali)
Curtis Ashford (Donnell Turner)
Spencer Cassadine (Nicholas Chavez)
Alexis Davis (Nancy Lee Grahn)
Sets Used on today's episode:
PCPD
General Hospital
Robinson-Ashford Beach House
Greystone Manor/ Sonny's Penthouse
Synopsis: Trina, Portia and Curtis are playing cards at the beach house. Portia gets upset with Trina for looking at her phone instead of the cards. When Trina tells them it is Spencer and that he needs her, Portia goes off on Trina. Trina being the strong person she is has to set her mother straight about her intents to be friends with Spencer come what may. Trina storms off and Curtis returns. You can almost see smoke coming out of Portia's ears as she is steaming. If she has anything to do with it Spencer will play no part in her daughter's life. Curtis advises Portia she may not want to interfere with that. Portia can no longer hear his words of sound advice, her mind is made up.

Over at the hospital Michael seems to have drank the same juice as Portia. When he asks Drew where his mother is, he says with Nina. Well since Michael is the head of "We hate Nina movement" he goes off on Drew. Drew is actually trying to calm Michael down but of course he lashes out that they cannot get rid of Nina no matter what they have tried. He will just have to file a straining order on her. Drew tells him that he might not want to do that. (sound familiar)?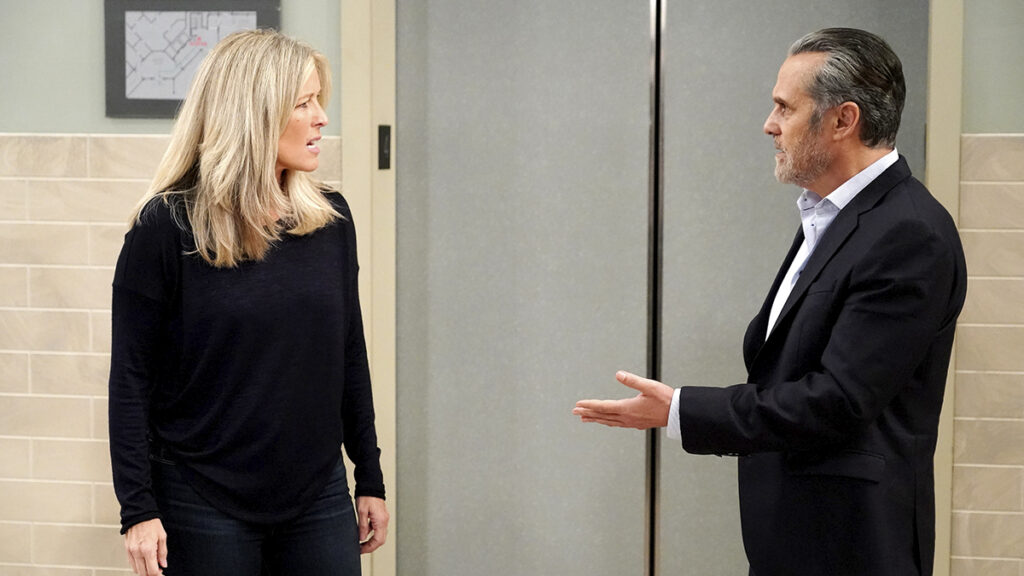 Meanwhile over at the hospital chapel, Carly has interrupted Nina & Sonny who were there praying for Willow. Laura is between a rock and a hard place but the time has come and she must fess up to her own lies. She tells Nina that prayer is good but that Nina needs to get tested now to see if she is a match for Willow. Nina would be happy to be tested like everyone else. Carly tells her that her chance of being a match to Willow is 99.9 a sure thing. Nina reminds her that she is only related to Willow through Wiley who is her daughter's child.

Michael is still boasting about how bad Nina is when suddenly it dawns on him, what don't tell me she is some distant relative? Nope, Drew replies not distant. Who then Michael asks. She is Willows mother. What, Michael is in disbelief but tells Drew he must be the one to tell Willow and rushes off to her hospital room.

Nelle wasn't Nina's only child, as Carly admits; Willow is as well. Nina is told by Carly that she gave birth to twins, and Madeline separated the babies giving Harmony Willow while sending Nelle to another family.Carly has gone crazy, in Nina's opinion.
What the hell are you talking about Carly? Carly elucidates to keep this information private, Harmony attempted to murder both her and Alexis; she only admitted everything on her deathbed.Nina claims that Harmony was a pathological liar and that there is no evidence to support this. She thinks this is just crazy talk. Carly must be drinking the same juice as Portia and Michael.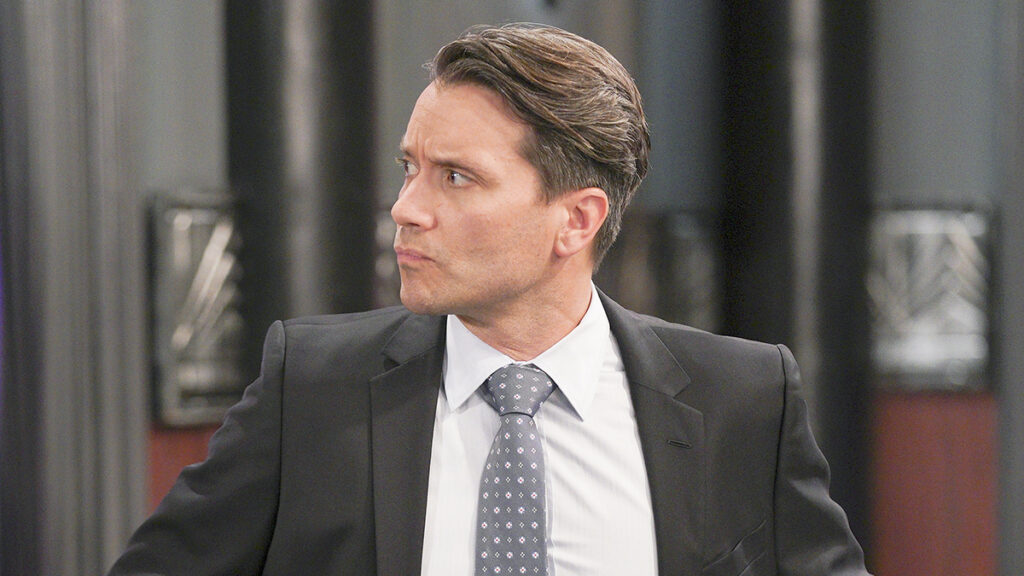 Carly claims to have proof. Following Harmony's disclosure, Carly acknowledges that she ran a DNA test to confirm Willow is her biological daughter. Look out now, Nina is feeling that back bone tighten up, she accuses Carly of only doing this and saying these horrible things because she hates her. Carly cries out, "I am not lying, Willow needs you right now. Although Carly tells Nina to hate her all she wants, she should go get tested because this is about Willow and her unborn child, not about Nina and Carly. Nina refers to Carly as a monster and claims that for more than a year, she has treated her like the filth of the earth for destroying her family. She screams, "What about my family! My daughter and I were separated again by you! "You Selfish Bitch', Nina screams at her.

Alexis stops in to check on Spencer who is now staying at Sonny's penthouse. He is happy to see her, and thanks her for coming. He shares that he is very depressed over the death of Britt and the fact that if Esme was not the hook, then there was someone still out there crazier than Ese. Now there is a scary thought. Talk returns to Esme as she prepares to give birth and moves on to their family tree. If Esme recovers, Spencer fears that she'll take the baby far away. Alexis doubts that will happen as she is in a whole lot of legal trouble even if she is not the hook. Besides that his father plans to file for full custody based on Esma being an unfit kettle. Spencer blurts out, "Pot Meet Kettle".

She wants to know if Spencer knows of anyone besides Ryan Chamberlain that has a connection with Esme. He tells her about the letter he found from Maggie, her nanny. She claims to know who Esme's real parents were, but the she devil claims she never told her. Alexis thanks him for the tip and exits left.

Josslyn is sitting with Willow when she gets a call from Dante needing her to come down to PCPD for some questions about the night Britt got the hook. She walks out looking for Michael but encounters Sonny instead. He tells her to go, he will sit with Willow. Sonny whispers to Willow that he wishes he could fix this for her. Michael needs her, to please wake up. Michael enters and Sonny explains Joss had to leave and he did not want Willow to be alone. He leaves and Michael cries for her to open her eyes, he can her her in his head telling him to run after Sonny.
Josslyn arrives at the PCPD (did anybody see a bodyguard or squad car escorting her there) just asking for a friend. Anyhow, Robert and Jordan join Dante and Josslyn in the interrogation room. As all three are going at her fast and furious with questions. Diane enters and says, "Not one word."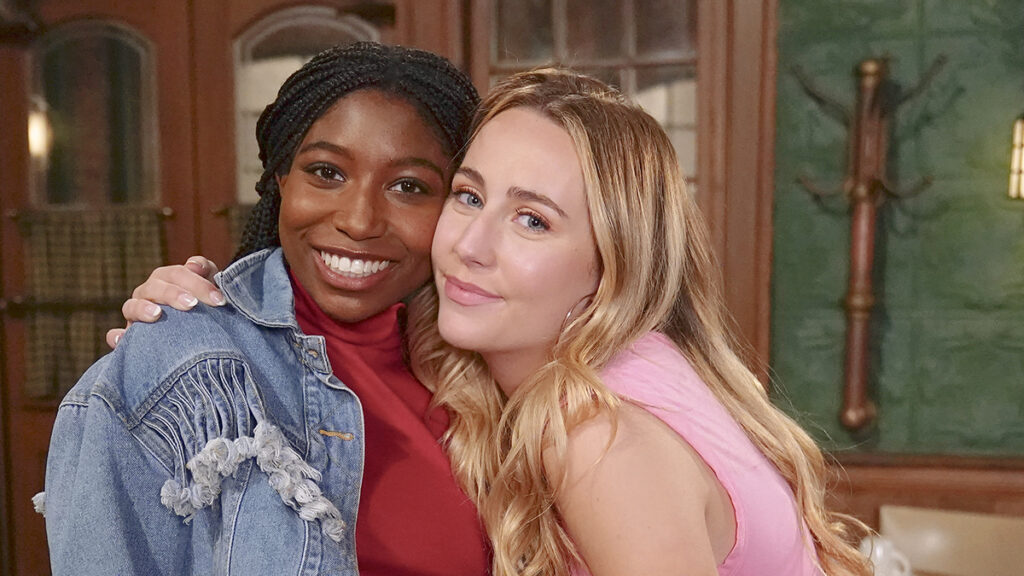 After talking with her client, Diane gives the green lot for Josslyn to answer their questions. She gives them the simple facts. She was being attached, she stumbled fell backwards, the hook was on top of her and out of nowhere Britt her guardian angel appeared and fought the hook off telling her to run. That is exactly what she did. She saw nothing as she does not have eyes in the back of her head and all the hook could see was her back side because she was running for her life. After the interrogation is over, Dante apologizes to Joss for this. Joss claims that if she knew anything, she would come forward, so he didn't need to ambush her. Dante queries the nature of the family emergency she alluded to.

Cliffhanger Friday: Zoom into Willow's  hospital room, Michael listens to her complaints about Nina and she begs him to promise her that if she passes away, he won't ever allow Wiley to see Nina again. (Because the two of us are head of the "We hate Nina Movement") Willow yells at Nina to leave as she barges in. Nina is told by Michael, "Not now." (Right) Get out of my room and out of my life forever, Willow yells. "I'm sorry, but your life may depend on me," Nina replies.
We love to hear from you, please be respectful, follow the rules, stay on subject, start or join a conversation / comment below