On today's episode of "General Hospital."
Cast who appeared in todays episode:
Nina Reeves (Cynthia Watros)
Nikolas Cassadine (Marcus Coloma)
Dante Falconeri (Dominic Zamprogna)
Kevin Collins (Jon Lindstrom)
Esme Prince (Avery Pohl)
Martin Grey (Michael E. Knight
Elizabeth Webber-Baldwin (Rebecca Herbst)
Liesl Obrecht (Kathleen Gati)
Austin Gatlin-Holt (Roger Howarth)
Cody Bell (Josh Kelly)
Felicia Scorpio (Kristina Wagner
Heather Webber (Alley Mills)
Ryan Chamberlain (Jon Lindstrom)
Brad Cooper (Perry Shen)
Maxie Jones (Kirsten Storms)
Curtis Ashford (Donnell Turner)
Portia Robinson (Brook Kerr)
Sets Used on today's episode:
General Hospital
Metro Court Hotel
Spring Ridge Correctional Center
Quartermaine Stables

Synopsis: Felicia stops by the Q stables to break the news to Cody that Britt died last night. Cody admits that he had used Britt in the beginning because she had something he wanted, but in the end he truly had deep feelings for her. Felicia & Cody share a quiet bonding moment and she asks if she can hug him. He thanks her for stopping by to tell him the news. He can thank Mac it was his idea but she was honored to do it for him.

Over at the Metro Court Nina throws out a paparazzi and the circus has begun behind Dr Westbourne's death. He was hounding Maxie for a statement but she and Brad who has shown up get the step on him. Nina has asked the two of them to meet her at the hotel. She must pick out clothing for Britt to wear during her memorial, Liesl just cannot do it. Brad breaks down, he cannot believe his BFF is gone. As time passes Nina does not feel she can do it either and Brad & Maxie agree to pick out Britt's last look. They remind each other that Britt went to a lot of trouble with the two of them. She wanted them to be tight friends and they will honor her wishes. They instantly start bickering about how to dress Britt. Sounds like a new beginning and a new friendship!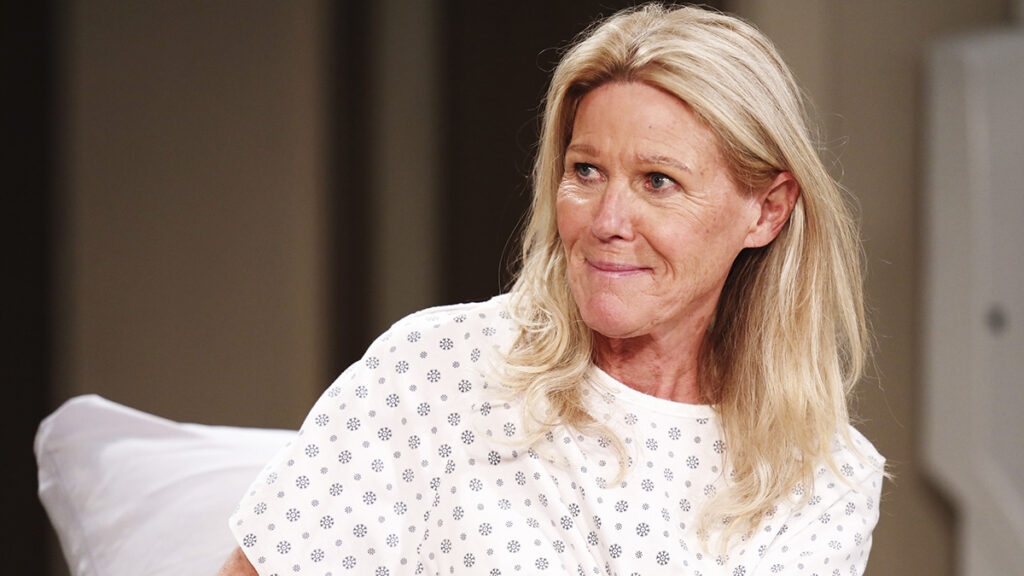 At the PCPD Dante is interrogating Nikolas who he shares his thoughts with. Dante does not feel Esme in her current condition could do these killings alone. He feels that she has had an accomplice and that person is Nikolas.
Portia and Curtis meet up at the Coffee Shop in PC, Curtis tells her that Trina sent him. She is worried about how Portia is handling her bosses death. Curtis wants her to know that he is always there for her. He tells her that Trina told him that she loved him the other day. They talk about their wedding and how they cannot wait to become husband and wife.
Austin finds Liesl in Britta's office packing everything up. He tells her she does not have to do that now. She wants to preserve what is left of her Britta. Austin promises no one will touch a thing in Britt's office and he will have it all packed up and sent to her. Obrecht thanks him for the beautiful birthday gift he gave Britt at her birthday party. Austin admits to her that Britt was leaving Port Charles for good, not just going on a vacations. He is sorry she had to find out this way but Obrecht says she could not be prouder of her daughter who just wanted to go somewhere and die alone. Britta did not have an easy childhood, she hopes that left this world knowing important and loved she really was.
Lizzie calls Doctor Collins. She thinks he can see through Esme and her claim to have amnesia. Everyone thinks she is faking it. Esme instantly says that he looks familiar to her, She cannot remember anything but she remembers evil as in her dad's face. Dr Collins is just beginning a session with her when her lawyer enters the room. Martin Grey (looking like Tad the Cad) at your service Ms Prince. A new client indeed, stops the therapy session and tells Esme she cannot speak or discuss anything with anyone but him. She asks what does she need an attorney for? Martin informs her she is under arrest for murder in the first degree.
Martin is mumbling to himself as he leaves Esme's room thanking the judge for this messed up client. Nikolas slithers up behind him and informs Martin that he is the one who asks that he represent Esme. She is carrying his baby. He wants Esme and his baby kept safe until she gives birth. He will pay Martin double his fees to do just that, after all he is family. Money talks and Martin is happy to oblige.
Over at Spring Ridge the two troubled souls are talking when Ryan realizes Heather is the hook. He actually likes the idea and wants her to work faster. She admits she is doing it for her baby girl. Ryan informs her they will soon be grandparents, their daughter is pregnant. To Heather's delight she squeals that they will soon be one happy family. He quickly reminds her that she is forgetting Ava. Oh yes, we will be a happy family of five. Spring Ridge is exactly the type of place where you would want to be incarcerated. It is almost like a cheap hotel. Guards that let the criminally insane sneak out for the evening, Kevin has been walking and talking for months and no one at the facility has even noticed, therapy consist of just blinking your eyes once or twice, patients/criminals can go from cell to cell at leisure, the list of privileges just goes on and on.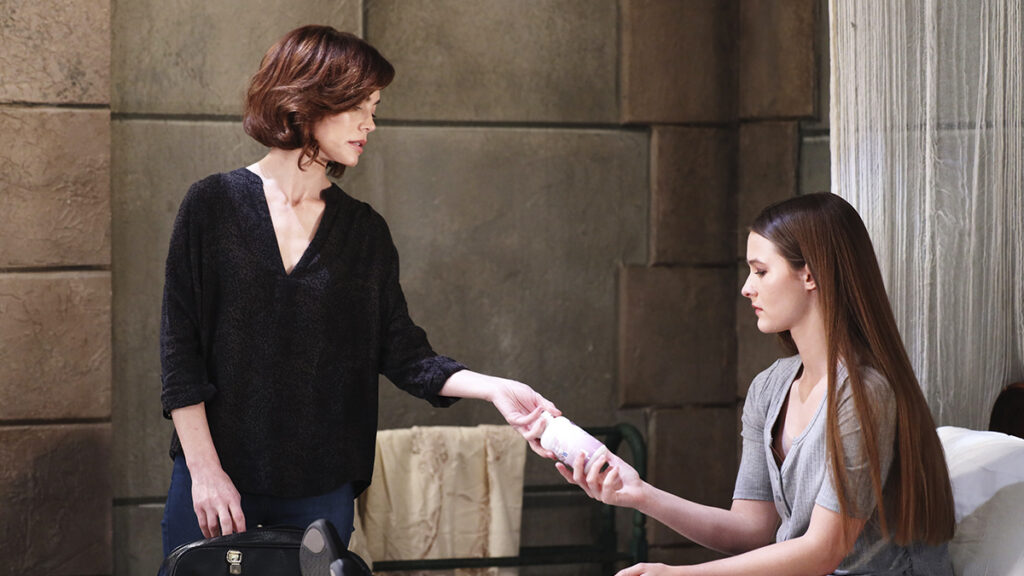 Austin tells Liesl that they have a suspect in custody right there at GH. Nina shows uo at Britt's office responding to a text from Liesl to come immediately but Liesl is very busy taking matters into her own hands. She shows up in Esme's room wearing Dr Britt Westbourne's doctor's coat and ID. Esme does not seem to recognize her. She asked the doctor for something stronger to help her sleep. Liesl replies, "I think that can be arranged."
Executive Producer: Frank Valentini
Head Writers: Don O'Connor & Chris Van Eaton
Script writer for today's show: Lloyd Gold
Director for today's show: Robert Markham
We love to hear from you, please be respectful, follow the rules, stay on subject, start or join a conversation / comment below