We do GH Recaps Monday, Wednesday and Friday's.
On today's episode of "General Hospital."

Cast who appeared in todays episode:
Sonny Corinthos (Maurice Benard)
Drew Cane (Cameron Mathison)
Carly Spencer (Laura Wright)
Dante Falconeri (Dominic Zamprogna)
Nina Reeves (Cynthia Watros)
Michael Corinthos (Chad Duell)
Willow Tait (Katelyn MacMullan)
Diane Miller (Carolyn Hennesy)
Spencer Cassadine (Nicholas Chavez)
Laura Collins (Genie Francis)
Esme Prince (Avery Pohl)
Portia Robinson (Brook Kerr)
Curtis Ashford (Donnell Turner)
Marcus Taggert (Réal Andrews)
Elizabeth Baldwin (Rebecca Herbst)
Nikolas Cassadine (Marcus Coloma)

Sets Used on today's episode: 
General Hospital
Robinson-Ashford Beach House
Greystone Manor/ Sonny's Penthouse
Synopsis: Portia is worried about Spencer in Trina's heart. Curtis advises her to not try to keep her away from him. Taggert is back in town. Should he be worried about Trina? Taggert doesn't think Curtis should be giving Trina advice. Taggert tells them we are not going to let her play with the Cassadines. Portia tells Curtis that Taggert is very territorial about Trina. Curtis is butting out of giving his view on parenting. Curtis wants to focus n have a baby with Portia.

Diane meets Spencer at Sonny's penthouse. He has a civil matter to talk to her about. He is trying to find out about getting custody of his sibling. Diane asks if Nikolas is the father. Spencer asks if he has a chance. Diane said, what do You want to do? Spencer replied that this is about saving a child from its mother and father. The odds are stacked against you, Diane advises. Diane can not guarantee him a win. She will consider taking his case. She tells him to think long and hard about this.

Nikolas and Lizzie are talking at the hospital chapel. Nikolas says the police didn't find anything at Wyndemere. Victor doesn't know that Lizzie is involved. So no worries on that. Lizzie said if Esme doesn't remember then we are safe. Nikolas ask Lizzie about her memory issues. She says it was her parents. Lizzie wishes there was a way to make sure that Esme never gets her memory back. To which Nikolas mumbles to himself 'never say never'.
Laura visits Esme in the hospital. Esme doesn't recognize her. She tells her she is connected with crimes. Laura grills Esme about about where did you go when you were missing? She tells Esme she is the mayor of Port Charles and the grandmother of the baby she is carrying. Esme says that Spencer is the baby's father.. by a picture that Laura showed her. He came to visit her and told her they use to be boyfriend/girlfriend and he may be baby daddy. She is so confused. Esme doesn't think many people likes her from the cuffs to the bed and that attitude of most when she meets them, . Dante walks in to question her. He asks if she recognizes the picture of the Christmas ornament. She said it means nothing to her. Dante says she may not be under investigation as the hook killer but other many other things. Laura tells Dante, "We can't let her go without consequences." Dante asks Laura if she thinks Esme is faking it.

Meanwhile back in Willow's room Michael tells Willow that she needs to hear what Nina has to say. Nina tells Willow that she is her daughter. Michael says it's true. Willow cannot believe what she is hearing, she wants to know what happened. Nina explains she had twins. Nelle is her sister. Wylie is actually your nephew. Nina hopes they could have a relationship. They were both robbed. She never gave permission for anyone to take her. Willow explains the fact that we are related changes nothing. Willow tells her that she tormented her. Nina said a crime was committed against you and me. Willow asks Nina what do you want in exchange if you are a match? Nina says I want nothing. I'm going to the lab. I want to save your life. Willow says to Michael why couldn't it be anyone but Nina?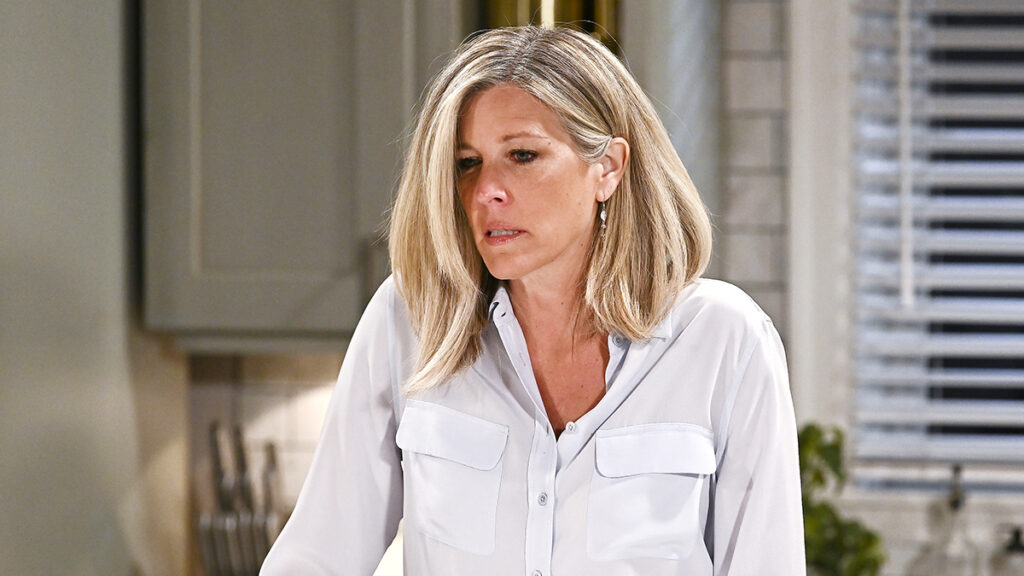 Dante joins Sonny, Drew & Carly in what looks like a very tense moment. He tells them he just left Nina in Willow's room. Carly begrudgingly tells Sonny that Nina is Willow's mother. How long have you known, Sonny wants to know? He then realizes that Drew also knows, you knew about this too? Dimples is no longer smiling. He insists, this is a vendetta? Sonny argues you were doing this to get back at Nina. As Drew, Carly and Sonny are arguing, Michael wants to talk to Sonny in private. He shares his anger on Carly staying silent but asks that Sonny deal with his feelings at a later time. Sonny can and will do that, he just wants to know how Michael is holding up. Michael says that Willow is his priority. She is devastated. Sonny is consoling him even though Micael cannot get over himself. He tells his son that he is doing all the right things as a partner, as a father. Michael needs to get back to Willow.
Nina comes out and hugs Sonny. She said Willow doesn't want anything to do with me.( Nope those two would rather continue their 'I hate Nina movement' instead of saving lifes. Just sayin!
We love to hear from you, please be respectful, follow the rules, stay on subject, start or join a conversation / comment below