We do GH Recaps Monday, Wednesday and Friday's.
On today's episode of "General Hospital."
Cast who appeared in todays episode:
Michael Corinthos (Chad Duell)
Willow Tait (Katelyn MacMullen)
Sonny Corinthos (Maurice Benard)
Nina Reeves (Cynthia Watros)
Carly Spencer (Laura Wright)
Drew Cane(Cameron Mathison)
Anna DeVane (Finola Hughes)
Felicia Scorpio (Kristina Wagnor)
Valentin Cassadine (James Patrick Stuart)
Charlotte Cassadine (Amelia McClain)
Stella (Vernee Watson)
Maxie Jones (Kirsten Storms)
Marshall Ashford (Robert Gosset)
Portia Robinson (Brook Kerr)
Trina Robinson (Tabyana Ali)
Jordan Ashford (Tanisha Harper)
Terry Randolph (Cassandra James)
Sets Used on today's episode:
General Hospital
Marta & Chloe
Cabin/Safehouse
Robinson-Ashford Beach House
Synopsis: Over at the Robinson/Ashford Beach house a surprise guest knocks on the door, Trina, Curtis and Marshall are overjoyed to see Aunt Stella standing there. She wants to be a part of the big wedding, and would not miss it. She wants to hear all the details that have been planned, asking where Portia is? She is about to pick up her wedding dress, shares Trina, who is about to leave for Britt's memorial at GH. Aunt Stella offers to drop her off, she accepts.
Trina is interested in knowing the story of Aunt Stella finding a distant relative in England on a genealogy site, then going all that way to meet them. Trina tells Aunt Stella that she took one of those test back in high school and it revealed she had actually had a match right here in Port Charles. At that time she was too afraid to pursue it. She also shared that Jordan had asked her about the test which she just shrugged off. Stella thinks something doesn't feel right about this conversation.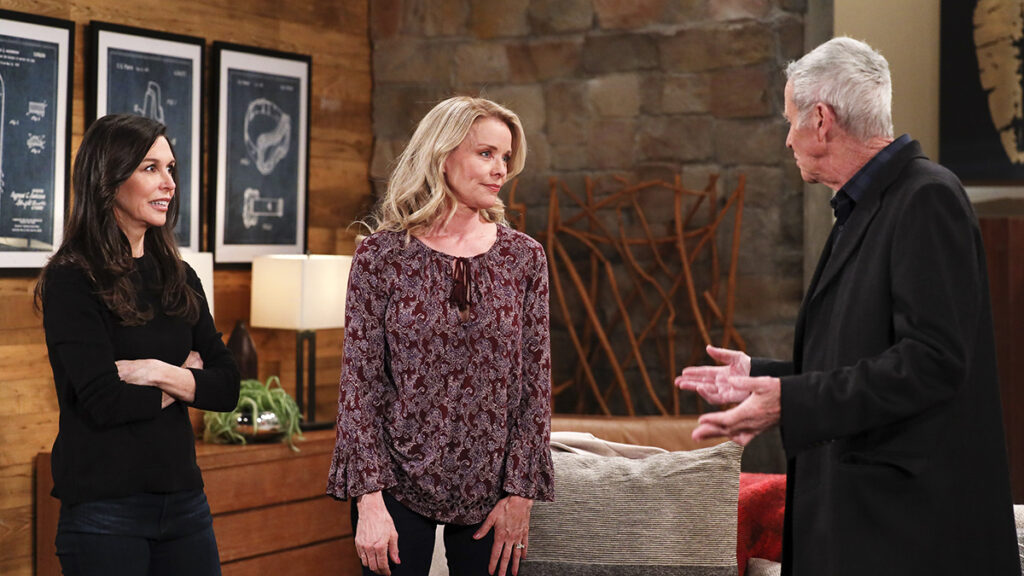 After the ladies depart, Marshall lets Curtis in on the fact that he went and had the genetic test done. He is scared of the results but knew it was something he had to do. Curtis issues him all he wants or cares about is the fact that his dad is at his wedding.

Across town at GH everyone is getting ready for Britt's memorial. Portia and Terry are in a conversation when Jordan arrives. Portia, wanting to avoid her at all cost, tries to escape but claiming work is calling. Jordan is not having any of her bull today. She just had an in depth talk with her friend Taggert and he is very concerned about Trina being at her and Curtis wedding and how tight security will be. Portia of course is not a happy camper as she informs Jordan that her family is none of her business and she is overstepping her boundaries. Aunt Stella and Trina arrive just in time to overhear a little bit of Jordan and Portia's lashing at each other. She senses much tension between the two.

As we enter Willow's hospital room, she and Michael are getting ready for her c-section with a positive attitude. Willow is talking to her baby girl telling her to be strong. She is very scared but cannot wait to see her babies face. Sonny arrives to check in on Willow just as Michael returns. The first words out of his mouth is, 'what are you doing here?" Willow jumps to Sonny's defense and says she was just about to fill him in on the latest plan.
In addition to eagerly anticipating seeing his granddaughter, Sonny promises to pray for them. He is confident that Nina will also be thrilled. Unless we are not permitted to see our granddaughter, he pauses and asks.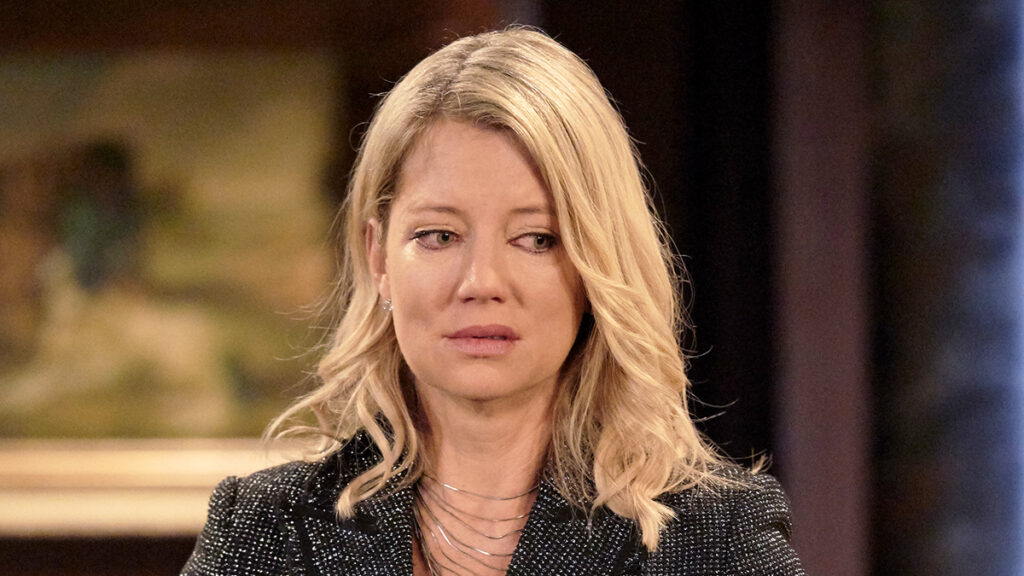 Nina happens upon Carly and Drew in the corridor all lovey dovey. She cannot believe that Drew has forgiven Carly for all her lies. Both are caught off guard hoping Nina saw or heard nothing. She explains she is only there to see her daughter whom she has missed so much time with. Thank you very much Carly. She cannot believe that everyone has forgiven Carly for all the damage she has done to her family. Carly attempts to walk away but Nina stops her and lets her know everyone but me. Sonny to the rescue. Drew and Carly depart happily. He delivers the good news to her about Willow. She wants to talk to Willow before surgery. Let's see how that works out for her.

Nina heads to Willow's room where she encounters the ever present road block of Michael. Not now Nina, but Willow says she can handle her. Nina promises to be on her best behavior. She speaks very soft and lovingly to her daughter, to know avail. In spite of the fact that Willow is probably putting on a brave face for Michael and the others, Nina tells Willow that she can express her emotions to her without worrying about offending her. Willow justifies her need for boundaries by saying that since this is still new to her, she can't blur them just yet. Although she acknowledges the effort, she declines to yet. Terry walks in and announces that she's been able to move Willow up and get her into the OR to perform her C-section right away. As she departs, Nina wishes Willow luck.

Nina finds Sonny and Michael in the corridor where Sonny was just telling an ungrateful Michael that he will always be there for him no matter what. He is his son and he is his father. Family first. Nina lowers the temperature by telling Michael that Terry was in Willow's room. Left alone Nina cries to Sonny that Willow still wants nothing to do with her and it is all Carly's fault. She declares war on Carly amd Sonny wants to know what she has up her sleeve.  He advises her to let it go and just stay focused on Willow. Nina declares tat sometimes 'war' is inevitable.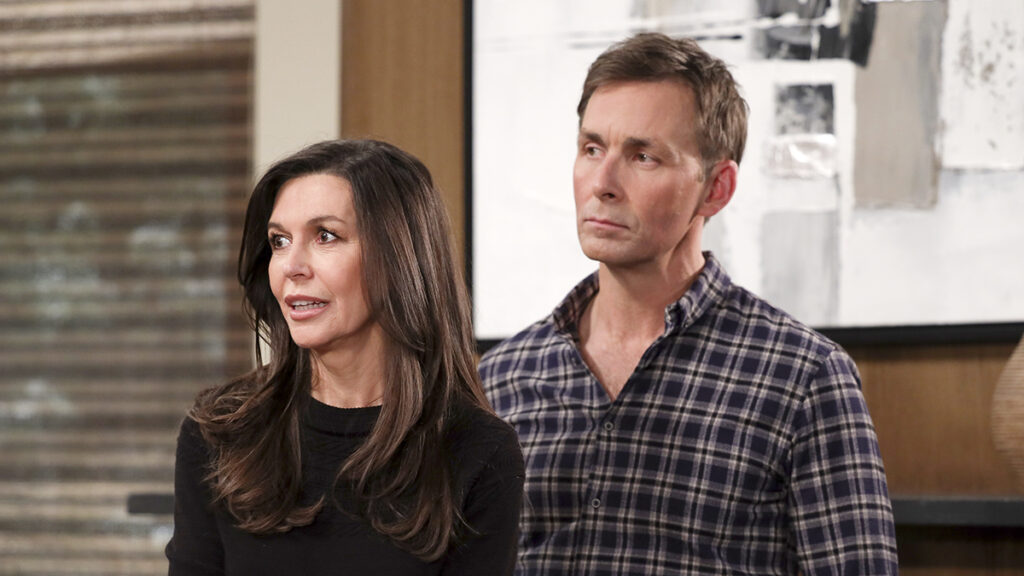 Maxie and Sasha are getting ready for Britt's memorial over at the nail salon. Each are sarong their feelings with each other. Sasha feels all she has done for the last year is say goodbye to the people she cares about.  Maxie refuses to give up on Lucy because she knows she will return. She just has too.  She inquires how things were between Sasha and Gladys and did it feel strange for her to handle Sasha's finances? She tells Maxie that Gladys is attempting to sell Brando's garage, and Sasha claims that it took some getting used to. Although it is just vacantly sitting there, Maxie understands that it must feel like another goodbye.

Meanwhile Felicia, Anna and Valentin are just kicking back at the safehouse when Felicia pulls out some liquor to brighten up their morning coffee. Not a peep out of Lucy and Martin, they have other things to do like each other. Valentin is missing Charlotte but says when everything is said and done it will be worth it. He also has faith that Laura will explain and take good care of his little girl.  Felicia excuses herself to run an erron letting Anny and Val have a little alone time.  Her errand does not take long and when knocks on the door Anna proclaims that is a Felicia knock. She opens the door and Kristina says surprises as a very executed Charlotte rushes in to hug her papa. Valentin lets Felicia know how important her surprise meant to him, Anna and Charlotte have a very sweet bonding moment. Anna gives Charlotte a big hug.

Stella  wants to speak to Jordan alone, where she inquires about the conversations she had with Trina and with her about the genealogy test. She smells a rat and she thinks Jordan does too. 
We love to hear from you, please be respectful, follow the rules, stay on subject, start or join a conversation / comment below