This is what happened on 'General Hospital' today!
Cast who appeared in todays episode:
Elizabeth Webber-Baldwin (Rebecca Herbst)
Nikolas Cassadine (Marcus Coloma)
Dante Falconeri (Dominic Zamprogna)
Sam McCall (Kelly Monaco)
Dex Heller (Evan Hofer)
Josslyn Jacks (Eden McCoy)
Spencer Cassadine (Nicholas Chavez)
Trina Robinson (Tabyana Ali)
Britt Westbourne (Kelly Thiebaud)
Liesl Obrecht (Kathleen Gati)
Heather Webber (Alley Mills)
Maxie Jones (Kirsten Storms)
Carly Spencer (Laura Wright)
Drew Cane (Cameron Mathison)
Esme Prince (Avery Pohl)
Sets Used on today's episode:
Wyndmere
General Hospital
Apt #34
Pier 27
Kelly's Diner
The Haunted Star
Synopsis: On today's General Hospital the hook strikes again. The victim is Josselyn, hearing the attack Britt comes to her rescue and fights off the hook. As the hook & Britt wrestle to get control Dex arrives and shoots the hook. Everyone skaters.

Dex rushes Josslyn back to his apartment where he makes her a drink to calm her down. They both know they should not be together alone but soon the clothes hit the floor and they are on the couch making love.

Carly shows up to the Britch Fest after the event is over as does Drew who text her to meet him at Pier 27. They look back on the previous year and remember how they supported one another during their heartbreaks. They discuss how happy they are to be in a serious relationship with each other this new year.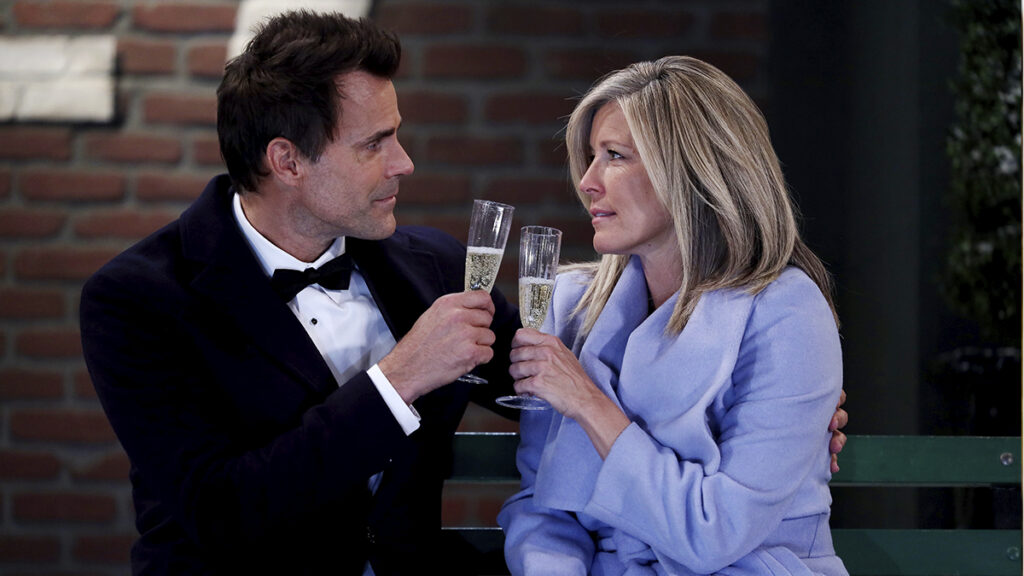 Dante and Sam spend New Years at Kelly's drinking coco. Dex appears and Dante questions him about his father telling him he can still change his story, Dex will stick with what he previously told him. As Dex leaves Sam asks Dante if he was trying to make a case against his father. Dante confesses to Sam that he is torn between the notion of justice, his desire to uphold it, and what it means in the context of his father.
Trina and Spencer are standing on the deck of the Haunted Star watching the fireworks. They share some private moments and just as Spencer is leaning in to kiss Trina they hear a person sobbing. They both turn and are shocked to see a pregnant Esme standing there, who suddenly passed out at their feet. Spencer instantly promises Trina this is not his baby. They see that Emse gets taken to the hospital, as they arrive so does Nikolas and Lizzy. Spencer asks his father what he is doing there and Dante goes in to question Esme who is resting and being treated for hyperthermia.

Back at the Haunted Star Liesl sings happy birthday to her Britta and is surprised when she shows up and informs her mother she is not leaving after all. Her mother is excited and takes Britta's coat off where she spots a tear in her dress and blood oozing out just as Britta collapses before her.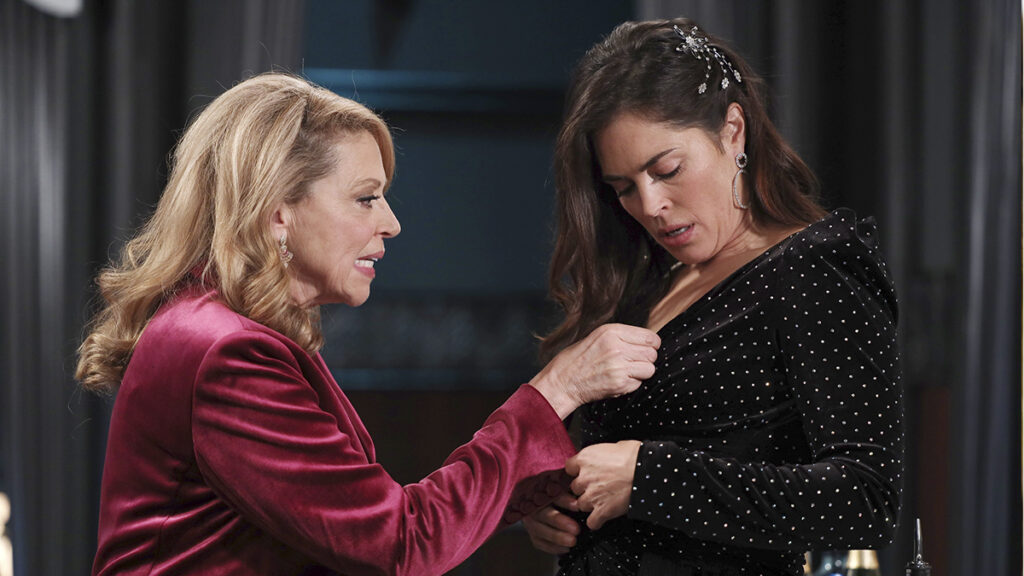 The hook is revealed: After being shot by Dex, they stand on the piers, rip off their hoodie, and their face is visible. It is Heather Webber!
Executive Producer: Frank Valentini
Head Writers: Don O'Connor & Chris Van Eaton
Script writer for today's show: Charlotte Gibson
Director for today's show: Tina Keller
We love to hear from you, please be respectful, follow the rules, stay on subject, Start or join a conversation / comment below