We do GH Recaps Monday, Wednesday and Friday's.
On today's episode of "General Hospital."

Cast who appeared in todays episode:
Michael Corinthos (Chad Duell)
Willow Tait (Katelyn MacMullen)
Harmony Miller (Inga Cadranel)
Sonny Corinthos (Maurice Benard)
Nina Reeves (Cynthia Watros)
Bobbie Spencer (Jacklyn Zeman)
Carly Spencer (Laura Wright)
Josslyn Jacks (Eden McCoy)
Elizabeth Webber Baldwin (Rebecca Herbst)
Carolyn Webber (Denise Crosby)
Stella (Vernee Watson)
Jordan Ashford (Tanisha Harper)
Portia Robinson (Brook Kerr)
Curtis Ashford (Donnell Turner)
Trina Robinson (Tabyana Ali)
Spencer Cassadine (Nicholas Chavez)
Esme Prince (Avery Pohl)
Nikolas Cassadine (Adam Huss)
Sets Used on today's episode:
General Hospital
Bridal Salon
Spring Ridge
Synopsis: Jordan and Stella find a quiet place to talk. Stella is expressing to her that she cannot be a part of a wedding that starts off with a lie. Portia, looking for Stella, finds her and Jordan in an intense conversation. Interrupting something she probably doesn't want to know about, she asks Stella if she is ready to go get this party started. The wedding is really the only thing on Portia's mind right now. Jordan leaves wishing them well and Porta and Stella head out to the bridal salon.
Nina and Sonny are in the waiting room at GH waiting for word about Willow. Nina is worried about her, she cannot handle the thought of losing another child.   Curtis finds them, he was looking for Nina.  Drew had told him about Willow. Being Nina's bio mother.   He can't believe it but he is happy for her.  Curtis promises  to be at Britt' memorial to support Nina.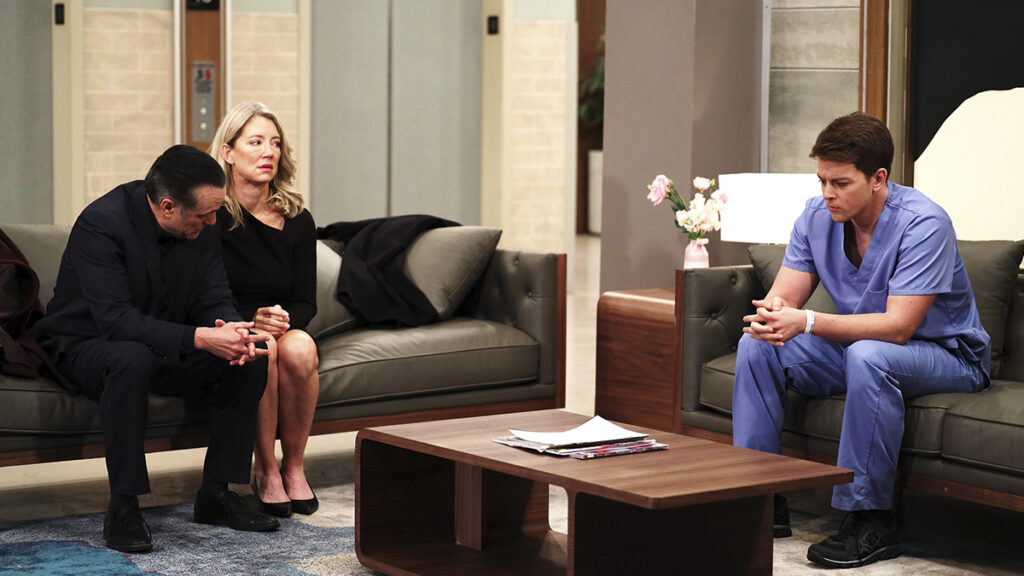 At the bridal salon,   Portia seems very nervous. Stella wonders why.  Portia thinks there is a change in Stella's attitude about the wedding  because she had seemed so excited.  She tells Stella who is known not to speak her mind to just spit out. Whatever is bothering her. Portia goes into her speech about all of them coming together as one family. "Our family" as Portia puts it.  Portia has something for Stella, she gives her a beautiful bracelet she wants her to wear it at the wedding. It is a family heirloom, it has been in her family for generations. Stella stares at it wanting to say something abut the Trina situation but bites her tongue. Instead Stella tells Portia that she cannot accept it.  Portia doesn't understand why she can't.  Stella tells her that it should be given to Trina and not her. She does not want to spoil her happiness. Portia tells  Stella she can eventually give it to Trina herself. The attent returns with Stella dress. Stella is trying on the dress  Portia puts the beautiful bracelet on her wrist. 
Meanwhile a lot is going on over at General Hospital. In one of the corridors Jordan runs into Curtis. She tells him that she saw Portia and Stella and they were going to the bridal salon. Curtis cut her off, he can tell something is on her mind. She brushes it off as he says, 'I know you too well Jordan." Again she just replies that she wants Curtis to be happy. Jordan walks off, leaving a puzzled Curtis standing there.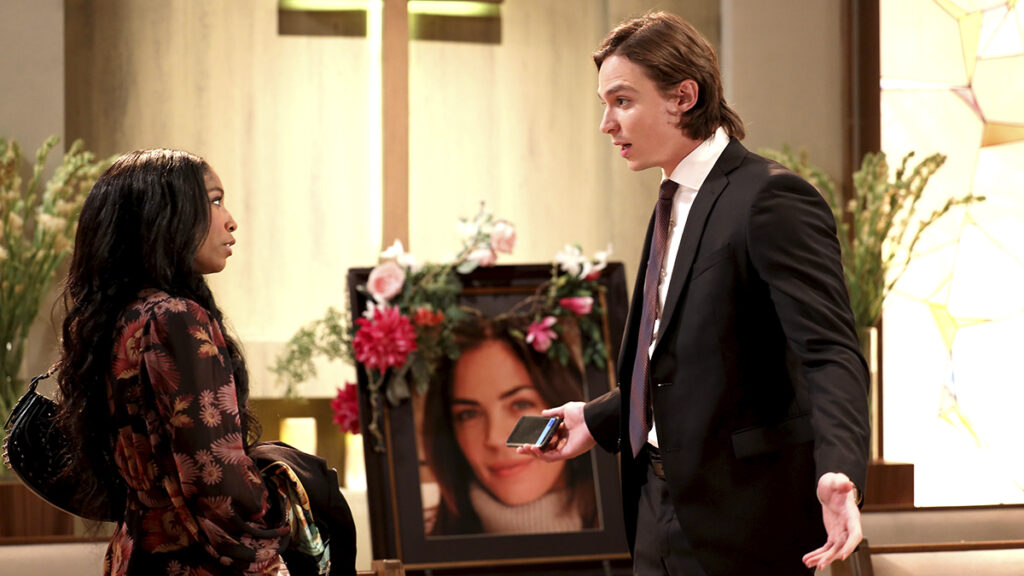 Spencer and Trina have found an area in the hospital where they can have a little privacy. He and Trina are watching the recording Ava gave him the link too. He is happy that his Dad confessed. He is going to use his confession against him for custody. Trina said, so you are going to throw your father under the bus? Trina asks why did Spencer think his father confessed? She loves Ava, but personally thinks it's a game between her and Nik. Spencer does not care, he needs to fight to get his sibling. Spencer does not want to take the legal route, he wants to go directly to his father. He is being very stubborn, no matter what Trina throws at him, he cannot hear logic, he is dead set on his beating his father. Trina tells him that he must still care for his father and doing this will make him lose him/ All he can focus on isto protect the baby.
Over at Spring Ridge Nik as come to see Esme. He tells her that she is wrong about Spencer being her baby daddy. He is the father of her child. She is of course in shock. Nik asks her to say something. Esme lets him know that she is very confused, she does not know what is going on. How could she be pregnant with her boyfriend's fathers baby? Nik tries to dignify it by telling Esme to just trust him as he hands her some documents that he ask her to sign. She does know that she can. He tells her the papers are to guarantee that the baby is well taken care of while she is away. Esme thinks she just might need a lawyer, all this new information is a bit overwhelming. Spencer leaves the documents with her. He will return tomorrow to pick them up. She doesn't know if she trusts him.
Back at the busiest hospital in town,  Michael and Josslyn are standing outside the nursery window looking at the baby. Carly of course joins them. Bobbie is inside the nursery taking care of her new great grand-daughter. She comes out to get Michael. She ask if he wants to come meet his daughter?  Michael in his hospital gear is holding the baby and he is loving it. While Austin has been called into the operating room to help save a life. Willows to be exact.  Willow is hemorrhaging and Austin tells the OR team that she is losing to much blood, At this moment though Willow has moved on and is in the hands of Harmony. She is trying to get Willow to cross over to what she tells her is a better place. She says no one loves her like she does. Do.Willow says what about Michael and my children. Harmony says I am your family. Trust me.  We are almost there.  Willow keeps looking back for Michael. She is losing more blood. Fight Willow.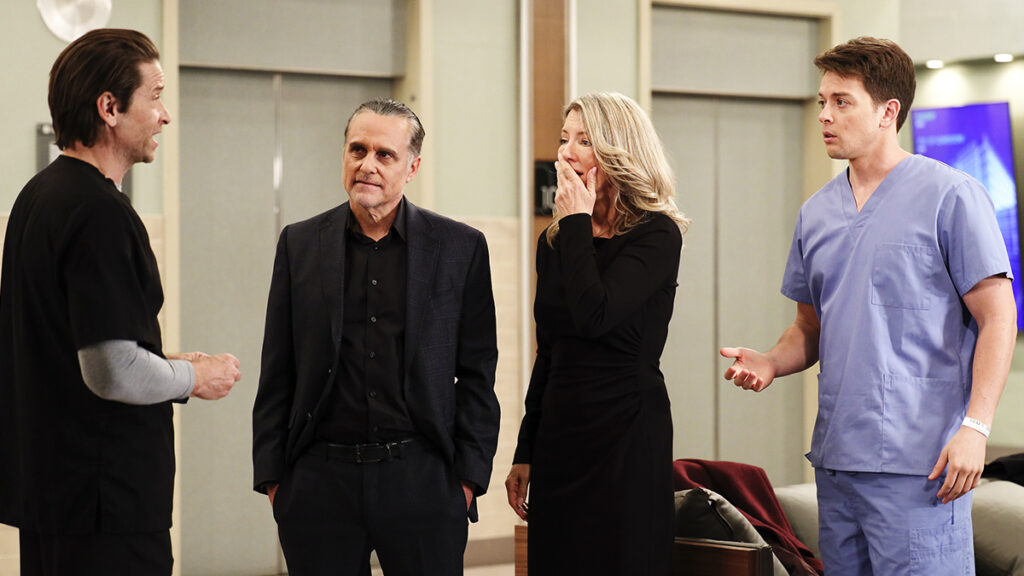 Liz's mother is at the hospital and tells her that she won't see her again. She's going back to California. Liz ask her what about the case she came to town for? Carolyn wants nothing to do with the case she was here for. She says the case involved Nikolas Cassadine. She thinks Nikolas is not a real friend. Carolyn thinks Nik is trouble for Liz. Liz thanks her for being honest with her.Carolyn hopes she can get forgiveness from Liz. She then call her Elizabeth not Lizzy. Liz thanks her calling he that.
Jordan walks into the chapel. Trina says she will give them time alone, she thinks they have things to discuss. Jordan asks what Spencer has to talk about. As Trina leaves the chapel she sees Curtis. He asks her if everything is ok.?
Michael goes to see why Sonny called. He tels Micael about Willow, Sonny tells Nina to have faith. She starts to pray for God to please let Willow live. Michael also says we are waiting for you Willow. Come on and live.
Austin comes out of the OR and tells them that Willow is in recovery.
He said things were touch and go for a minute but that Willow is a fighter. Michael hugs him. Sonny and Nina thank Austin.

He tells Michael that he can go to see Willow. He is at her bedside where he tells Willow she needs to wake up so they can give their little girl a name.
We love to hear from you, please be respectful, follow the rules, stay on subject, start or join a conversation / comment below