April 1, 2023 General Hospital turned 60 years old. Let the celebrations continue.
Today we are spotlighting the GHFCW Event hosted by Lynn Herring and Kin Shriner. Now this here folks is GH history. When I think of celebrating 60 years of GH, then Lucy & Scotty quickly come to mind. Between the two of them, Lynn & Kin the history is super rich., besides they have been friends for years, I am sure they have some stories to share.
Please do not miss this event.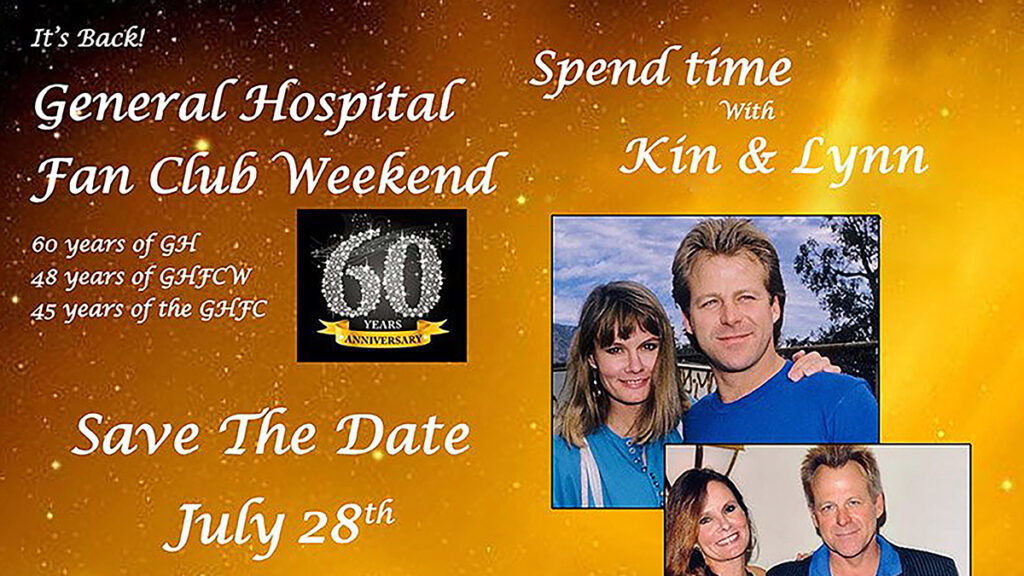 The event will be held at the Embassy Suites Glendale, 800 N Central Avenue, Glendale, Ca. 91203 Phone: 818-550-0828. Located on the second floor in one of the assigned ballrooms. The event will be hosted on Friday, July 28 from 9:00am-12:00 pm, with check in starting at 8:30am.  Get your order form with ticket information or any questions about this event by contacting Debby O'Connor at [email protected]

Say it loud, we are back and we are proud! Talking about the one and only, the original fan event experience. The GHFCW. Yes, we are back for 2023, after a 3 year hiatus due to Covid. This will be our 45 year of hosting what we fondly call not an event but a GH Family Reunion. So much history to tell, so many lifetime friends made right here on our incredible  weekend. So with all of that being said we want those who plan (we hope all of you) to attend to get the best experience ever, so even though we have released a list we are going to highlight an event per day.
There is a very good chance that a few other events will be added to our lineup, but please remember the most important event to support  would be the 'Main Cast Event' as it is the heart of the weekend. 
We hope to see you there. 
We love to hear from you, please be respectful, follow the rules, stay on subject, Start or join a conversation / comment below